"Just because you aren't being hit -- doesn't mean you're not being abused." 
That's the message behind Sarah Hosseini's new photo essay titled "Unseen Scars." As a survivor of domestic abuse, Hosseini created the series to reveal the emotional trauma that victims are often left with after leaving their abuser.
Although Hosseini's abuser only physically hit her once, she said that he abused her through manipulation, lying and verbally attacking her. The series represents the "unseen scars" that so many survivors of abusive relationships carry, but often go untreated because they're not physical scars. 
Hosseini and photographer Melanie Mercogliano created a series of 10 photos featuring Hosseini and her experiences as a survivor. Each image is paired with Hosseini's personal testimony of the everyday struggles she endures over a decade after her abusive relationship.
"I know many women who also suffer with these after effects of abuse -- even if their abuser never physically touched them," Hosseini told The Huffington Post. "The threats are damaging. The manipulation is monstrous."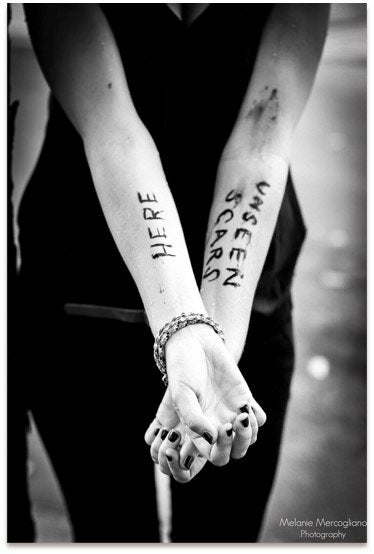 "While physical scars heal, the unseen hurt in a person is what affects them for the rest of their lives," Mercogliano told The Huffington Post. "There is no ER visit where the nurses stitch you up, there are no flowers and presents and there is no therapy afterwards."
Hosseini wanted to capture the trauma of emotional abuse in the same way physical abuse often is illustrated -- through photographs. So she drew from her own experience and created images from the thoughts that run through her head every day.
She said that creating the series was "absolutely therapeutic" as a survivor. "The project gave me power -- power over my abuser, power over my past and power in the dialogue about domestic violence," she said.
Scroll below to read Hosseini's intimate and powerful struggle as a survivor of domestic abuse. 
PHOTO GALLERY
Shocking Domestic Violence Statistics
REAL LIFE. REAL NEWS. REAL VOICES.
Help us tell more of the stories that matter from voices that too often remain unheard.