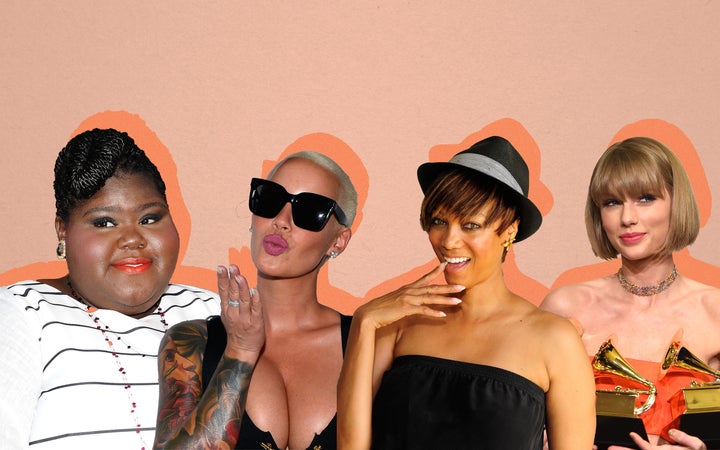 Never underestimate a woman's ability to clap back -- especially a heavily-scrutinized woman in the public eye. 
From body-shaming and slut-shaming to straight up bullying, famous and visible women have to deal with a consistent onslaught of public insults. But in true badass form, many have mastered the art of telling their haters exactly where they can stick it. 
Here are 10 times that famous women took inherently misogynistic insults and turned them into comeback gold. 
After Beyoncé's Super Bowl 50 halftime performance of "Formation," she was accused of being "anti-cop," and police forces all over the country threatened to boycott her Formation World Tour. Beyoncé dropped some truth bombs in her interview with Elle magazine following the performance -- "If celebrating my roots and culture during Black History Month made anyone uncomfortable, those feelings were there long before a video and long before me," she said. But she also made a profit off of her haters by selling "Boycott Beyoncé" merchandise at her concert in Miami, where president of the Miami Fraternal Order of Police had called for a security boycott of the singer's concert. 
Self-described "Bad Bitch" Amber Rose is no stranger to slut-shaming, and somehow she manages to keep her cool despite the trolls she so often puts up with. But earlier this year, when ex-boyfriend Kanye West had Twitter beef with her ex-husband and the father of her child Wiz Khalifa, she had no choice but to step in and remind everybody who's in charge. 
Rose stayed quiet as West dragged her through a slut-shaming whirlpool, telling Khalifa in a now-deleted tweet that he "let a stripper trap" him. But she couldn't stay out of the conversation when West brought her son into the conflict. Rose tweeted:
The comment shut West up -- at least temporarily -- and inspired him to apologize to Khalifa. Rose had a friendly meeting with West's wife, Kim Kardashian, a few days later, in a stunning moment between two of America's most consistently slut-shamed women. 
Speaking of Ambers, the former "Glee" star recently used a post-dental surgery dose of novocain to articulate how ridiculous it is when people ridicule and try to police her body. 
"Do my thighs offend?" she asked. "Does my big juicy ass offend?" 
Her final request? "Let my big ass live." 
One frustrating reality of being a woman is that men often feel entitled to our smiles. But tennis champion (and "Lemonade" star) Serena Williams has no time for that bullshit. At a September 2015 press conference, a male reporter asked Williams why she wasn't more cheerful and excited after winning a match. Her concise response was absolute perfection: "You're not making this super enjoyable."
Earlier this month, Rose was trending online for being "booted" and "kicked out" of a New Orleans restaurant after allegedly throwing French fries at a bartender, with the manager of the establishment saying that Rose was both "awful," and a "horrible person."
A few days later, Rose cleared everything up by explaining that the service at the restaurant was horrible, and that the bartender mocked her for her years-long sobriety. Most importantly, though, she apologized to the singular French fry. 
In 2009, Kanye West infamously hijacked Taylor Swift's acceptance speech for Best Female Video at the MTV Video Music Awards. The two had seemingly patched things up, but with the release of West's album "The Life of Pablo," came one misogynist lyric that did not sit well with Swift: "I think me and Taylor might still have sex / I made that bitch famous."
One week later, Swift picked up three Grammy Awards and, in her Album of the Year acceptance speech, said:
"As the first woman to win album of the year at the Grammys twice, I want to say to all the young women out there: There are going to be people along the way who will try to undercut your success or take credit for your accomplishments or your fame. But if you just focus on the work and don't let those people sidetrack you, someday when you get where you're going, you'll look around and you'll know that it was you and the people who love you who put you there. And that will be the greatest feeling in the world." 
When supermodel Tyra Banks had a series of unflattering photos taken of her at the beach in 2007, she used her platform as a talk show host to give an impassioned speech, and tell her haters exactly what she thinks they should do -- all while wearing the same swimsuit in which she had been photographed. 
(Spoiler alert: You can kiss her fat ass.)
Former secretary of state and current democratic nominee for president Hillary Clinton has faced her fair share of sexist commentary throughout the primary election cycle. But when Republican frontrunner Donald Trump accused her of playing the "woman card," she struck campaign gold. The Clinton campaign created a "woman card," and proceeded to gain 2.4 million dollars in donations following Trump's comment. 
Supermodel and author Chrissy Teigen gave birth to her and husband John Legend's (adorable) baby daughter last month. But when she dared go out to dinner 10 days later, she received a barrage of judgement from her Instagram followers. 
Her sarcastic response was spectacular. When one follower on Twitter asked, "How is baby Luna?" Teigen jokingly replied with the following: 
After Oscar-nominated actress Gabourey Sidibe made the grave mistake of being a woman attending an awards show while wearing a dress, she received a storm of criticism about her weight. Sidibe, who wore a stunning Michael Costello Couture dress at the 2014 Golden Globe awards, had the perfect response to her haters. She casually reminded them that her charmed life as a successful actress is infinitely better the one they spend criticizing a woman's weight from behind their screens. 
Calling all HuffPost superfans!
Sign up for membership to become a founding member and help shape HuffPost's next chapter
BEFORE YOU GO
PHOTO GALLERY
24 Times Sexism Was Very Very Real In 2015