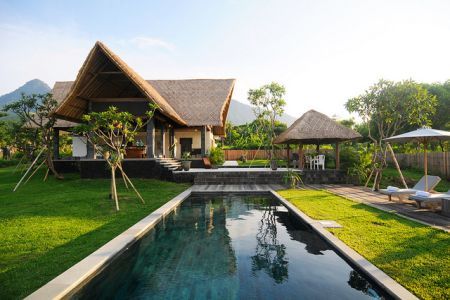 Bart Speelman / Flickr
Where will you stay on your next vacation? According to a survey conducted by TripAdvisor in February, more than half of Americans plan to stay in a vacation rental rather than a hotel in 2014. Survey participants said they're foregoing hotels for the ample space, better amenities and lower rates that vacation homes, villas and condos can provide.
But while vacation rentals can offer unique benefits for travelers, they can also cause major headaches, especially since rental policies can vary widely by company. To help avoid any unforeseen costs, we asked a variety of travel experts -- including owners of vacation rental companies -- what answers travelers need to seek before choosing their next vacation rental.
1. What is your cancellation policy?
Elaine Fitzgerald, president and CEO of Beach Vacation Rentals, advised asking for clear details about cancellation policies, "which are generally much stricter for vacation rentals than for hotels." What happens if you have a family crisis? What if there is a weather-related emergency? Do you lose your deposit? Can you book a new date? Consider a different company, or alternatives like travel insurance, if the cancellation policy doesn't provide the coverage you're looking for.
2. How do you check in?
This may seem like a no-brainer, but many people don't think about how to check in if they are delayed and arrive after business hours. "Make sure there is a secure location for you to pick up the keys," said Cathy Ross, COO of Exclusive Resorts, which manages a portfolio of luxury vacation homes. "Do not have them left at the home unattended." Some owners may use lock boxes or keyless entry codes, or may simply send you the key before you arrive, according to TripAdvisor findings.
3. What is your definition of child- or pet-friendly?
Even if the home or villa is listed as child- or pet-friendly, Jenny Ally of Undercover Tourist, an online discount site for family travel, recommended asking exactly what that means. The property owner's interpretation "may not necessarily line up with how you define these terms." Check, for example, if it's been child-proofed, if there are stairs or plants harmful to pets, among other details.
4. How many cars are allowed?
If you're traveling with a large party that may include multiple generations or several families, you'll want to know how many cars you can bring. Sometimes there is a parking pass fee or an extra charge for more than one car. Tom Gilmore of VacationHomeRentals.com said, "I'd even ask if you need a car; the home might be close to public transportation." He also recommended checking if there are any street restrictions that would impact your stay.
5. How many keys are issued?
Again, if you're traveling with a large group who may splinter off to do different activities, one or two keys probably isn't going to cut it. TripAdvisor recommends ensuring you can obtain additional keys -- just make sure you understand any associated fees.
6. What happens if something breaks or there is a problem?
"Be sure to confirm if there is an emergency number to call if something breaks or assistance is needed in the home," said Gilmore. "Say a toilet breaks -- is there a property manager to call to ensure that it is fixed in a timely manner?" What if you get locked out? That can ruin a vacation quickly.
7. How does cleaning work?
There can be a lot of miscommunication when it comes to the cleaning and cleanliness of a vacation home or villa. According to Ross, you should understand before checking in if cleaning is included in the price or if it's an additional charge and with what frequency it will be done. "Some companies, for instance, may expect you to do certain things, such as unload the dishwasher or wash the towels, and if you don't, they will charge extra cleaning fees if a house is particularly dirty and requires extra time to clean," Kristi Kingston of Undercover Tourist explained. You'll also want to know in what condition you should leave the unit to avoid additional fees, Fitzgerald advised.
8. What equipment is available for use?
TripAdvisor recommends asking what equipment, such as strollers, portable cribs, fishing rods or pool toys, are already at the property, as this can help lessen the packing load -- always a bonus!
9. What's open nearby?
For off-season rentals, you may be surprised to learn that the main stores, restaurants and attractions are closed during certain months. Fodor's Editorial Director Linda Cabasin warned, "This is a big issue that people often times don't think about until it's too late." Plus, you'll want to be sure your vacation rental isn't too far off the beaten path, especially if you're not bringing a car.
10. Are there any additional perks?
If you're going to stay in a vacation home, you might as well get as many perks as you can. It certainly doesn't hurt to ask if there are any unexpected extras, like airport transportation, private beach access, pool access or even a refrigerator stocking service before you arrive. Ross noted that her luxury vacation rentals come with daily housekeeping, an on-site concierge and pre-trip planning services.
As you plan your next getaway, keep these questions in your arsenal to ensure a smooth vacation.
Related