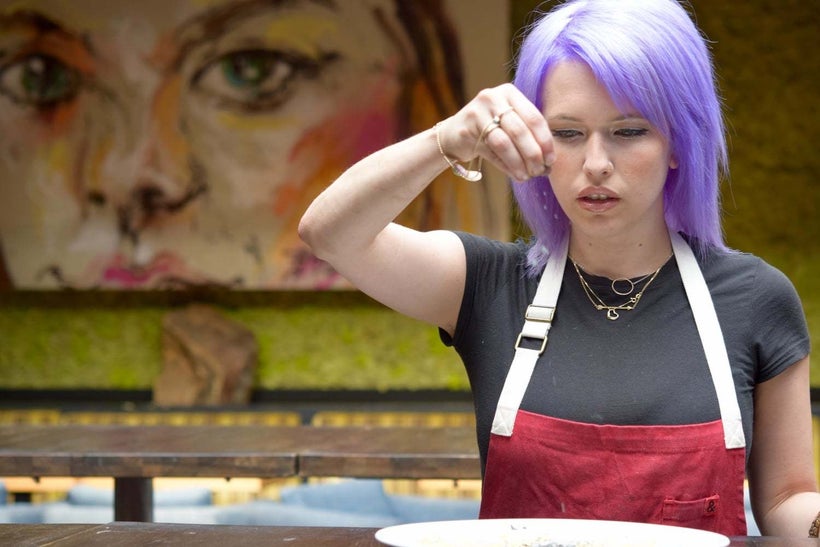 Some time back it would have been safe and/or cute to call Chef Niki Starr Weyler a "star on the rise" but now the executive chef of Mesa in Costa Mesa is a venerable star in the kitchen. At Mesa, where fine dining meets a swank club setting, the chic adults only lounge is more in tune with hot spots in Las Vegas than anything else going on in Orange County.
An O.C. native, Chef Niki had ambitions of becoming a nurse before she opted for culinary school and I think she's done more good for more people than she ever would have as a nurse. Granted she's not saving lives but she is definitely pleasing palettes on a grand scale. With her impressive take on modern California cuisine, Chef's menu is influenced by the seasons as well as her love for fresh produce, high quality meats and fish, which she uses to let her ingredients shine through.
At Mesa, with its impressive open roof and energetic club vibe, Chef Niki is crafting a menu that pleases and satisfies and sets the tone for a fun a and festive night out on the town for adults to enjoy.
I was blown away by dinner at Mesa. How has the menu changed since you opened?
Mesa has been open close to ten years now and has gone through many changes in back of the house. Since I have been here my main focus has been seasonality, simplicity and well executed and balanced dishes. I love to work with fresh produce, high quality meats and fish and let the ingredients shine through rather than trying to over work and over complicate these already delicious products.
What was your original plan for the menu and how has it evolved?
My original plan was to come in and elevate the menu; bring it up to standard with the amazing cocktail program Mesa has always been known for. A lot of people just came to see Mesa as a bar and had forgotten that we have a full kitchen behind that bar. I had a task at hand to bring people back to Mesa for a dining setting in the earlier hours and stay into late night to dance, drink and party with us.
How would you describe your menu?
I would describe my menu as a seasonal, sharable menu with inspiration from many different cuisines and cultural backgrounds. I am the type of person that loves to share food when eating with others. I get bored easily and love to try as many items as possible on a menu, so given that, I base my menu off the same mentality. I want my guests to feel a sense of community when dining with us, and what better way to do so than to break bread with one another?
Mesa is almost a nightclub setting. It's definitely a club on the weekends, yet your menu is more fine dining than club food. You do know you can get away with less?
I believe that while we do have a dance/club scene in the later evening we also attract a more sophisticated guest. These guests are looking for the whole package and here at Mesa we are one of very few that can offer that to them. We pride ourselves on elevating every level of service we give our guests; from our dining service to late night bottle service and music.
How do you see your menu evolving?
Coming up into spring/summer, which is such an exciting time for produce, you can expect to see some very vibrant fresh dishes coming into play this next menu change
What's the menu signature dish not to miss?
My chef style mussels are for sure one of my favorite dishes as well as a very sought after dish, which have received much press as well. The dish is made up of Black PEI Mussels, Bilbao chorizo, green onions, chili flake, smoked paprika and deglazed with white wine served with grilled bread and clarified butter.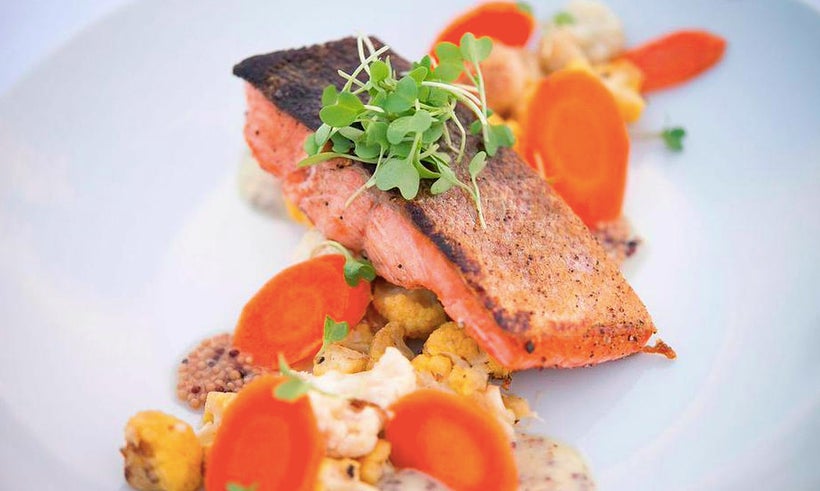 You're an OC native, where's a good spot to eat that most Angelenos may not know of?
Not to be bias but of course us here at Mesa, and besides us here are some of my absolute fave spots in the O.C. area.
For ramen: Shin Sin Gumi in Fountain Valley
For Mexican food: Taqueria Tapatia in Santa Ana, which is open till 4am too
For sushi: Hamamori in Costa Mesa in Crystal Court
For fine dining: Broadway By Amar Santana in Laguna Beach
For yakatori: Honda Ya (Tustin)
For Korean BBQ: Shik Do Rak (Irvine and Fountain Valley)
For pizza: Il Dolce for a rustic artisan pizza in Costa Mesa and Lavantinas for late night big cheese slices in Newport Beach), and my BeeSting pizza here at Mesa
How would you describe your cooking style?
I learned so much from my mentor Chef Amar Santana, but the main thing I took away from cooking for him for six years was to not overwork dishes. To first focus on doing something and doing it the best you can. I find that mantra has lead me to my own unique cooking style, which is simplistic yet edgy, fun and approachable and never letting technique outshine the real star of the show: the beautiful ingredients.
I think the food at Mesa isn't just great food for a club or for OC. It's legit, period. But I was really struck by the vibe and energy at Mesa. Is there any pressure to meet expectations?
I think in any job you feel the pressure to meet expectations, I believe that is what keeps us going and trying to top ourselves. If you were to stop challenging yourself and stop feeling the pressure you may fall behind or not be inspired to create more. The pressure is what makes us tick, the pressure of competition, the pressure of ticket times, the pressure from our superiors and ourselves. We as chefs thrive under pressure; hence the saying, "If you can't stand the heat, get out the kitchen!"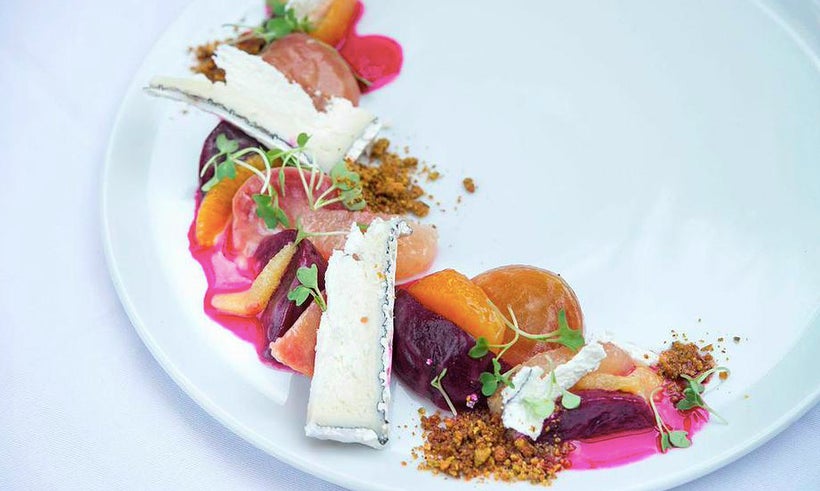 What do you hope someone takes away from their experience at Mesa?
I hope that someone takes away a whole experience that excites all the senses. That they walk away feeling that they were treated like guests in our home, that the food excited and fulfilled them, the drink opened them up to new flavors and made them merry, the music, vibe and energy kept them intrigued and kept them in tuned with their surroundings, and lastly that they genuinely cannot wait to visit us again.
Mesa is located at 725 Baker Street in Costa Mesa. Open Tuesday – Saturday from 6pm to 1am. Call 714-557-6700. 21 and over.
Calling all HuffPost superfans!
Sign up for membership to become a founding member and help shape HuffPost's next chapter
This post was published on the now-closed HuffPost Contributor platform. Contributors control their own work and posted freely to our site. If you need to flag this entry as abusive,
send us an email
.