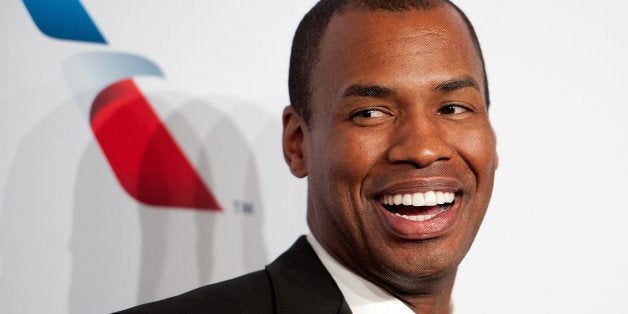 I recently came across this piece by a black gay man who seems to need a bit of help when it comes to realizing how awesome he is, so I've come up with 10 reasons it's utterly amazing and pretty awesome to be a black gay guy.
1. We have twice as many heroes to look up to.
Sure, the less enlightened among us would like to call being black and gay "being a double minority" or give pitiful lectures on how tough it is to fight racism and homophobia, but flip that argument on its head and you'll find that the experience of belonging to two cultures that have brought so much change and good to the world is pretty damn great.
I have heroes who range from Bayard Rustin to Sylvia Rivera to Harvey Milk to Audre Lorde, all great people who cross boundaries of race, sexual orientation, and gender identity. To be able to look to those who have caused so much amazing change in the world and realize that they share one or more of my personal identities is pretty damn amazing.
2. The most pro-LGBT-equality president in U.S. history is black.
You know, the one who came out in support of gay marriage? The one whose presidency saw the most rapid expansion of recognition of LGBT rights in history? Yep, that's President Barack Obama, and he's black. We know he's black because that's how he identifies. President Obama's embrace of LGBT rights has helped start a much-needed conversation about said rights in the black community and has helped dispel the persistent and insidious myth that blacks are somehow more homophobic than other races.
3. Many of the pioneers leading the charge for gay equality in sports are black.
Michael Sam. Jason Collins. Derrick Gordon. These (newly) out gay black men are changing the game in sports at the professional and collegiate levels and are heralding an unprecedented change in visibility for gay black men. When Jason Collins came out on the cover of Sports Illustrated, it was a moment. Michael Sam and Derrick Gordon have had their moments as well, and each of these three men is redefining what it is to be a black gay man by taking the steps to lead the charge in their respective arena in sports. I'd say that's ballin'.
4. We have more dating options... really!
OK, hear me out. Since most of the images we see of loving couples or hot guys in gay media are of upper-middle-class gay white men, most people are going to see that as the standard of beauty, right? Well, if you're a black gay man, that means that you need to look in the mirror and create your own standard of beauty that isn't quite so rigid, thus opening you up a little bit more to the fantastic men of all colors whom the gay community has to offer.
So you're more likely to talk to that hot Korean guy at the deli. Or that beautiful black man you met at church. Or that scruffy white hipster who keeps giving you the eye whenever you go bar hopping in Williamsburg. Or that hunky Latino who keeps asking you for a spot at the gym. So be glad that the blinders are off and be open to dipping into some different flavors!
5. We pretty much invented shade.
With all this talk about "reading" and "shade," it's probably a good idea to know the origins of the terms, and I promise you that they were in heavy usage long before the Real Housewives started using them in confessionals or drag queens from Chicago started using them on cable TV.
If you haven't been introduced to the classic documentary Paris Is Burning, you probably don't know that black gay and trans people were using these terms over 20 years ago. So head over to Netflix immediately to stream it, and don't forget who sent you, hunty.
6. We have an abundance of amazing black gay authors.
Any discussion of black gay literature starts with the granddaddy of them all, James Baldwin, and his romantic opus Giovanni's Room, but if that's a bit too retro for you, there are plenty of other authors to choose from. For a romantic gay classic, look no further than James Earl Hardy's B-Boy Blues. If politics is your thing, check out Keith Boykin's seminal Beyond the Down Low: Sex, Lies, and Denial in Black America. For a sexy, funny lark, check the Armani Williams novel Harlem Boyz. And, if you're in the mood for a coming-of-age memoir with a military twist, check out the memoir from yours truly, Closets, Combat and Coming Out. Yes, that was a shameless plug. Deal with it.
7. We know that Harlem is where it's at.
Chelsea is over, and Hell's Kitchen is crowded. Luckily, South Harlem is a progressive home to many black gays who mix with -- gasp! -- actual heterosexuals in the many bars, restaurants, and lounges that the neighborhood has to offer. The other hues of gays are finding their way up to Harlem quickly enough, but if you want to see sexy, classy, well-dressed gay black men, South Harlem is the place to be. If you don't believe me, just check out Melba's on Wednesday nights, or lesbian-owned Billie's Black any night.
8. Even after all these years, Noah's Arc is still everything.
For two seasons on LOGO TV, Noah's Arc reigned supreme and gave gay black men everywhere much-needed representation on prime-time television. Was it a little campy and a bit silly? Absolutely, but that was all a part of its appeal. The fact that, all these years later, there still hasn't been another show like it ensures that it'll be passed on from generation to generation of gay black men who want to see themselves represented as the attractive, successful, fabulous, fantastic people we are.
9. We can call out other black folks for being homophobic... minus the racism.
Every once in a while, you come across an article like this that drowns out whatever point it has in the weird and awkward racial biases that the author obviously has. Thankfully, that whole dual-consciousness thing allows us black gays to call out black folks when they're being homophobic, minus any thinly veiled racism that sometimes comes into play when other groups do so. We can look in the mirror and be reminded that homophobia has no color, religion, race, or ethnicity, so we can smack down homophobes with facts, not racist jabs.
No offense to anyone, but black just doesn't crack. It fades, mind you, so one has to be constantly on guard against too many UV rays (yes, we can burn) and the effects of an unhealthy lifestyle, but overall this melanin is a godsend when it comes to slowing down the effects of aging. My 56-year-old father can still pass for a man in his early 40s. If that is what I have to look forward to, well, I'm sticking with loving the skin I'm in. And, no, Shemar Moore isn't gay, but he is 44. Damn, damn, damn.
So there are my 10 reasons it's utterly awesome to be a black gay guy. Got more? Feel free to share them in the comments section below!
Popular in the Community