Last week, a Montana lawmaker introduced a bill that would outlaw certain types of yoga pants. Here's why that's totally bogus. Written on behalf of every mom-of-young-kids in America.
1. I'm tired. Like, were you up with a baby four times last night? And then, did the toddler decide to terrorize your bedroom at 5:00 a.m., looking for Octonauts and "the sugar cereal"? Didn't think so. So, while I search for my dark sunglasses and toothbrush (which I will later find on bottom of the kids' toy basket), I'll go ahead and reach for those black yoga pants too. 'Cause it's happening.
2. They're comfortable. I mean, really. Have you tried wearing women's skinny jeans recently? They're tighter than my preschooler's favorite Spiderman shirt (which fit 18 months ago), and more uncomfortable than a maternity bra. (Okay, maybe not that bad, but still.)
3. They flatter any figure. Yoga pants are the comfortable, I-can-suck-you-in-but-it-won't-hurt version of Spanx. They are flattering, but still comfy. So, I'm wearing them. Duh.
5. I want you to think I'm working out later. Oh yeah, I'm totally owning it. (For context, refer back to #4.)
6. I can't pick a coordinating outfit to save my life. Yes, my kids always look amazing and put-together, but this leaves limited brain power for me to craft my own look. Which usually means I leave the house in a combination of loud accessories and fashions from a decade ago. The yoga pant solves all of this in one simple garment.
7. They're black and conceal almost any stain. Peanut butter finger smudges, baby spit up, remnants of yesterday's attempt at cleaning the kids' sandbox... they all disappear into the awesome abyss known as my dark-colored yoga pants. This is pure magic.
8. You can't tell that I've been wearing them for two days. Due to reasons mentioned in #7. And yes, I've slept in them, too. 'Cause they don't wrinkle. (Some like to call that a no-brainer.)
9. You can get them in every color. Just like nail polish is my favorite way to feel on-trend and put-together, a brightly-colored yoga pant can make even the frumpiest mom look like she's totally with the times, and rockin' the color of the year. So, let her rock the brights, the prints, the leopard. Who cares? She's feelin' amazing.
10. I'm awesome, and I deserve to feel awesome. But you already knew that by now.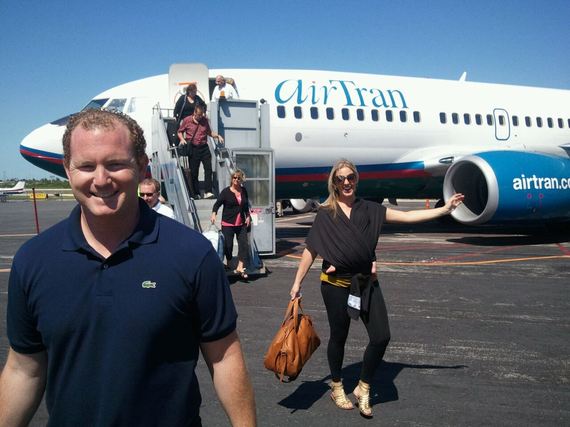 Formerly an Emmy-nominated TV news reporter, Janie Porter is the creator of SheJustGlows.com and (often-unshowered) stay-at-home mama to three boys under 4 years old. Follow her on Facebook, Twitter and Instagram for more posts about less-than-perfect parenting, juice and smoothie recipes and tips on finding your inner glow.
Support HuffPost
A No-B.S. Guide To Life
Related
Popular in the Community