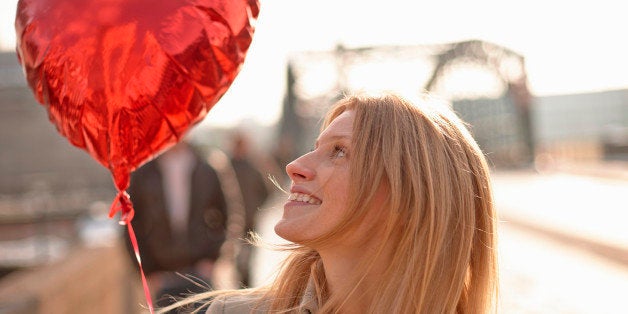 It was a few days before V-Day and I was walking disaster. My ex had dropped the breakup bomb months before and I was still trying to clean up the mess. I spent endless hours on the phone with my girlfriends, lamenting about my "singledom." I made a plan to hibernate in my Woman Cave on the dreaded day with a bottle of vino and When Harry Met Sally. But I was missing out on the most important thing... I wasn't celebrating me.
So instead of wallowing in dark chocolate on February 14, get your winning attitude on, because being single can lead to some of the best times of your life. Whether you're newly single or have been single for a while, here are 10 fab reasons to celebrate YOU on Valentine's Day:
1. It's fun to fly solo.
Being single doesn't mean you have to live in lonely town. Get out and be social. Grab some girlfriends and go dancing, try out a new restaurant or plan a girls' weekend in Vegas. Hanging out with your friends is quality time well spent. No men allowed.
2. Being single is better than being in a sucky relationship.
No matter who wielded the breakup hammer, hanging onto a bad relationship is never the better choice. By being out of a relationship, you've saved valuable time. Time you can now spend finding a much better mate.
3. You are the ruler of the remote.
Your TiVo is not so jammed with his recordings, so that it starts deleting yours. You can watch all the vampire TV shows, news shows or chick flicks you want.
4. Change is good... no, great.
This is a great time to get out of your comfort zone and try something new. Take a gourmet cooking class, learn to speak French or take a trip somewhere you've always wanted to go. Be brave. Be bold.
5. You get to put all your attention on you.
Invest your time in having a relationship with your fabulous self. Embrace your freedom and independence. Use this time to discover who you really are and what you really want out of life.
6. You get to treat yourself to something special.
Since you're not out spending your cash on that perfect gift for your man (only to have him be less than enthusiastic about it or return it), why not shop for something special for yourself? Give yourself credit for being the amazing woman you are.
7. You get to do what YOU want.
My ex wanted to go for a hike on Saturday mornings. I wanted to go for coffee and bagels. We never did what I wanted. Now, Miss Sassy and Single, you get to do whatever you want. Go on "me dates." Do what makes you happy, inspires you, and energizes your passions.
8. You get to flirt... and flirt some more.
Being single means you get to do a ton of guiltless flirting. So make eye contact with that cutie in the Starbucks line, the hot guy at the bar or that new co-worker. A little flirting goes a long way in boosting self-esteem as well.
9. You get to create the life you want.
This is a great time to come up with a game plan for your future. So take steps to reach your career goals, find your dream apartment, take that dream trip or whatever you truly desire. There's no better time than the present, so get going!
10. You get to celebrate V-Day, your way.
This is a day to be shamelessly selfish. Go for a relaxing massage. Do a marathon movie day with your ultimate celeb crush. Or throw a party with your single friends and rent some action chick flicks with a heroine kicking butt instead of getting her heart stomped on.
The truth is, being single simply rocks because you're fully free to design the life you want. Let V-Day stand for victory. Enjoy this fabulous time in your life. Pop open a bottle of champs and celebrate YOU.
Calling all HuffPost superfans!
Sign up for membership to become a founding member and help shape HuffPost's next chapter