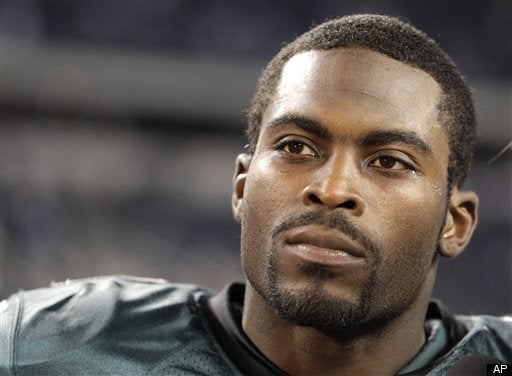 As an animal lover, Joan Dowlin once thought she could never forgive Michael Vick. But she's had a change of heart. Here are her 10 reasons she's rooting for the Philadelphia Eagles' starting quarterback as the team begins its playoff quest:
Michael Vick has been in the national spotlight a lot recently, for both his stunning comeback on the football field and his off-the-field past criminal activities of running a dog fighting business that included killing dogs.
President Obama highlighted this national debate last week by phoning the Eagles' owner Jeffrey Lurie, congratulating him on taking the risk of hiring Vick, an ex-con. The President said Lurie was setting a good example by giving a second chance to someone who has served his time.
Never mind that President Obama's main purpose in calling was to thank Lurie for making future plans to install solar panels and wind turbines at Lincoln Financial Field, thus supporting the President's "green initiatives." The second half of the conversation got all the attention and Internet hits. In fact, Obama's support of Vick went viral. It was a hot topic on twitter, talk radio, and cable news for several days. It seems everyone wanted to weigh in.
One Fox News host (Tucker Carlson, filling in for Sean Hannity) even went so far as to say he thought Vick should have been executed for what he did. Even most of Vick's critics would agree that Carlson's position is a little too extreme.
But not all the anger over the signing of Vick has disappeared. I have a dog trainer friend who refuses to watch the Eagles or support them in any way as long as Vick is the quarterback.
Since this has become such a hot topic and the playoffs are looming, I decided to add my two cents in the form of a Top Ten list. I was, I believe, one of the first to address the issue of Vick's redemption, explaining how at first I thought it was a mistake to hire him. I am an animal lover who felt at the time I could never forgive him. I have since changed my mind on the matter. The following list explains why.
The Top Ten Reasons To Root For Michael Vick (that show he has truly repented):
10. He is respected by his teammates. To judge the character of any person, you need to look at the opinions of those they work with. The Eagles' players and staff admire and respect him. In 2009, they voted Vick the most courageous player of the year (Ed Block Courage Award.)
9. He has an incredible work ethic. Everyone he works with is impressed with how hard he works at practices and in games. (His reputation was the opposite when he was with the Falcons.)
8. He speaks out against dog fighting. He goes to schools or youth groups and tells students about the sins of animal abuse. This is a volunteer project, not mandated by the courts. Wayne Pacelle, chief executive officer of the Humane Society, has become Vick's partner in trying to right the wrong of animal fighting and has said Vick has never turned him down when asked about speaking anywhere on the subject.
7. He is playing football out of his mind. Only someone truly repentant and thankful for a second chance -- and who is at peace with one's self -- could be performing at such a phenomenal level.
6. He has broken ties with his old, corrupting influences. After the shooting incident outside his birthday party in Virginia Beach last June, Vick said the event "scared him straight." He is quoted as saying: "Right then and there I told myself, I am changing my life. I'm going to do everything they ask me to do. I'm getting myself away from this madness." He has kept his word. A lesson that perhaps Allen Iverson of the Philadelphia 76ers never learned.
5. He is accountable for his actions. This was evident at his news conference after the Vikings loss last week. He said he was responsible for the Eagles losing because he fumbled twice and was intercepted once. He refused to make excuses even though he was injured on the first play with a quadriceps contusion (thigh bruise) and was limping terribly by the end of the game. It was refreshing to hear a quarterback take the blame instead of looking for scapegoats.
4. He is committed to helping the team win. At the same news conference, when asked how he felt about being named starting quarterback for the Pro Bowl, Vick said he didn't care about the Pro Bowl. His focus was on now and the Eagles and the playoffs. He gave a similar answer when asked about a potential contract extension after his spectacular performance in the Nov. 15 destruction of the Redskins. Vick said the contract hadn't even crossed his mind.
3. He is humble. After his otherworldly performance in the 59-28 rout of the Redskins, Vick in his press conference refused to take credit for the win, instead praising his teammates and coaches for the support they gave him.
2. He is a spiritual leader for his team. Two weeks ago when the Eagles were losing to the Giants in NY by 21 points in a game to determine first place in the NFC East, Vick encouraged his teammates to "play for pride" and not give up, thus sparking a miraculous 28-point comeback in the last 8 minutes of the fourth quarter.
1. He is repentant in his own words. When speaking to students from Wilbur Cross High in New Haven, Ct., Vick told them: "I know that there are people who will never forgive me and I understand that. What I did was inhumane. I can't change people's minds, I can't change that - if I could, I would. All I can do is what I am doing, to try to help more animals than I hurt, to try to be part of the solution instead of part of the problem."
Ironically, the last time Michael Vick started a playoff game as quarterback was at Lincoln Financial Field on Jan. 23, 2005, when his Atlanta Falcons battled the Eagles for the NFC championship and a trip to the Super Bowl. The Eagles won 27-10 (then lost in the Super Bowl to New England).
When Vick leads the Eagles into Lincoln Financial Field on Sunday to face the Green Bay Packers in the first round of the NFC playoffs, he will truly have come full circle in his quest for redemption. A dream matchup would be having the Eagles once again play Atlanta for the NFC championship in Atlanta, where Vick's career took off and collapsed. However, a lot of things will have to fall into place for that to happen.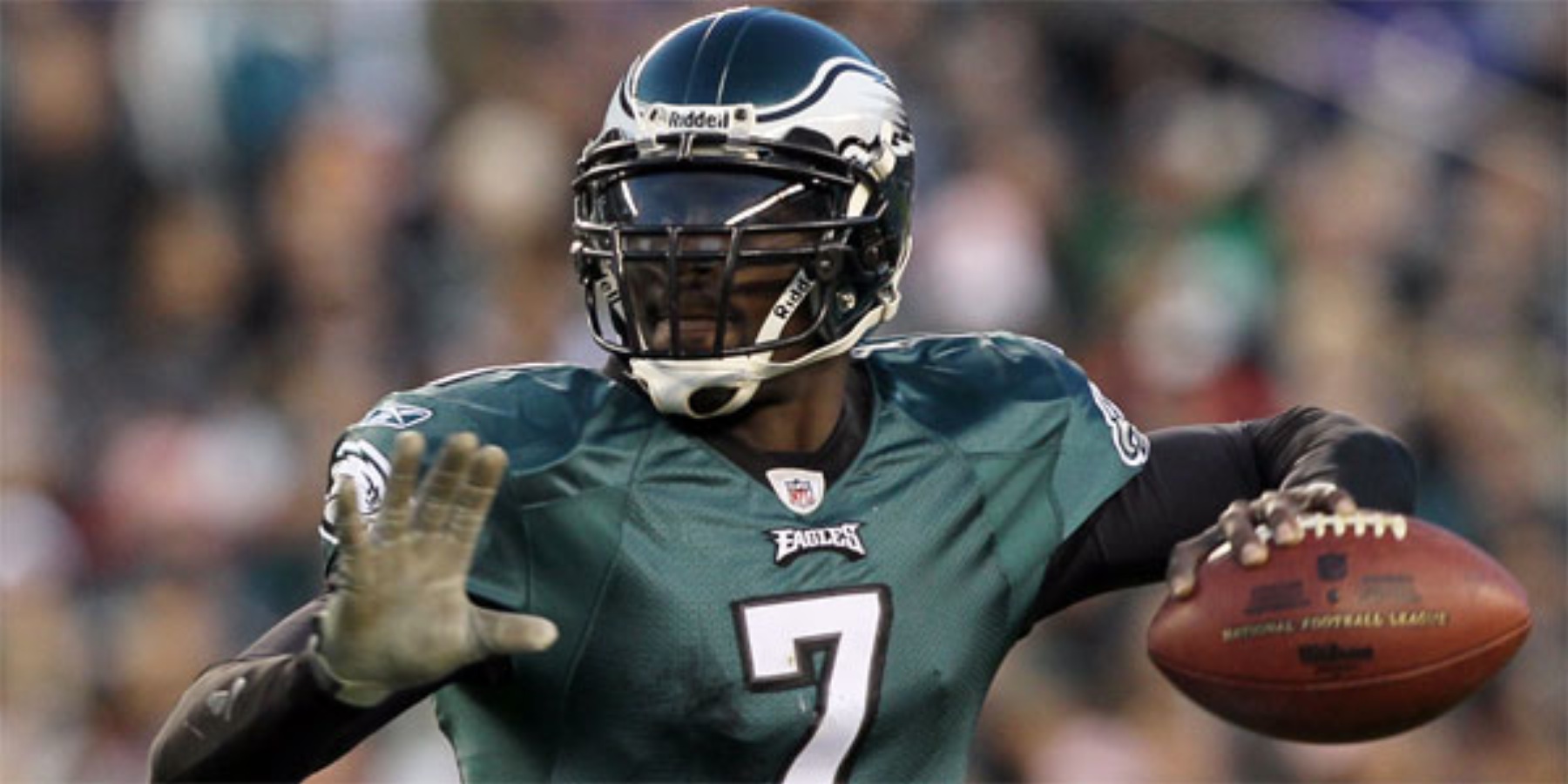 No matter how this remarkable Eagles season ends, one thing is clear to me: Michael Vick has made the most out of his second chance and he deserves our support and respect.
Related
Popular in the Community