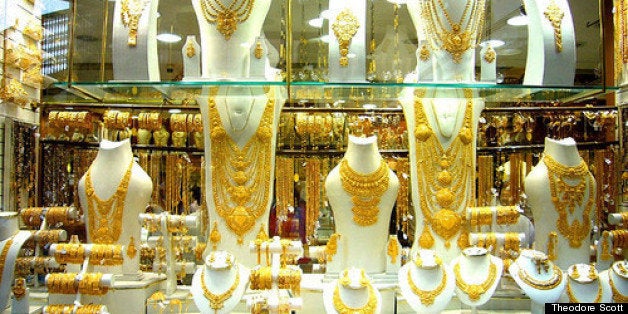 The Dubai Shopping Festival, or DSS as we call it locally, has become much more than a festival of shopping. Sure, it's the huge discounts, crazy promotions, citywide sales, and raffles with Porsches as the prize that get us excited. But there's also entertainment for the kids, street fairs with food stalls, nightly fireworks, and at the Heritage and Diving Village, traditional performances and cultural activities.
Dubai Shopping Festival became so popular that they started a summer equivalent called Summer Surprises. Even more family-oriented, as the kids are on school holidays, there's a festival mascot called Modhesh which looks like a yellow bicycle pump. A summer version of DSS, held annually from the end of June to the end of August, there are sales all over the city, but the major advantage of the summer festival -- if you can drag yourself away from the Olympics -- is that hotel rooms sell at rock-bottom prices.
Photo credit: Andrey Papko via
Photo credit: Arne Bevaart via
Part of the fun of shopping Dubai's souqs is bargaining, or haggling. It's not a requirement, as in Cairo, Istanbul or Marrakech -- if you don't want to play simply ask the price, you'll be told a price, and you can pay that price. And believe me, I'm an old hand at it, and it can be exhausting and it's not always fun. But if you pay the first price you're given, understand you're probably paying double the value. It's probably still a bargain compared to what you'd pay back home, but you can get it for a whole lot less, and have fun in the process if you bargain.
Photo credit: felicito rustique via
Photo credit: Peter via
Dubai may have made its fortunes on the import-export trade, but there's actually some wonderful stuff produced in Dubai by Emiratis, and one of the standouts of interest to shoppers is its homegrown fashion. The biggest local name is quirky young Dubai-born designer Raghda Bukhash, who creates fabulous fashion under her Pink Sushi label, by playfully appropriating traditional Emirati culture and symbols.
Photo credit: Ross Hawkes via