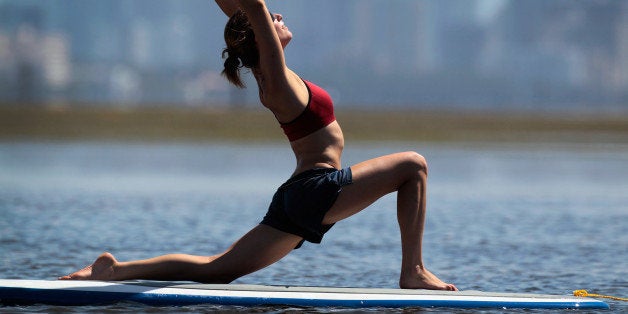 I invited a good friend to try stand up paddleboard (SUP) Yoga with me the other weekend and her reaction was not an uncommon one: "Yoga on a stand up paddleboard? You must be kidding, I can barely stand on one of those, let alone get into a crow pose on a shifting, floating board. No thanks!"
And while it sounds difficult and like something only reserved for super advanced yogis or advanced SUP'ers, it's really a great activity for anyone looking to get a good workout, relax and enjoy nature.
For anyone interested in trying SUP yoga or anyone on the fence about it, here are 10 benefits of practicing yoga on a stand up paddle board.
1. Find peace: There's something so magical and peaceful about being out on the water. It's a great way to find your zen and set your mind at ease. You can truly leave everything you came with somewhere deep in the water beneath you.
2. Develop a deeper sense of mindfulness: Because SUP yoga is all about balance, it will help you develop a new awareness of your breath, body and mind. Every breath, body movement and placement of your hands or feet will influence your balance.
3. Enjoy nature: One of my personal favorite parts about SUP yoga is that you can truly practice out in nature. You never know when a playful seal or curious bird might pop up near you. Aside from wildlife, you get sunshine, water and incredible views that you can't get from any yoga studio.
4. Learn to balance: SUP Yoga is all about balance. If you want to work on your balance, SUP yoga will help you learn where you're weak and where you're strong when it comes to your balance.
5. Challenge yourself: Yes, it can be challenging to practice yoga on a stand up paddleboard. You can use that challenge to your advantage and deepen your practice. You might be surprised how hard some moves are (Warrior I, for instance) vs. others. Beginners to advanced yogis can benefit from challenging their practice on a SUP.
6. Slow down: We're always rushing -- whether to the office, to pick up kids or run errands -- and even sometimes in our yoga practice. Being on the board will naturally slow you down and force you to focus on breath, body movement and balance. It's a great reminder to slow down your pace and be in tune with your movements.
7. Amazing for your core: There's no doubt about it. Adding SUP to your yoga practice is great for developing core strength. You no longer have the stable ground to help root you, instead you have to engage your core stabilizer muscles in order to maintain your balance and move on the board.
8. No class is ever the same: Nature is unpredictable! Some days are sunny, others might be windy (or even rainy!) and as a result your class and practice will differ each time you do it. Little waves, wind, and even sunshine will bring you to new places each time we practice.
9. It's a great way to bond: SUP yoga is fun! Every class I've ever done has resulted in new friends and a lot of laughs.
10. Laugh a little: Sometimes we can all take ourselves a little too seriously; SUP yoga is a great way to get grounded again. When you get on the board, you leave your ego behind and let the practice take you wherever its going to take you on that day (sometimes it might even take your overboard... and you just have to laugh it off!).
Now that you're convinced that you should try SUP yoga, find a teacher in your area. If you're new to SUP, make sure you get an intro on paddling and using the board before you take a yoga class on the board.
Related