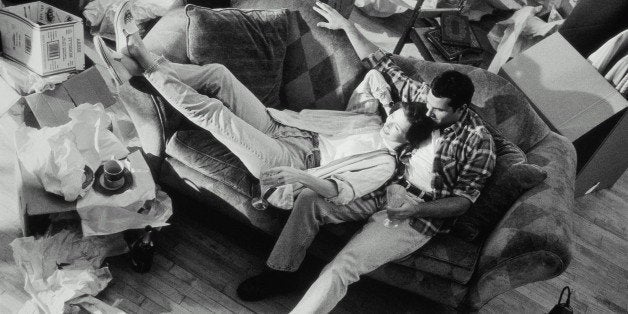 For the record, we both love a tidy house. We love a clean, well-lighted place to read a book or work on a hilarious and/enlightening post for EMandLO.com. Dirty, messy houses can be annoying, stressful, and, yes, smelly. But sometimes, it simply can't be helped. And when it can't, stressing about your messy house just makes a bad day worse. So here, to make your bad day just a little bit better, we offer up ten reasons why your dirty house might just be good for your marriage.
And just to clarify: When we say that a dirty house is "good for your marriage," we mean that it's good for any long-term cohabitation situation. But you try fitting that into a snappy article headline!
1. You Avoid Chore Imbalance Resentment.
There's something incredibly peaceful and almost zen-like about falling asleep in an immaculate and pristine bedroom. Unless, of course, you cleaned the entire house yourself and have done every day since you said "I do" and your spouse never so much as puts their socks in the laundry basket or comments on how nice the place looks. That sort of resentment can keep you up all night, and in all the wrong ways!
2. You Have Time and Energy Left Over for Each Other.
Cleaning is hard labor, even harder, often, than convincing your 3-year-old to eat green vegetables. (There's a reason, after all, that cleaning services often cost way more than childcare!) And climbing into bed after a day of office work followed by a few hours of cleaning -- or after a day of cleaning on your so-called "day off" -- can feel like the finish line in a race you never signed up for. If you instead skip the cleaning and leave all the dirty dishes in the sink, even occasionally, you might just feel like knocking boots... or even simply having a conversation about something more meaningful than deciding which show to watch.
3. You Feel Young and Reckless.
Remember the kind of squalor you lived in during college or your early twenties? (If you're the kind of person who baked cookies and owned a dusting cloth in college, then this article is probably not for you!) Letting your house return to that state sometimes can be freeing. You'll feel like you're embracing life and what's important in it -- namely, people over dust bunnies. And that can be pretty sexy.
4. You Can Have Messy Kitchen Sex.
What's more fun: Lying back on your immaculate and empty kitchen table for some by-the-book sex because you know you're supposed to do it outside the bedroom sometimes... or pushing aside dirty dishes and pushing silverware to the floor and having screw-it-we'll-clean-up-later sex?
5. It's a Bonding Experience.
Marriage can sometimes devolve into a kind of ping-pong game where you take it in turns being annoyed at each other for tiny, domestic infractions -- like forgetting to remove muddy shoes before entering the house, or forgetting to pay a bill, or forgetting to put the wet laundry into the dryer. But if you agree, together, to let the house go for a day or a week or whatever, this messy state of affairs will mask all the other stuff you normally get annoyed at.
6. You Realize Some Things Can Wait.
Living with a messy house gives you perspective. You'll realize that the earth does not stop spinning on its axis simply because you left a pile of unfolded laundry in the middle of the TV room, or you didn't empty the trash and the house smells like tuna casserole the next morning. Life goes on, and on your deathbed, you will definitely not think, "I wish I'd emptied the trash cans more often." This kind of revelation can do wonders for the way you treat your spouse.
7. You Gain a New Appreciation for What You Each Do.
Taking some time off from domestic chores will make you each realize how much you do around the house. Even if you feel like you do, say, 90 percent of the household chores, we're pretty sure there's a lot your spouse does that you simply don't notice anymore. (And vice versa, of course!)
8. You Can Stay in the Moment.
A clean house can be just as stressful as a messy one. Imagine this: You're sitting in your supposedly spotless kitchen, trying to listen to your spouse tell you about their day, and you suddenly notice a dust bunny you missed earlier, or a glass you forgot to put in the dishwasher before turning it on, or a pile of newspapers you forgot to put out, and -- hold everything -- tomorrow is trash pickup day. You find yourself multitasking, finishing these little tasks, and only half-listening to the love of your life. Hey, how about you sit down and really listen, instead? Sure, sometimes you can show love by making your love nest cozy and clean -- but other times, it's more important to sit down and simply be there.
9. You Might Lose Your Cellphone or the TV Remote.
And then think of all the meaningful conversations you'll be forced to have!
10. You Won't Invite Friends Over.
When you've been with someone a long time, it's really easy to over-schedule your social life -- to plan dinner parties and football-watching parties and book clubs and playdates and Tupperware-style sex toy parties and... well, you get the idea. But when your abode is verging on squalid, shame makes you hole up together and enjoy each other's company. ᅡᅠLet's hope you still have something to say to each other besides, "Have you seen the remote?"
Popular in the Community