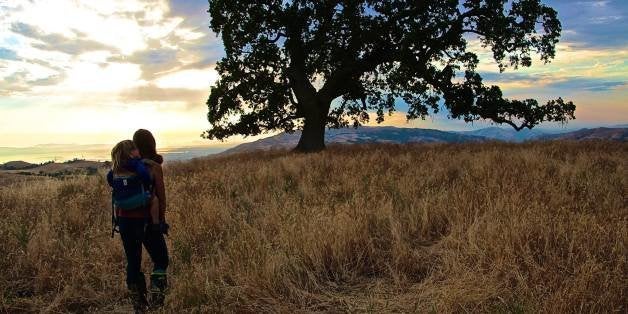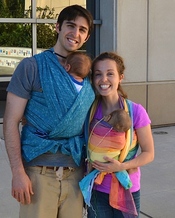 Babywearing became part of our family's journey when I was pregnant with our twin boys. I live in a Midwest town -- Ann Arbor -- that has a rocking babywearing community. It didn't take much for my hubby, Noah, and I to fall in love with babywearing. We bought our first wraps before Micah and Zachary were even born.
Unfortunately, our boys were born three months prematurely, but our babywearing community supported us throughout our journey. As soon as it was safe to wrap Micah and Zachary, we learned how to wear them, even though the boys were still attached to lines, cords and wires. From then on, we wrapped our babies every day. Our family loves babywearing and here's why...
10 reasons why babywearing ROCKS
1. Keeping up with life.
Babywearing helps us keep up with chores, work and life.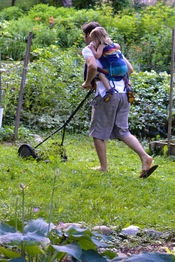 We can do almost anything while wearing our babies -- write, cook, work, walk -- anything that can be safely done with a baby on our chest or back. We keep up with life while our babies cuddle, nurse, sleep, watch, listen and take it all in.
2. We know our babies are safe.
When our babies are wrapped, we know exactly where they are, what they are holding, what they are mouthing, how they are breathing and what they need. We know they are safe because we can feel, hear, see and sense them on our body.
3. Thanks for not touching our babies.
Maybe it's because Micah and Zachary spent three months in the NICU, where we had to be obsessed with hand hygiene, but whatever the reason, we aren't fans of total strangers touching our babies. We like to avoid random people grabbing their hands, caressing their faces and asking to hold them. When our babies are wrapped on our chests, these unwanted interactions from strangers are minimized or downright eliminated. Score!
4. Bonding.
Babywearing maximizes baby snuggles by making it comfortable, convenient and hands-free. Grandparents, aunts, uncles, cousins and friends love to wear and bond with babies, too!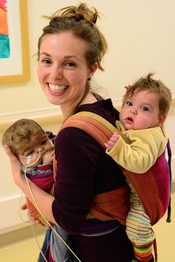 With the babies content, you might even get a chance to bond with your partner!
7. Language development.
When we wear our babies, we tend to narrate what we're doing and talk to them constantly. We sing, ask them questions, list off the ingredients we need for dinner -- they love to hear our voice. When caregivers wear their babies, the babies hear more language and pick up on subtle social cues.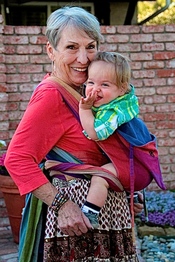 Babies who are exposed to more language have richer vocabularies and are better prepared to succeed academically by the time they reach elementary school.
8. Staying strong.
Our wraps and baby carriers comfortably distribute the weight of our babies, so we can wear our babies much longer than we could ever hold them in our arms. Wearing our babies on walks or while doing chores helps to keep us fit and strong.
9. Super fun.
We love dancing with our babies wrapped on our chest or back, and hearing them giggle as we spin, hop and act silly. We love teaching other people how to wrap, and watching them fall in love with wearing their babies. We love when our babies melt into us, as they softly rest their sweet heads on our body and fall fast asleep.
10. Freedom to explore.
Babywearing takes us where strollers simply cannot. From hiking and playing in the water to navigating big city public transportation, babywearing makes everything easier, happier and so much more beautiful.
We are forever grateful to the babywearing community who gave us the skills and confidence to wear our babies during life's highest highs and lowest lows. We hope babywearing brings you as much love, peace, joy and convenience as it brings to us! Babywearing rocks!!
Related