I just read Stephanie Sprenger's recent post that talked about why being a kid in the '80s was totally radical. Even though I grew up during that tubular decade, I found myself unable to relate to many of her points. They were funny, but I didn't read The Babysitter's Club or enjoy perms. Although I love Frogger, I found many of her points skewed toward a girl's perspective. I was a boy and fondly remember growing up in the '80s for many different reasons other than what she suggests. So I gathered some of my dad blogger friends to help me with the "guy edition" of Stephanie's list. Is my list "gnarly" or does it "gag you with a spoon"?
1. The Action Figures
Long before the recent blockbusters came out, Star Wars, G.I. Joe, and Transformers action figures ruled the '80s. I could never get my hands on a Storm Shadow or Cobra Night Raven Jet, but I was the proud owner of many Dinobots. We would always get the neighborhood kids together for unforgettable wide-scale action figure battles. Honorable mention goes to Mask and He-Man figures.
2. The Clothes
The '80s epitomized great (and a few not so great) clothing styles. The shorts left little to the imagination, but kids today don't appreciate the natural air conditioning these provided. The same goes with the cutoff half shirts that guys sported to show how many abs they didn't have. Air Jordans, Vans, and L.A. Gear topped the shoe charts. I still remember my one and only pair of yellow and black Airwalk high tops. I would proudly wear them again if I could, but I don't think my wife would be seen with me in them.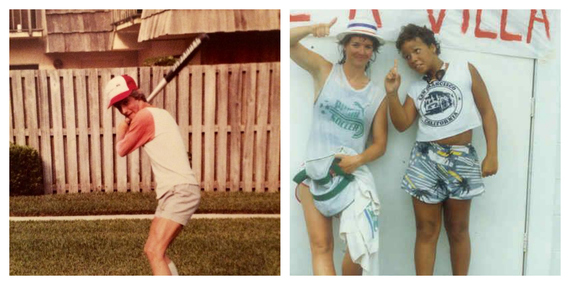 Carter from DadScribe and Mike from At Home Dad Matters show off their '80s short shorts and half shirt.

3. The Hair Bands
Hair spray and leopard print spandex were all the rage. I wasn't allowed to listen to this "rock" music, but thankfully my friends on the school bus introduced me to it. Guns N' Roses will always rule the decade for me.
4. The Epic Movies
This decade was a cornucopia for movies that will live on forever in '80s kids' hearts. Arnold and Stallone were at the top of their game. However, movies like The Goonies, The Karate Kid, Gremlins, and Back to the Future won over every guy. I could go on and on here. The NeverEnding Story, anyone?
5. BMX Bikes
Every boy wanted a BMX bike, and the movie Rad made every kid think they could go off crazy jumps and do flips in the air. I'm sure that movie alone contributed to half the preteen broken arms in that decade. BMX bikes were at the top of the food chain. Extra points if you had a Mongoose BMX bike.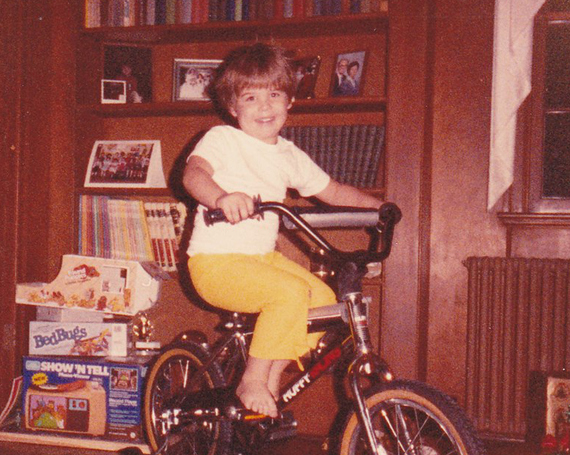 Michael from The Purposeful Pappy was ready to face those neighborhood bike jumps like a champ
6. Paper Routes
There wasn't a better way for a kid to earn money in the '80s than to throw a huge basket on their bike and hurl newspapers great distances. The Sunday editions usually landed on people's roofs or decapitated their lawn ornaments. How could a job involving a 10-year-old throwing heavy objects, while traveling as fast as possible, ever go wrong?
7. The Walkman
The number one reason to have a paper route was to save money for the pinnacle of all '80s electronic devices -- the Sony Walkman. This was the go-to gadget of the decade and changed the way we thought about music. You either needed a huge stereo boombox to carry on your shoulder, or a Walkman with headphones on your ears. Side note: you always needed a pencil with you in case you had to perform quick repairs on your cassette tapes.
8. The Television Shows
Sprenger got this point right in her post. Kids today don't have incredible shows like we did. I do have to disagree with her examples, however. Perfect Strangers? C'mon. Family Ties (Mallory was hot), Silver Spoons (that jerk Ricky had everything), and Saved By The Bell (Kelly Kapowski alone was worth watching) highlighted my childhood. Ok, I will give Sprenger Who's the Boss because Alyssa Milano was my dream girl growing up.
9. The Mullet
With business in the front and party in the back, nothing said cool in the '80s like a mullet. Combine the mullet with a letterman jacket and "pegging" your jeans, and you were unstoppable.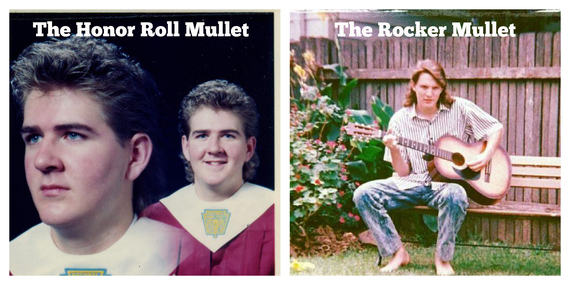 Brent from Designer Daddy and Darrell from Modern Father Online show us two different bodacious ways to wear the mullet
10. The Arcade
What would a boy growing up in the '80s do without an arcade to ride his BMX bike to? Sure, there was Atari and the original NES, but the arcade was where you went in order to publicly show off your finely tuned skills. Put the quarter up on the machine to demonstrate that you meant business, and you were on your way to stardom. Games like Double Dragon, Street Fighter, Tron, and Altered Beast regularly chewed up my allowance. However, arcade glory was worth the cost at any price.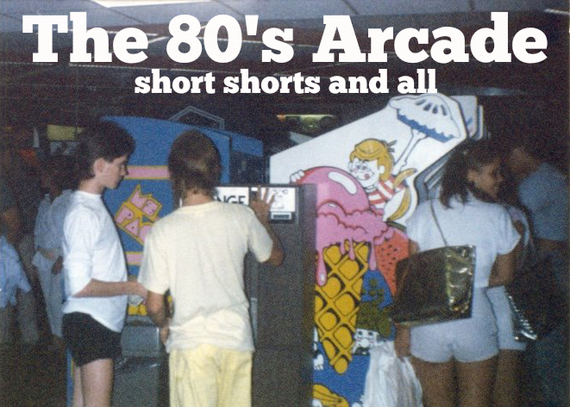 Dan from That Poore Baby shows his arcade style
What makes you think that being a kid in the '80s was the best? Was it a movie, a hairstyle, or that one incredible toy that defined the decade for you? Let me know in the comments below!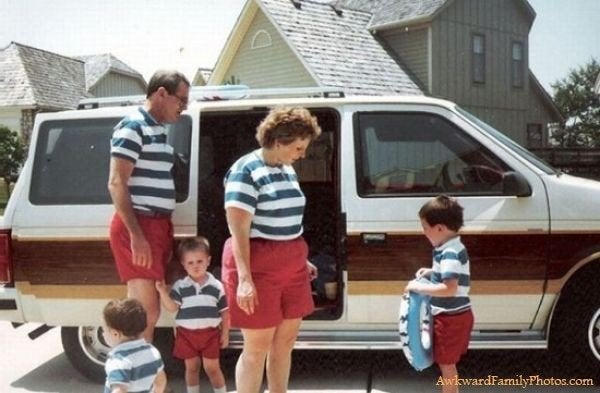 Awkward Family Photos: Vacation Edition
Popular in the Community