It's election time in Canada and the Liberal Party of Canada has a new look for their campaign posters. They've been getting a lot of attention, particularly this modification of the candidate for Quebec's LaSalle-Émard-Verdun riding's poster, David Lametti.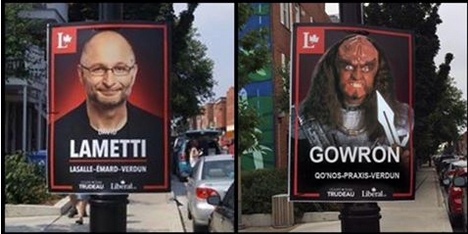 Yup, that's the Klingon leader Gowron, the son of M'Rel and the leader of the Klingon Empire. Quite the comparison!
Lametti's been having fun with the attention this has been getting (the man who first created the poster even has a twitter handle: @liberalgowron), and so I thought I'd ask him, in the vein of David Letterman, to give us his Top 10 Reasons Why Having Your Campaign Poster Photo-Shopped is a Good thing. Here are his answers:
10. The photo-shopped posters create dialogue. People are talking about our posters, and the Liberals invite debate, discussion and dialogue.

9. People are more creative with our posters than with the other parties. Our posters are not bland, they stand out. With that we get people who will either love them or hate them, and people are at least being creative and interactive with the liberal posters, instead of just ignoring them like the NDP or Conservative ones.

8. The humour decreases the intensity of the poster. Some people have commented that the posters look too intense. I don't agree with that, but having some fun with them certainly balances that out.

7. Having more and better hair than I've had before.

6. Free publicity. Thanks @liberalgowron

5. It shows that the Liberal team has a sense of humour. We take this in stride and laugh about it.

4. Ups Canada's potential for a strategic alliance with the Romulans.

3. My former students would say I'm a tough marker but at least I'm not a Klingon.

2. Comic con's been calling.

1. I'd still vote for a Klingon over Prime Minister Harper.
Maybe he'll live long and prosper.
REAL LIFE. REAL NEWS. REAL VOICES.
Help us tell more of the stories that matter from voices that too often remain unheard.