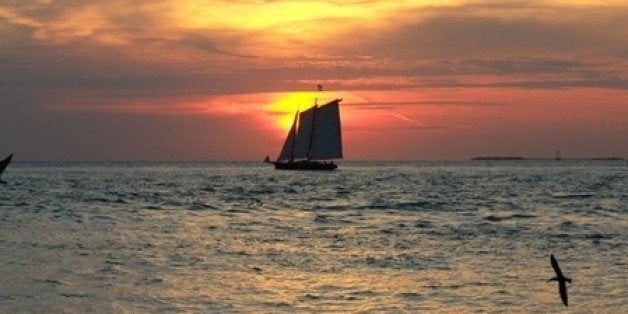 I'm pretty sure I woke up with a grain of sand in my mouth this morning. I'm not sure how it got there, but I am in Florida and I did go to the beach a few days ago. I'm here visiting my cousin and she lives about 20 minutes from Navarre Beach. It's beautiful and not too crowded. We took our chairs all the way down to water's edge and stuck our toes in the sand. The waves washed up and cooled our feet from time to time.
And so, my love affair with the beach continues.
I am a true Kentucky girl who loves U.K.sports and bleeds blue during basketball season. I adore the Kentucky Derby and fast horses. I cheered for American Pharaoh and love that he won the Triple Crown. I live on a farm that my daddy purchased decades ago and raise blueberries on a farm that belonged to my great-great grandparents. My roots go deep.
But the one thing Kentucky doesn't have is an ocean.
We have gorgeous, huge lakes that are beautiful and I enjoy visiting them, but for me, it's like comparing a cubic zirconia to a diamond; it just isn't the real thing.
I have known for years that I have the soul of a beach bum. Here are 10 reasons that prove it.
10 Reasons Why I Should Have Been a Beach Bum
1. To borrow a phrase from Doby Gray, the sound of the ocean soothes my soul. I have an app on my phone that makes ocean sounds. Occasionally, I listen to it as I go to sleep, but it's a cheap fix for a powerful addiction.
2. My feet are happiest when they are in the sand. I was once runner-up in an ugly feet contest, but when I go to the beach, I don't care. I swear I think my toes smile when they get to walk on the beach and are washed with ocean water.
3. I'm from the generation that put iodine in baby-oil and fried myself like outdoor bacon. Thankfully, I stopped doing that years ago, but I do love the sun. In a previous life, I'm sure I was a Sun Goddess or at least hung out with one. John Denver said it best, "sunshine on my shoulders makes me happy."
4. I love the smell of the ocean. Lakes have their own smells and so do oceans. I can sniff the ocean a mile away and to me, it smells like heaven.
5. Memories are made at the beach. Over the years, we took our five children to the beach at least once a year and sometimes twice. The memories we made are etched so deeply in my mind that if they removed the part of my brain that holds memories, I feel sure it would smell of the ocean and have some sand in there somewhere.
The beach is about a 10-hour drive from where we live and the first time we took our daughter, I carried her out to see the ocean and she screamed bloody murder. The noise scared her. The sand was too hot and she didn't like it sticking to her sweaty little palms. I couldn't believe she was my daughter! The good news was that after that first trip, she changed her mind and my beach bum genes are firmly implanted in her soul.
The first time we took our second son (nicknamed Bulldozer), I carried him out to the edge of the water, sat him down and he promptly got up and toddled out into it as fast as his short, fat legs would carry him. If I hadn't caught him he would have walked to the Florida Keys. He simply had no fear and for years, I had to watch him like a hawk if we were near water.
Then, the twins came along. Taking fove children to the beach when two are in diapers is complicated. All my friends told me I was crazy and to just stay home or fly (we couldn't afford it). We didn't listen to them, and instead took a high school girl to help us manage our herd of children. She was great. The children loved her and I actually got a few minutes of peace. Priceless!
I could go on forever telling tales about our beach adventures, but that's another story and I'll save it for later.
6. I love the ocean because of the way it makes me feel. When I sit there with my feet in the sand and my eyes closed, I can literally feel the tension washing out of my body. Nothing else does that for me, not even a great massage. The most relaxed I ever am is at the beach.
7. For me, the beach is a spiritual place. It's a reminder of how big and powerful God is and how small I am. There's a verse in the Bible that says "Be still and know God." I have a hard time being still, but when I'm sitting at the beach, I feel his presence and his peace.
8. My favorite place to go for long walks is at the beach. I love looking for sea shells with my grandchildren and before they came along, my children. There is always a treasure in the sand just waiting to be discovered.
9. I also love boats and watching sail boats on the horizon is mesmerizing. I've never been sailing, but that doesn't keep me from enjoying the beauty of the white sails and the colorful boats gliding across the water.
10. I met the love of my life in the Florida Keys and the night before he left to go back home to Michigan, we walked down to a little dock to watch the sunset. Which reminds me of three of my favorite things, my all time favorite beach song by Otis Redding, "The Dock of the Bay," beach sunsets and my husband of 35 years.
If I ever win the lottery, the first thing I'll do is pay off our debt. The second thing I'll do is buy a house on a secluded beach where all my children and grandchildren can come visit Nana and Poppa. I'll hang a sign above the door that says, "Beach Bums" and live happily every after.
And if I don't ever win the lottery, I've still had more happily ever after than I deserve, and for that I am forever grateful.
REAL LIFE. REAL NEWS. REAL VOICES.
Help us tell more of the stories that matter from voices that too often remain unheard.