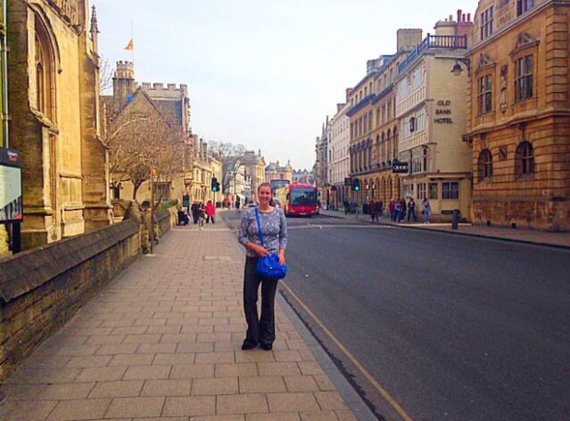 By College Tourist; Author: Susanna Olson
The United Kingdom is one of the most popular study abroad locations in the world, and here are 10 reasons why you should study there too!
1. You can blame mistakes on your accent
Imagine living in a place where you are the one with the accent. Now you can unabashedly blurt out all the shmancy words you've read in books and if you pronounce them wrong people will just blame your accent. Not only that, but if you spell something wrong, people may as well just assume that you used the American spelling. That's what I call a win win situation.
2. You could live in four different countries
There is no other place in the world where you can move to a country that has four countries inside of it. The United Kingdom is composed of England, Wales, Scotland, and Northern Ireland, four countries with their own unique cultures and histories. So when you choose to study abroad in the United Kingdom, you have a whole lot of options open to you. Each country offers a myriad of unique activities, music, traditions, festivals, and even their own languages. You will never run out of new things to learn and explore. Imagine! You could try super thrill surfing from the Irish or chorus singing from the Welsh. Learn a bit of Cornish or try the Scots famous haggis (stuffed sheep stomach... delicious!).
3. You can eat anything you want!
If you like eating, the United Kingdom has a lot to offer. And let's be real, who doesn't like eating? Although they may have had a bad rap for boring and under seasoned food in the past, the UK has been revolutionizing their cuisine in the past few decades. Rising chefs are changing the face of British food and putting the United Kingdom at the top of the world's culinary radar.
Not only that, but there is a beautiful selection of authentic food from a variety of cuisines. Some say that London is home to the best Indian food in the world. Don't even get me started on the plethora of middle eastern restaurants popping up everywhere.
4. Tea parties are a thing
No one knows how to do a tea party quite like the Brits. A comforting cup of tea is never far away. Let me tell you, once you get in the habit of a daily cup of tea, you will never go back. Your life will be changed forever for the better. And let's not forget the scrumptious scones, devonshire cream, and biscuits that often accompany those regular tea times
UK drivers know how to deal with walkers and (unlike in the states) cities are planned with pedestrians in mind. Even in big cities where your own two feet can't quite get you everywhere, the public transportation system is well designed and relatively cheap.
For example, I am seriously in love with London's oyster card system. All you have to do is buy a little blue card and load it up with some money on machines located near all the tube stations. Then you can swipe it to use every single form of public transportation in the city. It is so easy to load it up. And the cost of your journey maxes out at a certain amount per a trip, so it is hard to accidentally overpay. Not only that, but you can use your oyster card to get discounts at select tourist attractions!
6. There are tons of easily accessible weekend trips... and easy access to all of Europe
From huge cities to tiny villages, historic castles to the most modern of amusement parks, and cultural landmarks to natural wonders, the United Kingdom has something for everyone. Thanks to an incredible transportation system with great student discounts, it is easy to get around and soak up its many wonders.
You could probably spend a life-time just exploring the sights within the United Kingdom. But if your feet are itching for something a bit more adventurous, the United Kingdom is a perfect gateway to exploring the rest of Europe. By taking advantage of student discounts and budget airlines like RyanAir, you can spend a weekend anywhere from Paris to Istanbul without completely emptying your bank account.
7. The British understand that students deserve discounts
Seriously, I love the fact that in the United Kingdom you can get a student discount almost everywhere. From retail stores and restaurants to entertainment and technology, all you have to do is show your student ID and you can save some major bucks. Not only that, but British students can sign up for free discount cards from the National Union of Students and UNIdays to enjoy even more discounts from brands like Apple, McDonalds, ModCloth and a whole lot more.
8. You will get a completely new perspective
Imagine taking a history class on the American Revolution in the United Kingdom. One thing I learned while on my first trip abroad is that you cannot (I repeat, CANNOT) understand your own culture until you get out of it. When I was in the UK, I learned that some things that I thought were normal, even human, were actually part of my American culture. There is nothing so eye opening and educational as thrusting yourself into a culture completely different from your own.
9. No need to worry about learning a new language
Even though you will receive the benefits of enjoying a new place and culture, you won't have to worry about language barriers. Whereas in most countries you would have to spend a lot of time learning a new language and perhaps feeling isolated or at least frustrated by your lack of communication, in the United Kingdom everyone speaks English. Speaking in your native tongue makes everything a little bit easier. Instead of stressing out about being misunderstood everywhere you go, you and your new British friends can laugh over the small differences in accent and slang.
10. You can take classes in anything
The United Kingdom has a huge selection of universities and degree programs. They've also been arranging study abroad programs with US universities for a very long time. So studying abroad in England will offer you the variety and flexibility you need to arrange a perfect study abroad program for your particular needs (be it academic or personal).
Calling all HuffPost superfans!
Sign up for membership to become a founding member and help shape HuffPost's next chapter