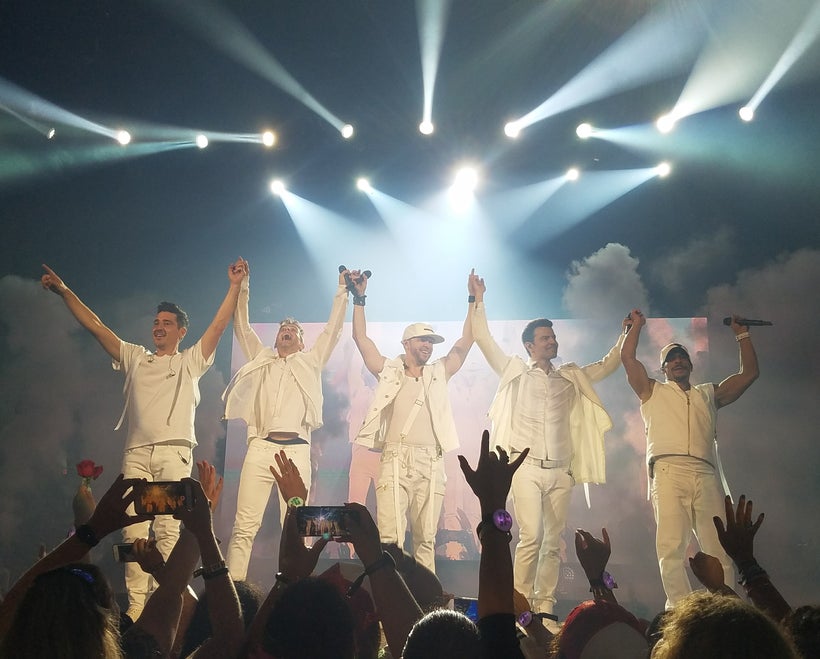 There are two weeks left in the New Kids on The Block's "Total Package Tour," which features opening acts Boyz II Men and Paula Abdul. I saw the tour when it came to Chicago's Allstate Arena on June 15 and 16, 2017. I originally intended on only going the first night because you know adulting and budgeting and all of that. But it was so good I bought tickets for the second show after I came home from the June 15 concert. The concert was a three and a half hour non-stop party with 17,000 people on their feet the entire night. And the tour lived up to its name, which is no small feat, given the popularity of the band's multiple sold-out tours since their 2008 reunion. After watching NKOTB in Los Angeles in 2015, music critic Dave Holmes said, " I'll be damned if it wasn't the best time I've had at a concert in years."
Here are ten reasons you should catch the Total Package Tour:
1. Meaty Opening Acts: Boyz II Men started the night with a 47-minute set that included their hits, "Mowtown Philly," " "End of The Road," and "A Song For Mama." At one point, the boys threw rose petals into the crowd when singing "I'll Make Love To You." At the June 15 show, Paula Abdul did not perform due to an injury. Incidentally, when I purchased tickets for the second show, I had no idea she would be performing on June 16. Paula was the second opening act on June 16. Paula got the crowd even more pumped up with a 37-minute action-packed set that included hits like "Straight Up," "Opposites Attract," and "Forever Your Girl." Paula donned tap dancing shoes, sequined costumes, and an enviable waistline. Shortly after Paula finished, NKOTB came on. And both nights, the shrieking rose to earsplitting levels when the New Kids arrived on stage.
2. The Classics: The New Kids On the Block—Donnie Wahlberg, Joey McIntyre, Jordan and Jonathan Knight, and Danny Wood—performed the classics. Some of the highlights of the night included "Step By Step," "Hangin' Tough," "Tonight," "I'll Be Loving You Forever," and "If You Go Away." When Joey took the stage singing "Please Don't Go Girl," I noticed all the women had their hands on their hearts.
3. The New Songs: Since buying their Thankful EP in May, I have been listening to the track "Hard (Not Luvin' You)" on repeat. The song, which features Jordan's falsetto and wide range, has a quirky, flirtatious vibe with hints of George Michael and Prince in it. I really wanted to see him sing it live. Jordan did not disappoint. Another high point was their 2013 song, "Remix (I Like The)." The video, which includes the inimitable Artemis Pebdani, is a treat. Check it out here:
4. The Moves: Holy Cow; the stamina! NKOTB sang and danced for 1 hour and 55 minutes straight with no breaks. They sang 34 songs on the second night (33 songs on the first night). They didn't even sit during the ballads. They did their iconic pendulum legs when they sang "The Right Stuff."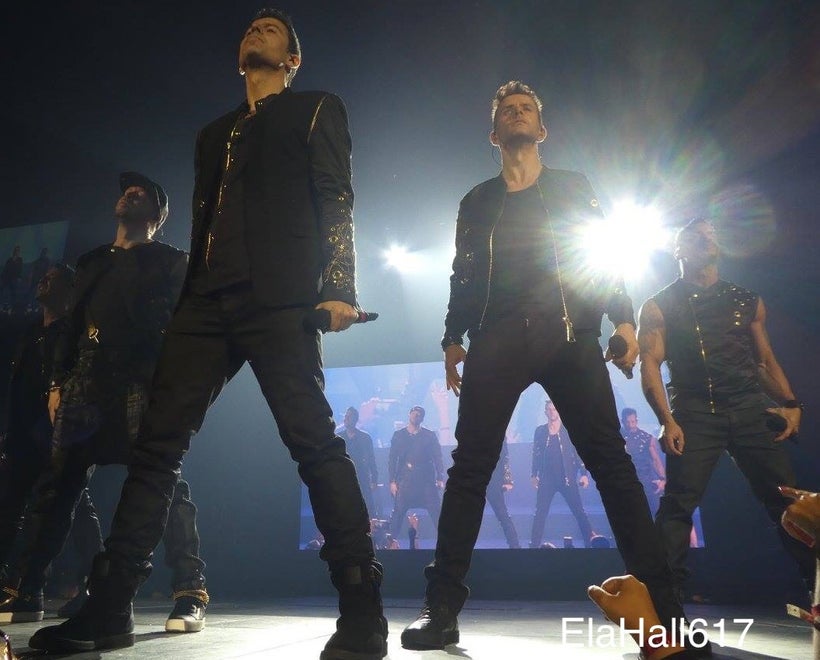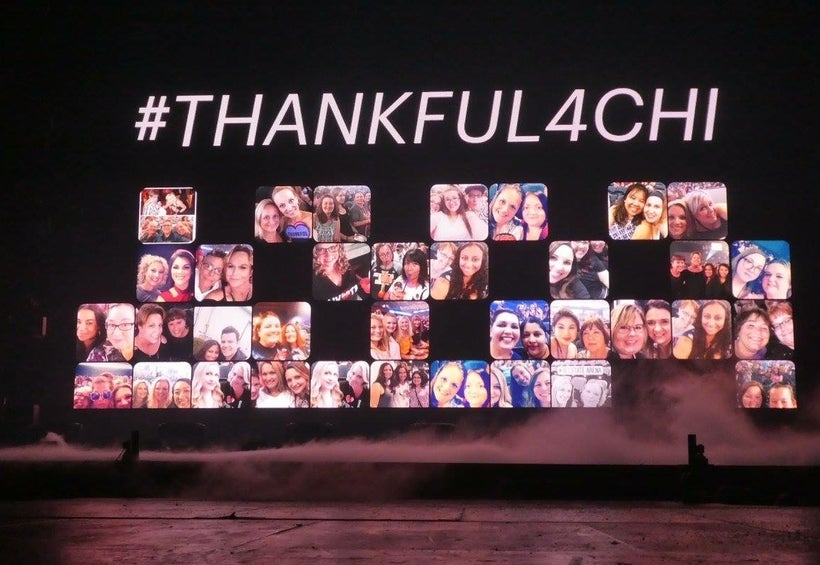 6. Most Fan Sided Concert Ever: During multiple songs, the guys would split up and visit different sections of the arena. Donnie even crowd surfed. During their song Thankful, a montage of fans pictures went up. I was pleasantly surprised to see a picture of my mom and me on screen. During Cover Girl, Donnie brought a little girl on stage like he used to back in the day and sang to her. The guys, led by Jon, serenaded an audience member happy birthday.
7. The Guys Know How to Laugh At Themselves: Donnie wore a denim man romper. And he made it work. The Jumbotron blew up pictures of old album covers and the guys stood next to their teenage faces. It was like looking through old family photo albums when you laugh at your 80s hair and fashions.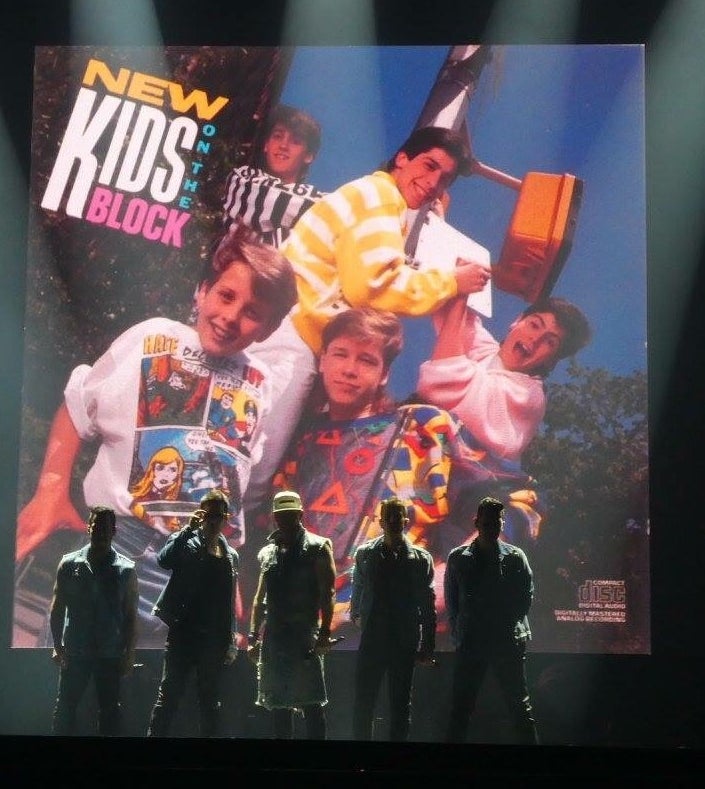 8. Funny Homemade Posters and Shirts: One fan poster read, "Spank Me, Detective Reagan" (a reference to Donnie's character on the hit CBS show, Blue Bloods). I saw a fan with a homemade shirt that read, "If lost, please return to Jordan Knight." Her friend's shirt said, "If lost, please return to Joey McIntyre." (Having once met Jordan and later interviewing Joey, I agree with both of those sentiments.) I saw a lot more male fans at this concert than I've seen in previous years; many were wearing modern NKOTB shirts.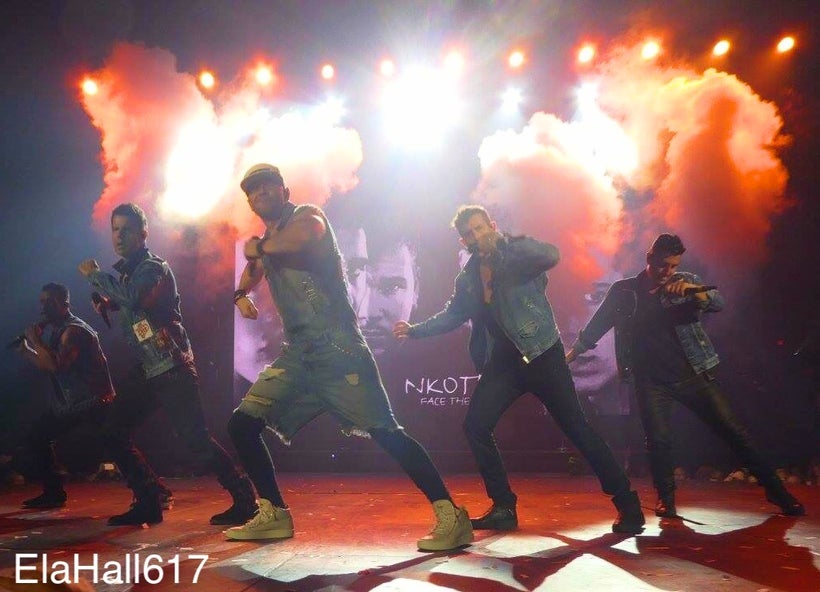 9. Fan Influenced Playlist: Fans were asked to make their ultimate set lists on Spotify. I got to hear a lot of my favorites that I didn't think I would ever hear live. While I will always melt when I hear Jordan's falsetto juxtaposed against Danny's underrated baritone in "Didn't I Blow Your Mind," for the first time I also got to hear Jordan's growl in "Dirty Dawg" and other songs from their 1994 Face the Music album.
10. They *Really* Listen To The Fans: I have seen NKOTB multiple times since they reunited in 2008. One thing that has always puzzled me is the conspicuous absence of one of their hit songs, 1989's "This One's For The Children." Apart from the fact that I like the song, the song helped them set a record: Only two artists have ever had five songs in the Top 10 of Billboard simultaneously: The Jackson 5 and New Kids. In the case of New Kids, those five songs came from three albums recorded in three different years: 1986, 1988, and 1989—a feat no artist has replicated.
The day of the June 16 show I asked Danny through Twitter if they could perform This One's For The Children. I told him, "This song is about the randomness of suffering and the need for empathy and compassion. This message is more relevant now than ever." I've never met the guy and I have no experience selling out arenas. I worried he would think I was presumptuous asking but I asked anyway. To my surprise, the guys performed the song in its entirety at the June 16 show! Allstate Arena sang along; fans remembered every verse.
The morning after the June 16 show, Danny messaged me on Twitter asking me if I caught the second show at Allstate. I told him that yes, I had! Danny's receptiveness reminded me of Joey McIntyre's answer when I interviewed him in March about Return Of the Mac (his show on PopTV) and asked about the band's longevity:
"People say, 'What's the secret to New Kids' success? You come back and you're doing arenas and all that stuff.' Well, first you take fifteen years off. [Laughs] It was just in the stars for us. We have amazing fans and we know how lucky we are to have them. We treat them with respect and want to be there for them as much as possible…I know how grateful I am. As a group, there are five of us. And we all interact with the fans differently. I think Donnie takes the cake as far as being interactive and being there. He sets a great example but so does everyone else. It's kind of unheard of what we've been able to experience together."
At the end of the day, the story of the New Kids on the Block is as much about five guys from Boston as it is about their fans. They know it, and that's the reason fans keep coming back 29 years after the their first tour.
Calling all HuffPost superfans!
Sign up for membership to become a founding member and help shape HuffPost's next chapter
This post was published on the now-closed HuffPost Contributor platform. Contributors control their own work and posted freely to our site. If you need to flag this entry as abusive,
send us an email
.