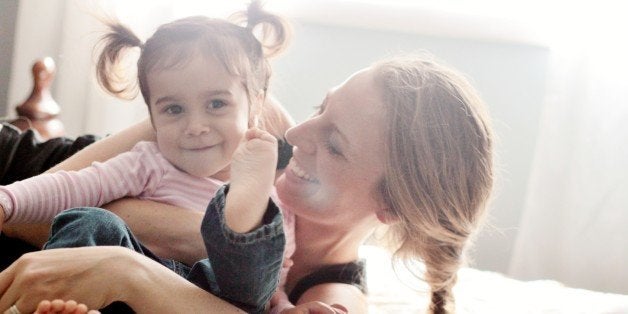 Parenting toddlers is one of the most difficult stages of parenthood. The tantrums, the defiance, the absence of logic and reasoning, it is all very trying. Toddlers often get a bad rap, and many times deservedly so. But they also have this magical ability to turn long, terrible days into small, precious moments that make us realize that all of this really is worth it all.
Sometimes the precious moments are few and far between, but I think toddlers deserve a little bit of good press along with all of the bad. Here are some of my favorite redeeming toddler qualities and stages:
1. When they first start to talk
Sometimes it's in a language only a mother can understand, but their first words and phrases are heartwarming, like: I wub you (I love you), tank ooo (thank you), scoose me (excuse me), gwubbs (gloves), weeves (leaves), and bwankie (blankie). It's always interesting to hear their take as they observe the things around them.
2. The way they walk after just waking up
There is nothing funnier than seeing a toddler when they first get out of bed in the morning with their crazy hair, wandering down the hall like the walking electrocuted. It takes them a minute to get going in the morning too, and I think it's adorable.
3. The feel of their little hand in yours
I think we sometimes miss the precious feeling of their little hands in ours as we watch for cars in a busy parking lot, or cross the street. We should of course keep safety in mind, but I really try to savor the feeling of my toddler's little hand because it won't always be this small, and I won't always be needed to cross the street.
4. The sparkle of their innocent, big eyes
We get to see that sparkle with their biggest smiles, when they are praised for doing something good, or when they get up close, right in your face to examine your ears or earrings, and press their little noses and foreheads up against yours. I hang on to these times.
5. When they dance and sing
There is no shame in their game, and anything goes after they first discover music or try to sing songs, and create their own natural moves. If it weren't for toddlers dancing and singing, America's Funniest Home Videos would probably go out of business.
6. When they start to imitate you and what you say
It is adorable when they come alongside you and imitate what you are doing. When they play with pots and pans and spatulas while you cook, and when they try to repeat the last few words of what you are saying, and they try so hard to form the words and carry on a legit conversation.
7. Their laughs
A toddler's all-out belly laugh can really stop you in your tracks and light up a room. It's funny to see the things they find funny as they process the world around them. It's the happiest little sound.
8. Their simplicity
Toddlers are occupied by the simplest of things. They love pouring water in and out of the same cups over and over again, playing with plastic lids, or with leaves and sticks, playing in Amazon boxes, or lining up Cheerios on the table. Why do we even buy toys?
9. Their willingness to help and learn
As difficult as they are at this age, they really do like to be included and help with simple tasks. This is a golden stage where they will help just for the sake of helping, and it makes them feel important to be given a job to do. Catch them young and bank on it!
10. When they call out your name when they are scared or sick
When they reach for your hand to go down a big flight of steps, or when the thunder claps and they cry out for you at 3:00 a.m., or when they need to be held when are sick. They call on you because you are their safety and comfort. Sometimes they just need you to feel safe, and that's a wonderful gift you can give them.
I love my sleep and my sanity, but I try to cherish the chaos and the 3:00 a.m. snuggles, and focus on all of the redeeming qualities of toddlers, because I will soon see those sweet baby toes start turning into big kid feet that may not want to walk so close to me anymore.
Parenting a toddler isn't easy. But the further I get into my parenting journey, I have found that the best snuggles often come after the biggest struggles.