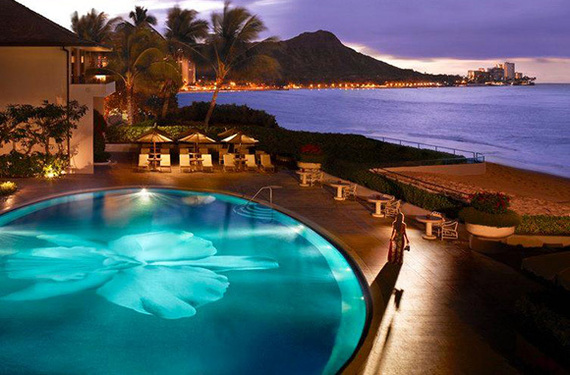 Feeling a bit worn out by winter? Then the time is right for a peaceful getaway, where snow shovels and polar vortexes are but a distant dream. From the pink sands of Bermuda to the hot springs of Whistler, take off to these 10 resorts where relaxing, re-energizing, and healing are the only things on your radar.
Halekulani Hotel, Honolulu, Hawaii
Simply sitting still on the white-sand beaches of Hawaii is soothing enough for harried minds, but an exceptionally relaxing day at a five-star hotel only adds to the sense of peace. Halekulani, facing the freshwater springs that gave Waikiki its name, is a quiet hideaway in Honolulu, favored among honeymooners looking to escape the maddening crowds of Waikiki Beach.
Dream Treatment: Mixing traditional Polynesian therapies with natural products, the SpaHalekulani is an oasis-within-an-oasis. Heat-centric treatments ease tense muscles: The Nonu Samoan Massage features hot stones and noni oil, while a rejuvenation ritual employs purifying steam therapy before a botanical body wrap.
Canyon Ranch, Lenox, Massachusetts
In the rolling, wooded hills of the Berkshires sits this all-inclusive resort dedicated to fitness and wellness. While the region may not be warm come winter, Canyon Ranch heats up guests with a slate of fitness programs, from yoga and racquetball indoors to snowshoeing and pole hiking in the frosty New England wilderness. And when guests tire of physical activity, a 100,000-square-foot spa welcomes them home.
Dream Treatment: Aside from its sprawling spa complex (with two pools, saunas, steam rooms, and whirlpools), Canyon Ranch's nearly endless list of Eastern and alternative treatments awaits the worn-out. Ayurvedic massages and masks employ warm herb-infused oils, poured over the third eye, that cleanse, soothe, and reduce stress. Yes, please.
Biras Creek, Virgin Gorda, British Virgin Islands
Private verandahs dot Virgin Gorda's perfect gardens and lush hills at this extra-romantic BVI resort, situated on a protected lagoon. Fresh from a renovation in 2013, Biras Creek's amenities are top-notch, from the included water sports like snorkeling and paddleboarding to the dining (which is all-inclusive). A favorite of Conde Nast Traveler and Travel + Leisure, this resort is Caribbean luxury at its best.
Dream Treatment: The spa's signature treatment, the Island Cooler, offers an invigorating salt scrub with freshly picked island aloe followed by a rejuvenating, muscle-melting massage. For those seeking even more warmth, ayurvedic treatments with hot oils and herbs offer opportunities to rebalance and heal.
Four Seasons Resort Whistler, British Columbia, Canada
This Four Seasons outpost in ski-happy Whistler continually ranks among the world's top resorts for its great service and luxurious guest rooms. (It's also the largest ski resort in North America.) Sure, its slopes and peaks may draw guests in, but its pampering spa is perfect for an apres-ski experience that puts to shame your usual Styrofoam cup of hot cocoa.
Dream Treatment: How does backcountry yoga followed by a hot spring spa treatment sound? In this ultra-exclusive experience, a helicopter flies guests over the Pemberton Ice Cap before arriving at a super-secret hot spring. Guests then enjoy a private alfresco yoga session before soaking in the spring and indulging in poolside cocktails.
Rosewood Tucker's Point, Hamilton, Bermuda
Visitors flock to Bermuda in summer and fall, but those looking to relax know that winter is where it's at on this temperate island in the North Atlantic. The so-called golf-and-spa season during off-peak months means that hotels really amp up their pampering offerings--and Rosewood Tucker's Point, a sophisticated property that overlooks pink-sand beaches from its sea-cliff location, is the place to be.
Dream Treatment: The on-site Sense Spa is a true sanctuary with real Bermudian spirit (and real Bermudian ingredients like aloe, pawpaw, and seaweed used in massage and facial treatments). Warm mud and steam showers soothe muscles, but our pick for most relaxing? A manicure and pedicure that begins with a signature rum swizzle.
Calistoga Ranch, Napa, California
Calistoga Ranch is destination number one for oenophiles desperate for a tranquil getaway among Napa's vines. The romantic resort sits on 157 lush, oak-strewn acres. Situated in tiny charming lodges, each suite comes with a fireplace, a private cedar deck, and an outdoor garden shower, perfect for a rustic refresh after driving from vineyard to vineyard. Similarly refreshing is the Auberge Spa and its ultra-romantic fireside couples' suite (bring a bottle of wine).
Dream Treatment: We have but two words: Chocolate Indulgence. This sweet treatment combines a dark-chocolate body scrub, a warm and rich milk-chocolate-scented bubble bath, and a cocoa-butter massage, followed by a glass of Napa wine and a chocolate pairing.
Salish Lodge & Spa, Snoqualmie, Washington
Salish Lodge & Spa has real Pacific Northwest flair, from its setting alongside the Snoqualmie River to its dining room menu abundant with homegrown produce and honey from the on-site apiary. Even the resort's warm-toned rooms entreat visitors to relax Pacific Northwest-style in front of a fireplace, sipping local wine while listening to the roar of the nearby falls.
Dream Treatment: While the in-room jetted tubs for two are a welcome touch, the on-site Spa at Salish Lodge is where utter relaxation is found. Local ingredients--and that homemade honey--are the real stars of the treatments, while a DermaLife Spa-Jet experience that combines wet and dry heat with a Vichy shower and multiple massaging jets makes guests (virtually) melt.
Lake Austin Spa Resort, Austin, Texas
Cue the usual platitudes about how everything is bigger in Texas, because Lake Austin Spa Resort is seriously big on style and serenity. Find large pools for soaking, a massive fitness center with lake views, and airy rooms with elegant decor at this top-rated destination for healthful getaways. Its wellness activities and spa continually top lists of America's best.
Dream Treatment: Experience the 25,000-square-foot spa firsthand with one of the 100-some unique treatments, including the Tour of Texas experience, which includes a native-prickly-pear scrub, an agave-nectar wrap, and a massage with warm essential oils. Finish with a few hours in the Bamboo Room's private hot tub and waterfall--perfect for a girlfriends' getaway.
The BodyHoliday, St. Lucia
St. Lucia is pure Caribbean comfort, with luxurious hotels that face the craggy twin Pitons and long stretches of soft sandy beach. There's no shortage of places to unwind on this ultra-romantic island, but The BodyHoliday stands out for its focus on wellness among the palms. Delicious food, wine, cocktails, and fitness classes (including yoga and tai chi) make this St. Lucian spot a place to renew.
Dream Treatment: A daily spa treatment is incorporated into the all-inclusive plan, which makes relaxation something of a requirement for your stay. Treatments include aromatherapy to balance the mind, fruit-and-ginger scrubs to exfoliate the skin, and hot-stone treatments to ease tense muscles.
Fairmont Chateau Lake Louise, Alberta, Canada
The Fairmont Chateau Lake Louise is a kind of forever favorite for North Americans looking to ski, snowboard, and snowmobile Banff's iconic peaks. The 100-year-old hotel itself is iconic, with luxury rooms that face the slopes (perfect for spying skiers and wildlife) and the adjacent emerald-hued Lake Louise. A half dozen restaurants serving up local Canadian cuisine and soul-reviving cocktails--plus an extensive Aveda spa--make up the off-slope entertainment.
Dream Treatment: Spa treatments are aimed at relaxing and reviving exhausted outdoors enthusiasts and include hot-stone massages with local mountain rocks, foot therapies for weary hikers, and even facial peels for calming reddened apres-ski skin.