 I recently came across a Hammacher Schlemmer catalog. (Good name by the way, rolls right off the tongue.) I'd heard of this catalog before, but I'd never set eyes on one because obviously I do not yet have everything in the universe available for purchase. This catalog is specifically designed for people who already have everything yet must have more. They don't want to put a cap on everything just yet. What if they find more? They'll need to buy it.
It's like the SkyMall catalog but worse. It's distributed widely throughout the world and not limited to the few captive hours spent in a plane where one might suddenly find oneself with the overwhelming need to own the world's largest Thomas Kinkade Crystal Snow Globe with self-propelled snow gently cascading down onto the hand-painted Victorian scene nestled along a hillside traversed by a miniature motorized train, creating the most enchanting winter wonderland tableau. For only $599.95 plus shipping.
Once such item found in the Hammacher Schlemmer catalog is the tabletop fireplace. Because who hasn't had the urge for one of those?
Think about it. How many times have you been relaxing at home, reclining in your favorite chair, perfectly content when suddenly you get a nagging feeling something isn't quite right. You straighten, perplexed, looking around for the cause of your discomfort. Unable to place it, you start to ease back in your chair when it hits you. Jumping up, you exclaim, "I've got it. You know what's been missing this whole time? A tabletop fireplace!"
Or you would have if you knew such a thing existed. But since portable tabletop fireplaces are a ludicrous notion, it never occurred to you. Had it and had you seen the Hammacher Schlemmer catalog, you could have pulled that compact little baby from where you store it in your cabinet and set it right up on your end table for a lovely evening by the fireside. Or, you could pack it in your purse for those extemporaneous meeting with friends at Starbucks. Simply pull it from your purse and plunk it down on the cafe table to create just the right ambience for your gathering. Or pack it up for trips to the homes of friends or family who lack such amenities. Now any gathering can be a cozy, intimate affair.
Until you saw the Hammacher Schlemmer catalog you didn't know you even needed such an item. Now a tabletop fireplace is an absolute necessity. And at $179.95 it's a steal. (Fuel, $59.95, not included.)
Of course it's important to have just the right setting at home to enjoy such a special and treasured item, and you know what pairs beautifully with a take-anywhere fireplace? A Hippo Sofa.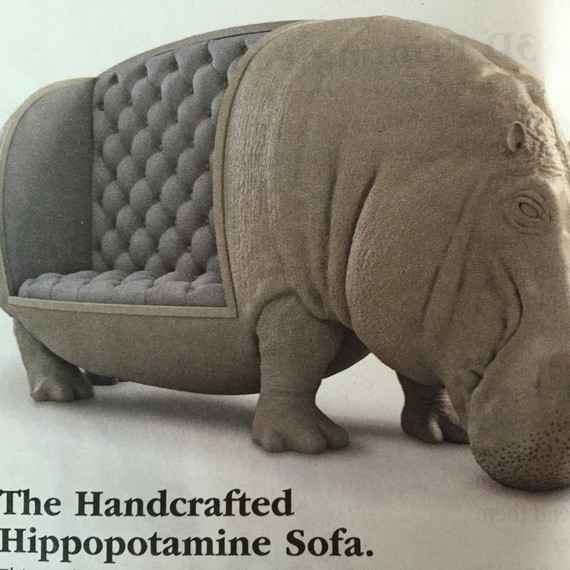 Hammacher Schlemmer has that, too. But this isn't just any Hippopotamus Sofa. It's handcrafted. Hundreds of hours are spent creating this life-size majestic creature out of seating material because that's the ultimate way to instill a sense of appreciation for all of Earth's rare and exotic wildlife. Aside from such a special tribute to this impressive animal, the sofa looks quite comfortable, too. Enjoy next to a mini roaring tabletop fireplace. Only $95,000!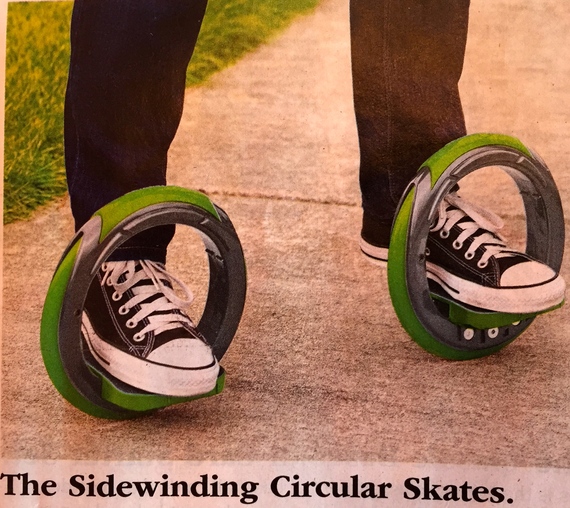 Think of how cool you'll feel as you roll into school or sidewind your way into the office in these new circular skates. You'll be the envy of your friends and colleagues. Set into motion by leaning sideways, you'll be gliding right along in no time. Roll casually through town or perform fun stunts like 750 degree spins. The stopping mechanism is your own feet. Simply place your toes on the ground while you're spinning out of control or careening downhill. The halt in motion is bound to be quick if not entirely painless. The skates come in sporty red or green and costs a mere $99.95. Perfect for that special someone on your list who's looking for the latest in new modes of transportation.
The only way you could possibly look cooler in your Sidewinding Circular Skates is if you were cruising by while wearing this fashionable reading shawl.
This is the Front View in case you couldn't tell by the model's face. Super hip and practical, this fantastic shawl pairs well with almost anything in your wardrobe but especially with high-waisted, pleated khaki pants and duck boots. Think of relaxing afternoons by the Tabletop Fireplace curled up on your Hippopotamus Sofa in your snug Reading Shawl. What could be better? $99.95.
If you happen to be out cruising in your Reading Shawl and wrench your knee while trying to stop your Sidewinding Skates as they veer wildly off course, picking up speed as you head directly toward a brick wall, you can order up The Stay in Place Knee Pillow. I can't tell you how many times I've wished I'd had a giant foam pad wedged between my knees as I slept. How much more comfortable I would be! But you can't find this gigantic, thick foam knee pad just anywhere. This baby is exclusive to Hammacher Schlemmer, all for the low price of $59.95.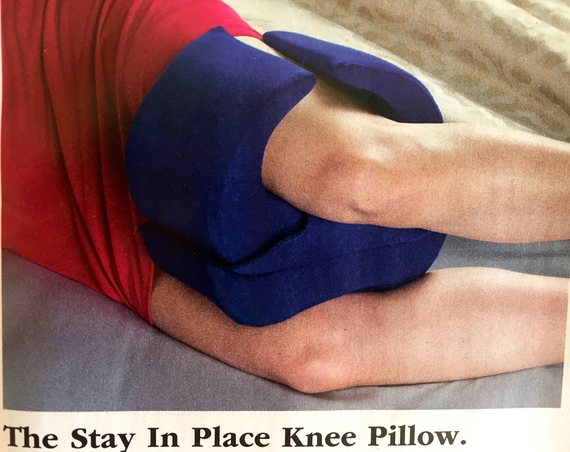 With a fitful night's rest, you'll be ready to deck those halls with big style. Make a statement with these lovable, Christmas characters displayed prominently on your front lawn. You'll be the talk of the town! Standing nearly two stories tall (the children, pictured, provide a sense of scale), Rudolf wears his familiar playful expression next to a slightly more petite Clarice. Claim your Rudolf for a mere $399.95. Clarice is moderately priced at $349.95.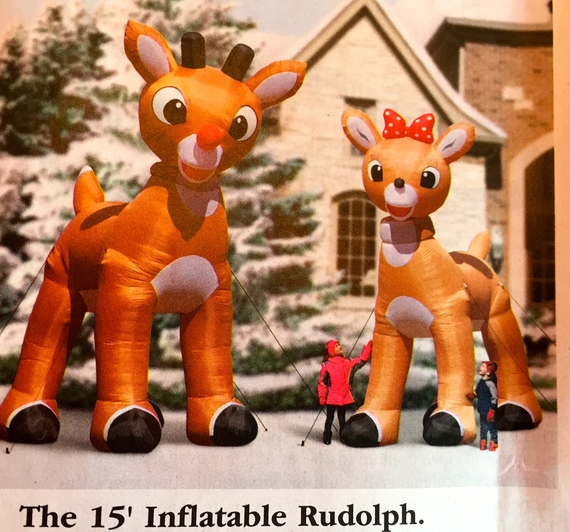 Keep the jolly, gaming spirit going all season long, indoors or out, with The Messless Indoor Snowball Fight.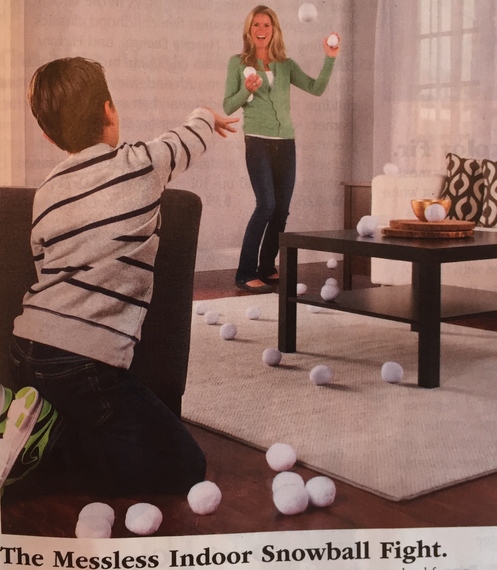 Oh, what fun it is to have a snowball fight, inside, with fake snow. Well, perhaps that's more of a regular fight. But now you can have that fight (with your mom who for some inexplicable reason enjoys throwing projectiles in her pristine home) for only $29.95! Or not. Do people know they don't have to pay to have their homes destroyed? Try a rolled up sock. Works just the same and provides 100 percent-free damage.
If you love games but don't like the implied mess and cold of fake indoor snowballs or can't find the time for fake snowball fights, there's now the wonderful, time-saving, Walk By Scrabble Board.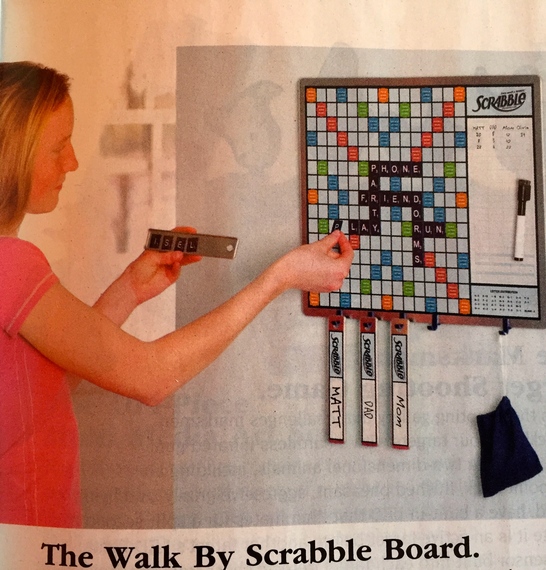 Don't have time to sit with family and friends for a rousing game of Scrabble? No problem. With this Walk By Scrabble Board, you no longer have to endure family time or fun with friends. The Walk By Scrabble Board is the perfect solution for today's busy families who like playing games just not while spending time together. Why gather together when you can each play alone separately? This ingenious hanging board is gaming for the 21st Century. The Walk By Scrabble Board allows players to participate only when and how they want, without any pesky commitments or entanglements. Now no more waiting for an annoying friend to take her turn. No more idle time spent chatting with loved ones. No more interacting. Finally, players can now operate on their own terms, adding to the board at their leisure, unencumbered by any obligations or relationships. For $29.95 you may never have to speak to another friend or family member again.
Now here's a gift everyone will be eager to gather around even in today's time-pressed world.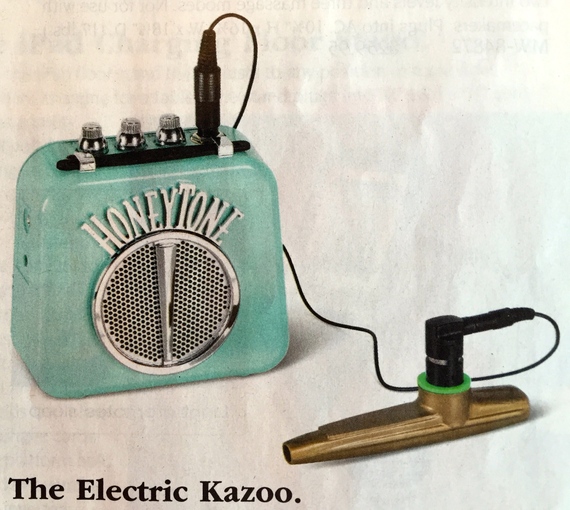 The Electric Kazoo. I can't tell you how many times I've said, "I wish I had an electric kazoo right now. I could really jam out." It's hard to imagine a person who hasn't said those words. With the kazoo being such a seminal instrument in the 21st Century music scene and an integral part of music history, this Electric Kazoo with portable amplifier is bound to delight any recipient. Remarkably, it's only $79.95!
But I saved the absolute best gift for last.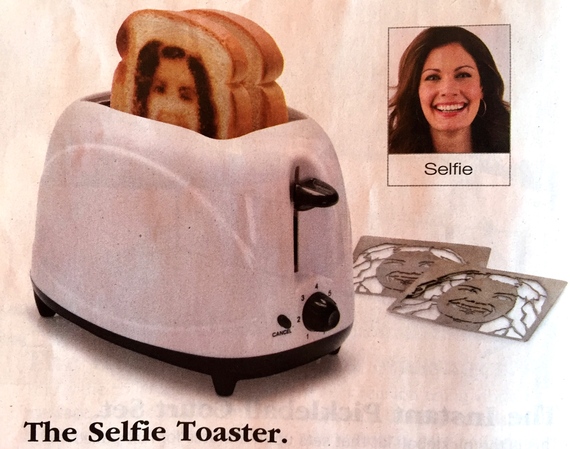 *The Selfie Toaster. Who doesn't want to see their face emblazoned on a piece of toast that they can then smear with butter and consume? Available only from Hammacher Schlemmer, the toaster uses custom inserts, crafted from submitted headshots, to brown the likeness of the subject onto the toast to be admired and enjoyed. The perfect gift for every teenage girl on your list. And for the low price of $69.95, it's quite a value.
With the Hammacher Schlemmer catalog, you're bound to find something for everyone who has everything on your list. Surprise them this holiday season with one of these spectacularly ridiculous gifts. And may you wake Christmas morning to some tasteful and tastefully created selfie toast.
*I'm totally getting this for my daughter.
Popular in the Community