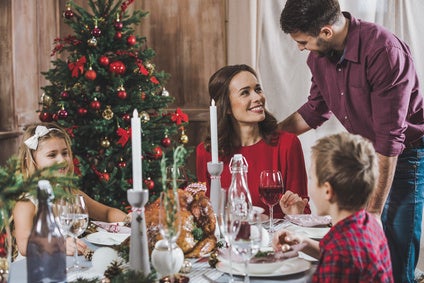 If this is your first holiday together as a couple, you may be meeting his children for the first time. While you might feel judged in meeting your significant other's parents over the holidays, there's a whole set of emotions that kick in when someone brings their new partner home for the holidays to meet the kids (even if they're adults).
Let's face it, you're not their mom and if she hasn't moved on yet, the kids may be a bit cautious, not wanting to hurt their mother's feelings. It's also quite possible they might have not met another woman with their dad, and may be examining you with a careful and cautious eye.
If your partner's divorced or a single dad, it's possible he have family commitments during the holidays that may not include you. Holidays can be complicated. Here's how to make it easier.
Before you start stuffing his turkey or filling his Christmas stocking with something fancy or coal, take a BIG deep breath and follow these tips to ensure they will love you just as much as your guy does.
1. Communicate with Your Partner. Talk to your significant other about logistics. Decide where you'll be meeting his family and how long you'll be staying there. Chances are his kids may want to see their friends as well over the holidays and meeting you won't be as high on their priority list as it is on yours.
2. Show enthusiasm. Let your boyfriend know you're excited you are to meet his children and that you're proud that he thinks enough about your relationship to show that you're officially a couple.
3. Communicate with Your Ex. if you can get together for coffee or stop by her place. Let her know that you've met someone special that you've been dating for a while, and that you'll be introducing them to your children at the holidays. Chances are your ex will ask how serious the relationship is. It's best to say that this person is important to you and that you've been spending enough time together that you'd like to introduce him or her to the family in a comfortable way.
3. Communicate with Your Kids. Have a sit-down talk with your children to let them know you've met someone special that you're sure they will like. Tell them your new partner is to special to you and he or she will never replace their mom. As that they welcome your new partner and to be happy for you.
5. Exclude PDA. While you're used to being lovey-dovey together, there's no getting around the fact that his kids will imagine you having sex with their dad. While they want to see him happy, they'd rather visualize the two of you fully clothed. Stick to hand holding and a hug and avoid sitting on his lap.
6. Include Laughter. Nothing will lighten up a potentially stressful situation (ie: meeting the family) than a joke and the ability to smile and laugh. Keep the jokes G-rated, regardless of the everyone's age. Remember to stay positive and don't monopolize the conversation. It's better to be a great listener than to be the life of the party. If his kids see you're a happy person, they'll imagine you making their dad happy as well.
7. Don't Talk About Their Mom. The kids you're meeting, even if they're adult children, will always give their loyalty to their mom. Even if they realize the split was for the best, they will have years-and-years of memories of the family celebrating the holidays together. Avoid the urge to say something about his ex, even if it's sharing his mumbling sentiments, or a recent memory that gets brought to the table. They already have a mom and you're not signing up to be an instant step-mother. Show respect for their mother to avoid any uncomfortable feelings.
8. Bring a Gift. If you're going to their adult children's home, bring a thoughtful gift, such as a holiday basket or a candle so you don't show up empty-handed. Don't do the complete opposite by smothering them with gifts from a stranger. If the kids are school-age, bring each of them a small gift, so they have something to open.
9. Avoid Taking Photos. Let your boyfriend or his kids be in charge of snapping photos when you meet. His family won't be sure if you'll be sticking around, so posting them on social media is a netiquette no-no.
10. Give a Hug. There's something warm about hugging someone hello or goodbye. If you greet them with a handshake and your get together goes well, leave with a quick goodbye hug to show affection to your boyfriend's kids, so they can welcome you warmly to the family and be happy for their dad.
Remember, he's nervous that it will go well too. Be genuine and warm and thank them for taking the time to meet you.
Wishing you much love and joy at the holidays.
Julie Spira is America's Top Online Dating Expert and Digital Matchmaker. She's the CEO of Cyber-Dating Expert and was an early adopter of the Internet. Julie's been coaching singles on finding love online for over 20 years with her Irresistible Profiles dating coaching programs.
SIGN UP for the FREE Weekly Flirt Newsletter for dating advice delivered to your inbox