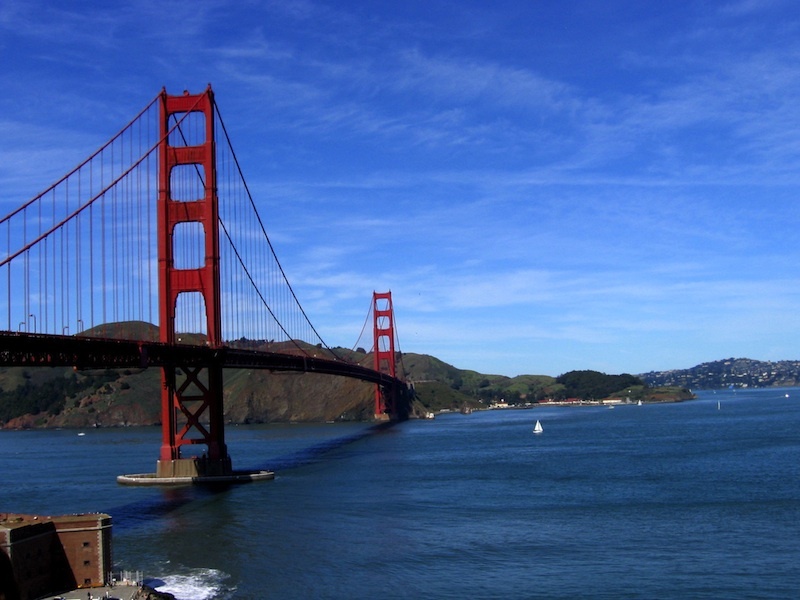 When planning a trip to San Francisco it's easy to get caught up in only seeing the main attractions -- the Golden Gate Bridge, Fisherman's Wharf, Chinatown and all the rest. While these are definitely a must-see, avoid the crowds and have a day to remember with the kids in these hidden hot spots scattered throughout the 7x7 mile city.
1) Seward Concrete Slides - Hidden in the hills of Noe Valley, is the Seward Mini Park. This unsuspecting playground has one of San Francisco's most memorable childhood attractions -- concrete slides. Slide down on a piece of cardboard for maximum speed.
(Seward Street -- between Douglas Street and 19th Street)
2) Bison in Golden Gate Park - After a stop at the California Academy of Sciences, continue down John F. Kennedy Drive to see bison grazing at Buffalo Paddock. While you head down, keep a look out for Prayerbook Cross right above Rainbow Falls.
(John F. Kennedy Drive near Spreckels Lake)
3) Alta Plaza Park - Enjoy a stunning view of San Francisco from the peak of Alta Plaza Park. Kids can run around the gated playground, and dogs can enjoy going off-leash in the dog park. You may recognize the giant staircase from a film called, What's Up, Doc?
(Pacific Heights off Jackson & Steiner)
4) China Beach - Walk down the paved road to the beautiful China beach. Bring a picnic or use the grills for a BBQ with the family. Take in breathtaking views of the Golden Gate Bridge and Marin, while the kids play in the sand. Keep an eye out on the coast for a celebrity you may know as, Robin Williams.
(340 Sea Cliff Ave)
5) Glen Park Canyon - Hike through Glen Park Canyon and finish the trek with a tasty treat from Glen Canyon Market.
(Diamond Heights at Bosworth Street and Elk Street)
6) James Rolph Jr. Playground - Play baseball in the park and enjoy a delicious ice cream sundae at the famous St. Francis Fountain and Diner. (Potrero & Cesar Chavez St)
7) Randall Museum - Head on over to the Randall Museum (entry is free) to check out over 100 different types of animals. Run around the Tree House Exploration Zone to get out that excess energy. Take a walk up to Corona Heights Park after. (199 Museum Way)
8) Dolores Park - Play a game of tag at Dolores Park and cool off with ice cream from Bi-Rite. You can enjoy a stunning view of the city on a sunny day from the top of the Dolores Park hill. They also have a new playground the kids can enjoy. (18th Street and Dolores Street)
9) Mountain Lake Park - Have dim sum on Clement street for lunch. Pick up a book at Green Apple Books to read together at the end of the day. Then, walk over to Mountain Lake Park to feed the ducks. They have concrete slides too! (98 Funston Avenue)
10) Lands End - End your stunning trip to San Francisco with a hike to beautiful Lands End. Keep can eye out for sunken ships. Don't forget to walk the labyrinth. (680 Point Lobos Avenue)
REAL LIFE. REAL NEWS. REAL VOICES.
Help us tell more of the stories that matter from voices that too often remain unheard.