The best sandwiches don't necessarily have lines around the block. There are best-kept secrets from coast to coast. These are 10 sandwiches you probably never heard of, should make a trip for, snap an Instagram of and eat at least once in your life.
Just like our tastes vary, so do our criteria for the perfect sandwich. These great sandwiches challenge your palate and make you feel things you didn't think were possible. Some are massive, some are simple with a twist. Some have tapped into popular culture while others feel nostalgic from the first bite.
Like Silicon Valley, great chefs are being rewarded for taking chances and innovating. If you like beer, burgers, eggs, lobster, kimchi, wagyu and Cheetos you're in the right place. If you're not hungry, or hangry even, by the end of this mouth-watering list then you don't like sandwiches and are probably allergic to fun.
10. Spam Cubano - Citizen Public House in Scottsdale, AZ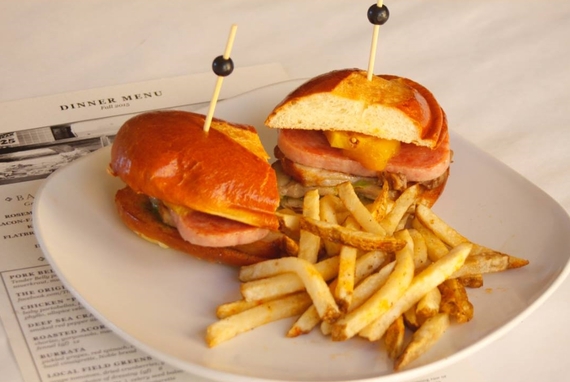 Roasted pork butt, pickled pineapple, confit arugula, Hawaiian roll, spiced fries.

Yes. SPAM. Don't let it scare you. Chef Bernie Kantak of Citizen Public House is well known in the culinary world for his innovative menus, he's even cooked at the James Beard House more than once.
9. U.S.S. Lobstitution - Pauli's in Boston, MA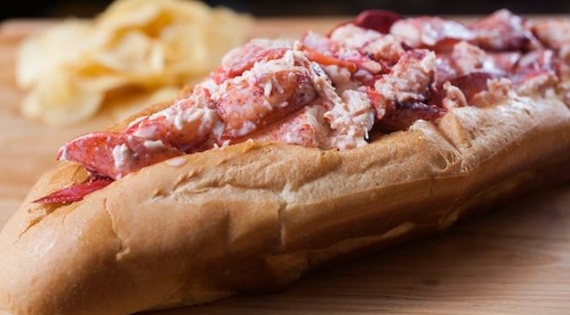 Chunks of fresh lobster meat & mayo on two a grilled long sub rolls, served with a bag of regular Utz potato chips.
Slated at the biggest lobster roll in new England (and possibly the U.S.), the USS Lobsitution includes a whopping 24oz. (1 ½lbs.) of prime knuckle and claw meat, which arrives fresh daily from Globe Fish Co. at Marine Industrial Park in Boston.
8. Sweet Potato Poorboy - The Peacemaker Lobster & Crab Co. in St. Louis, MO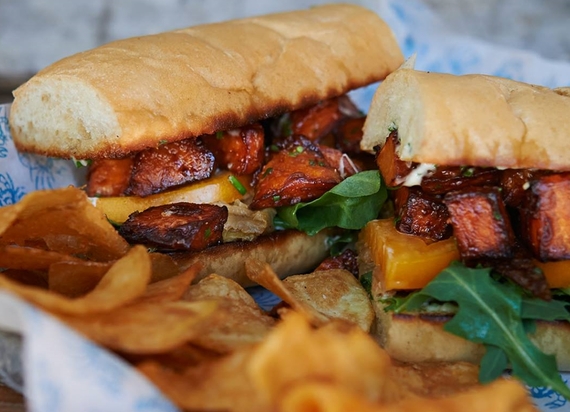 Roasted sweet potato, sour cabbage, garlic aioli, and arugula.
The Peacemaker is 2014 James Beard Award finalist Kevin Nashan's second restaurant inspired by the Acadian coastal cuisines of the Northeast and Louisiana. A rare and inspired vegetarian poorboy; the sour cabbage is a white kimchi giving it an amazing flavor and crunch.
7. Cheeto Burger - Clinton Hall in New York City, NY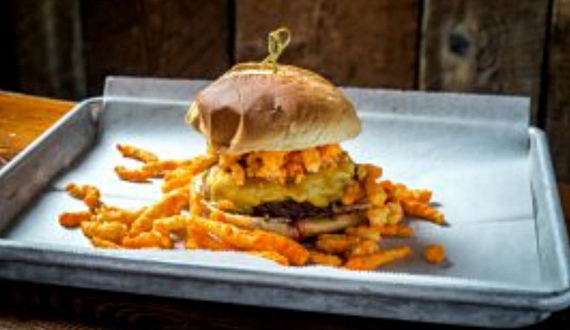 This one isn't complicated. It's just fun. Nostalgic flavor in a gourmet burger. Clinton Hall, known for its craft beer selection pours every beer through a flux capacitor which ensures the scientifically perfect pour every time.
6. French Onion Grilled Cheese - Meauxbar in New Orleans, LA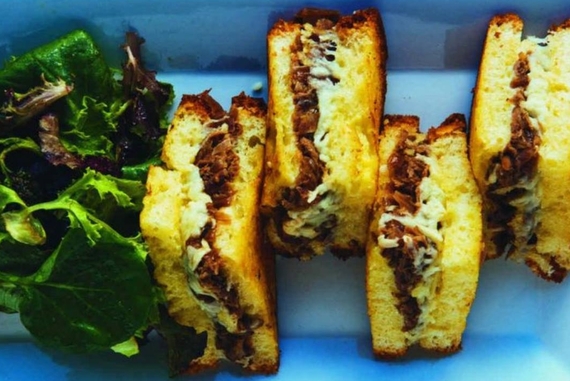 Braised Painted Hills Brisket, gruyere cheese, red wine and thyme caramelized onions and a house-made garlic aioli between thick cut brioche bread.
Chef Kristen Essig wanted an approachable, comforting sandwich, only with a unique twist, when planning the opening menu at Meauxbar, a modern bistro in the French Quarter of New Orleans.
5. The Bear - Short Leash Hot Dogs in Phoenix, AZ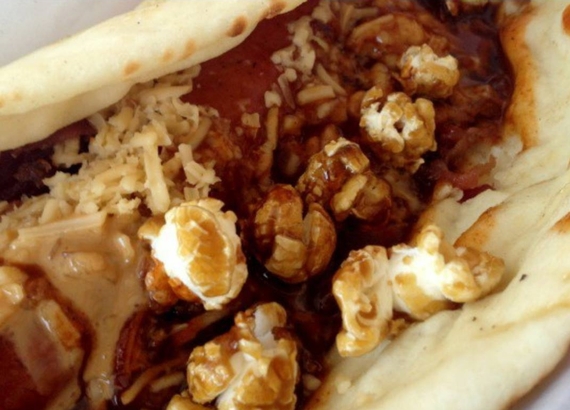 Peanut butter, smoked gouda, bacon, BBQ sauce + Cracker Jacks served on a spicy link on fluffy naan.
"While the unique dog sounds too decadent to eat more than once, I indulged in it multiple times while I was in town. You won't find another absurd take on a hot dog that's as enjoyable and as memorable as The Bear." - Monica Weintraub
4. Ham and Egg Banh Mi - Malai Kitchen in Dallas, TX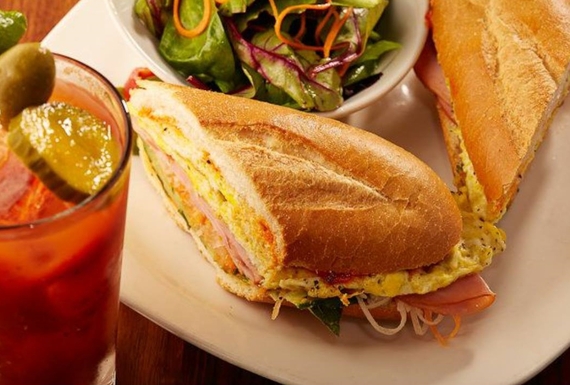 Vietnamese Baguette, Ham, Egg, Cucumbers, Spicy Aioli, Sriracha, Cilantro and Thai Basil.
Led by husband-and-wife team Braden and Yasmin Wages, the concept was inspired by their extensive travels through Thailand and Vietnam. Braden takes a traditional banh mi - like the ones he enjoys on the streets of Southeast Asia - and adds ham and eggs for breakfast.
3. Southern Seoul - Sweet Auburn Barbecue in Atlanta, GA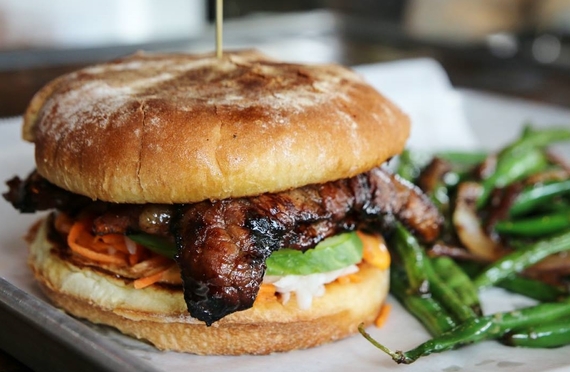 Korean-style short ribs piled on a roll with pickled daikon and carrots, cilantro, fresh jalapenos, cucumbers and sriracha aioli.
This gem stretches the typical definition of "barbecue," incorporating the Malaysian-Chinese heritage of the owner Howard Hsu and maintaining the playful spirit the restaurant is known for. Sweet Auburn's culinary team, led by executive chef Joey Stallings, is trailblazing the identity of "Atlanta-style barbecue."
2. Gaucho - Eggslut in Los Angeles, CA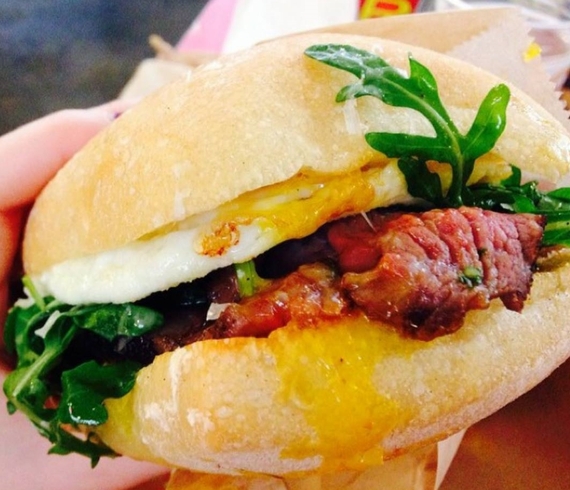 Seared wagyu tri-tip steak, chimichurri, red onions and seasoned arugula topped with an over medium egg, in a warm brioche bun.
LA's iconic Grand Central Market, is known for some of the most creative food in the country. At the top of that list is a mix of comfort food, innovation and of course, eggs.
1. Bird In Hand - Kitchen 67 in Grand Rapids, MI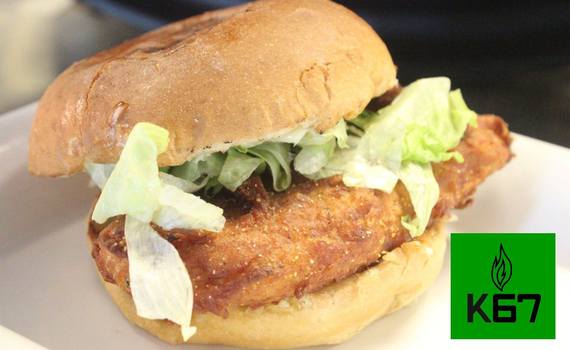 Fresh tender beer braised chicken, hand breaded using housemade Founder's Red Rye beer batter, heavy mayo, crispy lettuce ribbons, served on a caramelized buttery brioche bun branded with a "67" on the top.
Craft beer is everywhere. Grand Rapids was voted Beer City U.S.A. in a national poll and Best Beer Town by USA TODAY readers. While most restaurants look to pair the perfect craft beer with a sandwich, Kitchen 67 chef Aaron Vince has created a craft take on a classic sandwich using increasingly popular Founders beer for when you want to eat your calories.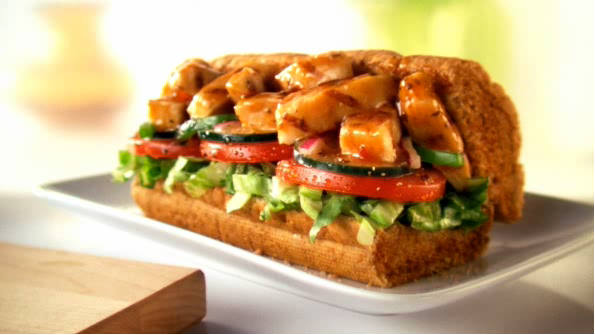 What Your Subway Sandwich Order Says About You
Support HuffPost
A No-B.S. Guide To Life
Related
Popular in the Community