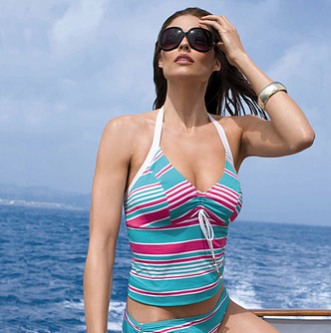 If only shopping for a swimsuit was as easy as slipping on a shoe. Then maybe I'd try on 15 or 20 while walking up and down aisles, until I found the perfect bikini: my chest not sore from all the changing, my fingers unfatigued of fumbling with the strings or plastic clasps or straps.
But there are certain things we shop for that simply take more effort...a special dress for a rehearsal dinner or a bra for that sexy, backless gown.
Swimsuits fall in this category. Even if you're headed for a beach getaway--which is a thrilling reason to need a new one--there's something about wearing so little under a dressing room fluorescent that seemingly casts light on all the wrong places.
That's why as spring clothing displays soon switch to warmer weather ones, here are 10 tips on how to better prep for the process of swimsuit shopping:
Shop in the morning when your mindset is fresh and you have the most positive energy to spare, as you will likely need to try several suits to find the best fit.
Be mindful of your body type. Automatically eliminate styles from your dressing line cue that won't enhance your body and make it look fab.
Don't forget the twins: get your best fitting bra and try to duplicate its support in a bathing suit top.
Try a suit party. Grab your close girlfriends, go out for a drink (alcoholic or non) and try on suits. Why not? You're gonna see each other at the pool anyway, and you may just discover a cool flattering style you might not have considered without the boost of borrowed confidence from your gals!
Take a fun, poolside shoe--a colorful flip flop or a wedge sandal (the latter will elongate the leg)--to try them on with.
Look for suits with UPF (ultraviolet protection factor), which has built-in sun protection to save your skin. If you only consider suits with UPF ratings, you'll automatically narrow your choices.
Consider suits that have built-in "shapewear" to help accentuate and enhance you.
Invest in a super cute coverup for the days when you simply don't feel like sucking your stomach in (I'm speaking for myself!). Bring several in the dressing room when you need a break amidst trying on only suits.
Buy separates where available in the cases of bikinis and tankinis that better "custom" fit your top and bottom half.
Be kind to yourself. There are so many styles out there and there is one for you! Armed with this knowledge, you'll find a flattering suit that fits.
For quick-fix swimsuit solutions, watch my segment on The Rachael Ray Show.