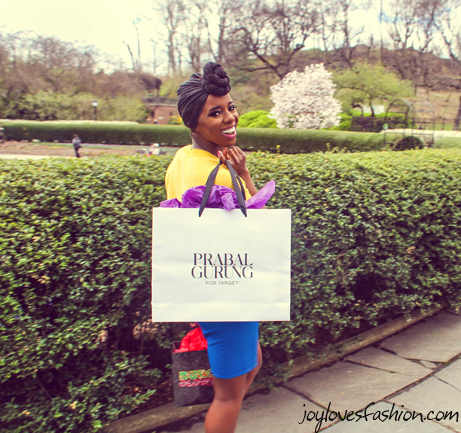 Photo by Ashley Naomi
Weather it's a luxurious excursion or a quick trip, shopping is one of life's great pleasures. Shop like a pro with these tips and your next run to Barney's will be nothing short of a success!
1. Know Your Personal Style.
Are you the girl who swoons over the latest trends? Do you love stocking up on classic pieces? To get a good sense of your true personal style, take note of which outfits you always feel great in. Which celebrity has a style you covet? Get inspired and make it your own! The more you know about your personal style, the more successful your shopping trip will be, each and every time. (For more tips on finding your personal style, go here.)
2. Eat Up.
Shopping takes energy. Grab a meal before heading out or stash a snack in your purse. Buying on an empty stomach can easily lead to questionable purchases.
3. Make a List, Check It Twice.
Are you looking for basics to fill gaps in your wardrobe? A dress to wear for date night? A list will ensure you don't miss any essentials.
4. Know Your Shopping Style.
Do you need to shop alone in order to stay focused? Make your trip solo. If you prefer feedback from friends, then by all means gather up your girls (or guys) for an impromptu dash to Bloomies!
5. Timing Is Everything.
We all love a good sale. Stay in the know by reading great shopping-centered magazines, like Lucky. Also, sign up with your favorite stores and they'll give you the 4-1-1 on the next fabulous mark-down.
6. Budget It!
Sure, we'd love to buy it all. But in the real word, a girl's gotta budget. This gives you some sort of limit. Even if you don't stick to it exactly, you'll be mindful of staying within a ballpark. Because nothing kills a shopping trip quicker than the guilt of buyer's remorse.
7. Plan Ahead.
Give yourself at least two weeks prior to a big event (ie: your cousin's wedding) to find your dress. You'll need extra time after that to shop for accessories.
8. Listen to Your Heart.
That sparkly top from Bergdorfs may look fab on the hanger, but will you actually wear it? Is it fitting your personal style and flattering your figure? These are questions you want to keep in mind. Or else that top may be doomed for permanent residence in the corner of your closet.
9. Give It a Try!
Always try before you buy! This is the one step that is missed quite often because of unwillingness to wait in line, or simply not feeling like it. This step is crucial. You have to see every item on your body for the simple fact that we are not built like hangers. Sometimes clothes can look very different when tried on. Walk around the fitting room while wearing the item in qustion. Sit in it, bend in it. If possible, take a picture of yourself in the fitting room mirror. This is one of my tricks. A picture gives you a very accurate look at the fit and proportion. If you can't find your exact fit, go up a size and get it tailored. Also make sure zippers work and that buttons are secure.
10. Double Check.
Some stores don't give cash back, just store credit. Some stores make sale items "final sale." Be sure before you buy!
Happy shopping! For more information on shopping and also tips on getting great style, check out Image Consulting page on JoyLovesFashion.com.
-Joy Adaeze
Photo courtesy of JoyLovesFashion.com
Calling all HuffPost superfans!
Sign up for membership to become a founding member and help shape HuffPost's next chapter