Frozen has officially taken over our lives. It's everywhere -- thanks to sneaky Disney who thought why cash in on just one princess when they can double up on merchandise with two. Throw in some catchy songs and a loveable snowman and little girls (and boys, and grown-ups) everywhere have just gone crazy for it. I don't think the Frozen fans in my house are ever going to "Let it go."
1. I have been woken up on several occasions with Izzy, 4, prying my eyelids open with her fingers and asking me in a mock American accent if I would like to build a snowman. No, no I would not. I would like coffee. Or preferably three hours more sleep.
2. She can (and incessantly does) re-enact the entire film word for word complete with actions and facial expressions. She gives me roles to play -- usually Anna to her Elsa -- but gets really annoyed if I don't get the words exactly right. Her little sister is allowed to join in as Olaf.
3. Whenever anyone in our house starts a sentence with the words "Do you...", someone quickly jumps in with "wanna build a snowman?"
4. At the soft play I can always hear Izzy leading a choir of little girls singing "Let it go." And then I overhear them arguing over who is going to be Elsa.
5. She insists that we have to be really quiet and sneak around because there is a big snow monster outside the house.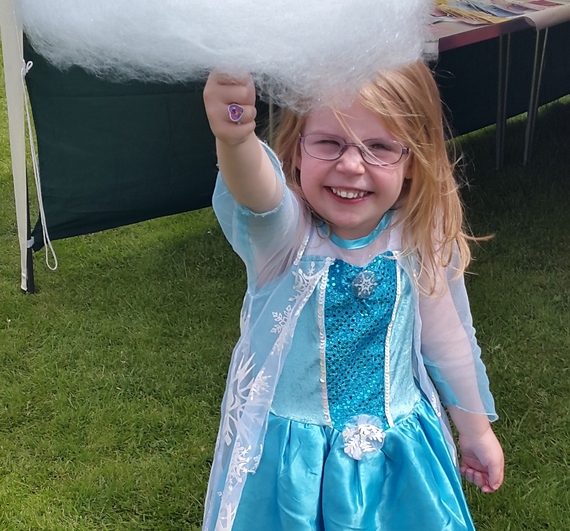 6. She will go for days refusing to answer to anything other than "Elsa."
7. I find myself listening (and singing along) to the soundtrack in the car even when I'm on my own.
8. A significant proportion of Izzy's belongings are frozen-themed. Clothing, slippers, hats, Lego, dolls (so many dolls), figures, dressing up costumes, jewellery, hair clips, bobbles, colouring books, stickers, crayons, pens, bags, swimming costumes, towels, bedding, blankets, cushions, chocolate bars, plastic plates, dishes, cups, soft toys.... You name it, if it's got a picture of Anna, Elsa or Olaf on it, you will be able to find it in our house.
9. Approximately 99 percent of all shop-based tantrums over the past year have happened because I wouldn't buy Izzy something Frozen related. Usually some plastic rubbish with a sticker of Anna or Elsa on it.
10. Our one year old has just started to copy her big sister and sings "Gooooooooo," holding her arms out in a dramatic fashion. It is both hilarious and concerning in equal measures. I'm not sure how we will cope with two Frozen fans in the house!
Related