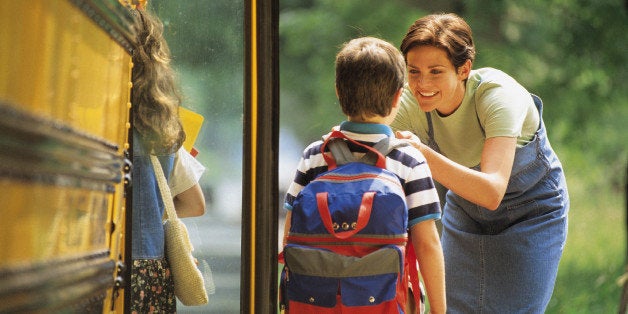 Lazy days, beach trips, and evenings without carpools and strict bedtimes -- saying goodbye to summer can be bittersweet at best. It's tough to give up the more leisurely pace of summer break and a bit sad to see the time go by so quickly, but there's no denying the excitement and promise that a return to school can bring. Here are ten subliminal signs that you're ready for the first school bell to ring -- whether or not you're ready to admit it:
1. You are on high alert for the PTA president. If you run into her at Starbucks, you avoid eye contact. You know that she's likely to ask you for volunteer commitments -- and the last thing you want to do is give up your upcoming freedom.
2. You stare longingly when you drive by your kids' school, mentally calculating alternate carpool routes to shave a few minutes from the commute and sleep in an extra few minutes.
3. You scour Pinterest for new ideas for packed lunches, family dinners, class snacks... and even DIY teacher gifts. You know it's doubtful that you'll make more than one or two of them, but your intentions are strong.
4. You buy an unlimited workout package, knowing you'll soon be able to exercise beyond the pre-dawn hours you've been limited to all summer. You choose gyms based on which offers a class closest to school drop-off time.
5. You succumb to your child's pleas for Hello Kitty popsicles -- the ones chock full of artificial food colorings and high fructose corn syrup -- and wipe sticky drips off the counter with less annoyance. This is likely your last box of popsicles of the season.
6. You Google "normal child development," swearing that there is no way the kids could have grown two shoe sizes in 10 weeks. You start watching for early-bird sales on snow boots.
7. You stock up on age appropriate gifts, knowing that an onslaught of birthday parties is about to begin. You consider buying in bulk.
8. You start texting friends you haven't seen in months. At last, you can schedule kid-free coffee and lunch catch-ups.
9. You toss the near-empty sunscreen bottles, shake the sand from the bottom of your diaper and tote bags, and stash swimsuits in the bin at the back of the closet.
10. You consider whether it's too early to pull out Halloween decorations.
Related