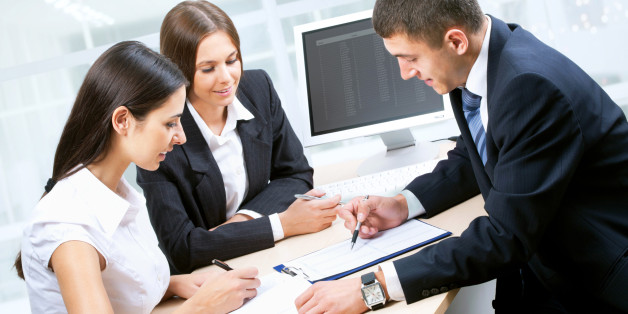 When I was old enough to write, my mom taught me the importance of acknowledgement and gratitude. Before I could use any gift I received, I had to write a thank you note. This required stationery, a pen and a postage stamp (decent penmanship didn't hurt, either.)
Today you just have to type a one sentence email, yet some people still don't have the courtesy to acknowledge gifts.
An introduction is a gift. If you're going to spend any time growing your business by connecting, I suggest following these 10 simple rules:
1 - Know the protocol
Someone you know will send an email introduction to you and another person where they see a mutual benefit. This is a three-way communication between the connector and two recipients. The email should include a brief description of why they feel you should meet and the type of business or service each of you have.
The first thing you need to do is hit "reply all" and thank the sender. Then you say hello to the other person and suggest a time to get together or talk by phone. You should now "drop" the person making the introduction from future correspondence.
I have made introductions where I get no acknowledgement whatsoever. Now I have to call or email the people to see what went wrong. The last time this happened, one recipient said to me, "Yeah, I know who they are, they can't do anything for me." This was a surprising response on a few levels and I no longer make introductions for them - their loss. Which brings me to my second rule...
2 - Ask if someone is open to introductions
Just because you appreciate the value of a thoughtful, warm introduction and see infinite possibilities for two people to meet, that doesn't mean everyone feels the same. Before I send out an introduction for the first time, I now ask the parties, "Do you mind if I introduce you to someone for a possible business connection?" Don't go into specifics. If they say no, respect their wishes. If they say yes, you may want to forward them this article if they're new to connecting.
3 - Be grateful
The fact that someone thought to refer you is a compliment that should not be taken lightly, they could have referred someone else. You may already know the person being introduced to you or think there is absolutely no reason to meet them. Either way, do not ignore the introduction, simply thank the initiator for thinking of you and acknowledge the other person. Personally, I have never been disappointed by an introduction that was made on my behalf -- I don't say no.
4 - Respond in a timely manner
It's understandable if you can't answer an introduction immediately. In fact, the other person may reach out before you do. Once they do, you must respond quickly. The person who made the introduction is vouching for you. Your lack of response shows poorly of you and, in turn, them.
5 - Reduce disappointment and miscommunication
After you've made the initial contact and agree to meet, choose a place that's convenient to both parties. Send an email calendar invite and make sure it's accepted. The day before, confirm that the meeting is still on. Exchange cell phone numbers, just in case...
6 - Allow an hour and be on time
Treat the meeting like this person is the key to your future, they just might be. First impressions mean a lot and may determine whether they refer you to someone else or want to work with you directly. If you're late, make sure to call or text. We all have better things to do than wait for someone.
7 - There are no guarantees
At the end of many group networking meetings, people thank others for making an introduction for them. This shows their gratitude as well as demonstrating how successful networking can be. I once asked someone how their meeting went from an introduction I made (since they didn't thank me during the meeting). Their response was, "Well, they didn't buy anything from me." So you only give thanks from intros that result in a sale? Probably not the answer you want to give if you'd like to receive more introductions.
8 - Give freely with no expectations of getting
Whether you introduce someone once or a dozen times, your goal is to connect people. If it results in business, a friendship or anything else, you've done your job. Don't expect them to return the favor. Your payback will most likely come from someone else's introduction -- just keep giving.
Also, don't ask for a referral fee of any kind. It's tacky and goes against the spirit of what your goal as a connector is.
9 - Think outside the box
Be open to inspiration. I recently met someone who has a service offered by many, but his approach is entirely different. I asked if he would create a one-hour seminar, which I would sponsor and host with other connections I have. He agreed and he'll now have exposure to 50 new opportunities at one time, structured as an educational meeting, not a sales presentation.
Look beyond the obvious and see what synergies exist throughout your network and how you can bring them together in new ways.
10 - Say "thank you"
After you've met your connection in person, why not be proactive and email the initiator to give them a quick update? "Hi Joan, thanks again for introducing Suzie Smith. We met for coffee yesterday and I really enjoyed getting to know her and a bit more about her business. That was very considerate of you and I appreciate you thinking of me. I hope to return the favor in the near future." You've now closed the loop.
While these rules are merely common sense, it's nice to know you're doing all the right things to maximize deeper ways of connecting and broadening your sphere of influence.
Here's a bonus rule that works in any environment - "Don't trash talk anyone. It's a small world and they'll always find out."
Calling all HuffPost superfans!
Sign up for membership to become a founding member and help shape HuffPost's next chapter