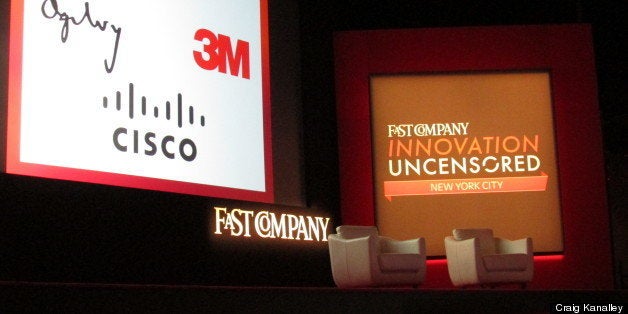 Fast Company held a gathering of entrepreneurs, CEOs and those interested in business, media and technology at Terminal 5 in New York this week. A San Francisco version of the event is coming in the fall.
1. "Creativity is a compilation of things we've seen." -Brian Wong, CEO of KIIP
2. "You can actually be intimate with the universe." -Diane von Fürstenberg, fashion designer
3. "Starting anything is a roller coaster with the highest highs and lowest lows." -Jack Dorsey, CEO of Square, co-founder of Twitter
4. "My entire career has been pivoting from company to company. Some people call it lack of planning or direction, I call it flexibility and good improvisational skills." -Justin Kan, CEO/Founder of Exec, Founder of JustinTV
5. "We can't keep relying on others. We need to find a way to generate our own resources." -Melissa Kushner, Founder and Executive Director of Goods for Good
6. "The 21st century leader needs to have six careers over their lifetime, as flexible as can be, and creative." -Blair Taylor, Chief Community Officer at Starbucks
7. "Risk will help bridge the innovation gap." -Tucker Fort, partner at Smart Design
8. "If we haven't designed a good product, they're not going to buy it; if they don't buy it, they won't use it, then we won't have an impact." -Krista Donaldson, CEO of D-Rev
9. "In the end, we're all the same. People are people." -Tal Dehtiar, Founder of Oliberté Shoes
10. "The platform is either an enabler of creativity or it's a block." -Susan Lyne, CEO of AOL Brand Group
Calling all HuffPost superfans!
Sign up for membership to become a founding member and help shape HuffPost's next chapter