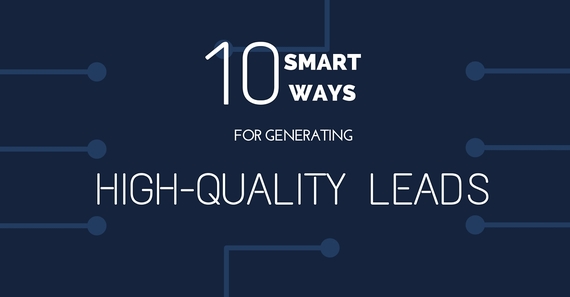 Do you know the most common reason behind business' fall?
They don't have enough leads to survive in the market.
No matter how best your product is, your business can't survive without high-quality leads. Without lead generation, your promising product has no future.
More leads generate more revenue. More revenue gives the confidence to face the competitive environment. Are you not getting the right leads to convert your business ideas into billion dollars company? Let us find out lead generation methods for yielding the best business results:
Tap the Power of Q&A Websites
A forum is an ideal place for gaining the trust of prospects. When you help people by solving their problems, healthy relationships develop which helps in generating more leads. Quora is another platform for engaging with your audience. Hang out with the people who share the same interest and pay close attention to their feedbacks on your products.
Create Your Company's Blog Page
The blog represents your digital identity. By focusing on your target audience, craft a content to address their issues with actionable strategies. It is an effective way to pull the people towards your site. When people find value in your content, they don't mind signing for your newsletter or giving a free trial of your product.

Guest Blogging on Authoritative Sites
Apart from creating content on your site, take out some time for creating stellar content for authoritative sites. It is an excellent chance for shifting the audience from high-traffic site to your landing page. To double your chances for lead generation, always write a guest post centered around your product.

Understand the Magic of Free Tools
Who doesn't like free things? If your free product eases off the workload of your users, you can easily pitch your premium products. CoSchedule provides free tool 'Click to Tweet' for helping users to increase their twitter shares.
They have generated lots of leads with this tool for their premium product, content marketing calendar, which helps in planning and creating content in an efficient manner.

Use Twitter for Targeting Your Leads
Stop looking Twitter as just a social platform for emoting your feeling within 140 characters. It is an active social media medium for grabbing the attention of your followers and influencers in your niche. Target the leads by using your industry-related hashtags. If you want to know about your followers in detail, Followerwonk can help you in generating more leads by digging deeper into Twitter analytics.
When it comes to slideshows, Slideshare comes to mind instantly. It is a slide based hosting service which helps in presenting the content in an appealing manner. You can prepare presentations based on your target audience or can repurpose your evergreen content.
Ana Hoffman, the founder of Traffic Generation, considers Slideshare as the second largest traffic referral source. Within 30 days, she generated over 200k views from nine slides only.
If you want to educate readers, use an e-book to deliver a ton of value. It turns out to be a valuable barter for you and consumers. Users give their email address in exchange of free e-book. You get the permission to land your offers in their inbox.
Optimize Your Landing Pages for Lead Generation
When you don't have the right kind of landing page for generating leads, there is no use of guest post contribution. Landing pages are essential for converting first-time visitors into a long-term audience. Earlier, it looked impossible for building a lead page without hiring some professional.
With the emergence of revolutionary landing page creators, like from Getresponse, landing page creation sounds like a child play. Choose your designs from the available mobile friendly templates and customize any element of the page without worrying about any HTML codes.

Ask your Consumers
The customer survey is an indirect way of generating more leads. When you ask a specific question from visitors, you can use the insights in enhancing the user experience. When you frame audience centered product or any page by focusing on that qualitative information, you increase your lead generation chances.
Qualaroo makes it easy for website owners to uncover the visitor's preferences with their surveys. Apart from the home page, you can easily implement their surveys in your blog post, emails, and social media updates.

Generate Leads From Your Existing Customers
If you have some substantial offer for your existing customers, get ready for more leads from their close friends and relatives. Create a referral system for them to leave a big smile on their faces. Without any incentive, they won't be interested in promoting your product.
Dropbox provides cloud storage services which help users to access their stuff from anywhere. For referring a single friend, they provide 500 MB space for Basic Account Users and 1GB space for Pro Accounts users.
How do you generate leads for your business?
I'd love to hear your thoughts in the comments section.
Related
Popular in the Community