It's safe to say that social media has become an internal part of the lives of those who either work online, or spend a lot of time away from their family and friends abroad. And not just that, social media is revolutionizing the classroom, changing our workspace, and allowing us to build new communities in a matter of minutes.
As far as business owners and freelancers are concerned, social media is an amazing platform for generating extra business (or leads as they might call it), and it also helps to iron out the problems that people are seeking solutions for.
Apart from being able to monitor the status of your social media campaigns, any social media marketing expert should seek tools that allow to do more work in less amount of time spent. Here is a list of some of my own favorite tools, as well as those that are already known in the social media community.
Why spend time asking each of your followers individually about their favorite type of ice cream, when you could (and should) ask them all together by using an interactive survey platform such as Typeform? It integrates in any webpage seamlessly, and provides all the modern -- necessary -- features.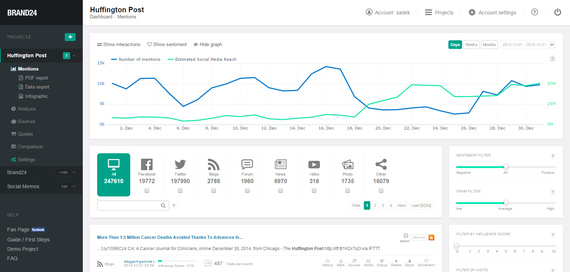 Are you aware of what other people are saying about your brand online? It can be a daunting task to monitor online portals for mentions and activity.
You might think that Google Alerts is enough for monitoring your brand online, but Brand24 will show you insights that you would never have seen otherwise -- keeping you in touch with both current and potential customers.
Personapp allows you to create and share quick, lightweight personas using a simple lean framework. It enables you to take your community with you at all times; meetings, new reports, or simply collaboration with clients. Best of all, it's free.
If you are looking for a social media management tool AND you consider yourself to be a mobile person -- Sendible is a platform you might want to take a second look at. Post or schedule content to all of your social media accounts, blogs and mailing lists from the palm of your hand, it's a social media on-the-go powerhouse.
Everypost is a brilliant all-in-one tool that allows you to manage, update and publish your social media content from one simple dashboard. The big advantage is that you can curate content from your own sources, modify it to your own needs, and then publish (or schedule) -- without losing any time.
Perhaps you don't need to curate and adjust content and just need a simple tool to schedule your content to all the popular networks, including: Facebook, Google+, Pinterest, Twitter and LinkedIn. Mass Planner does just that, but keep an eye out on the "Target your audience" feature, which allows you to send tweets to a specific set of followers. Neat!
Don't have the time to sit around and look at graphs all day? Give HowSociable a try, as it gives you a concise report of how well you're doing on social media (across a very big variety of networks), but also lets you know where the strongest mentions are coming from. Great for maximizing the potential of unknown mentions.
If you understand the immense benefits of utilizing images within your social media posts, then you will enjoy this simple tool by Autre Planete; it's an social media image resizing tool that works for a variety of networks, no longer do you need to manually create separate images for each social network.
Kind of awesome to see that Topsy has survived over the years, it's still a very relevant tool to those social media marketers who understand how to curate and analyze the content of competition. If you need to find out what is currently trending and why it's so -- this is the application to go to.
Hootsuite is the world's most widely used social media relationship platform. More than 10 million users, including 744 of the Fortune 1000 companies, trust Hootsuite to manage their social media programs across multiple social networks from one integrated dashboard.
Do you have your own personal favorites that you couldn't find in this list? Let me know in the comments and I will keep the in mind for future roundups.
Support HuffPost
The Stakes Have Never Been Higher
Related
Popular in the Community