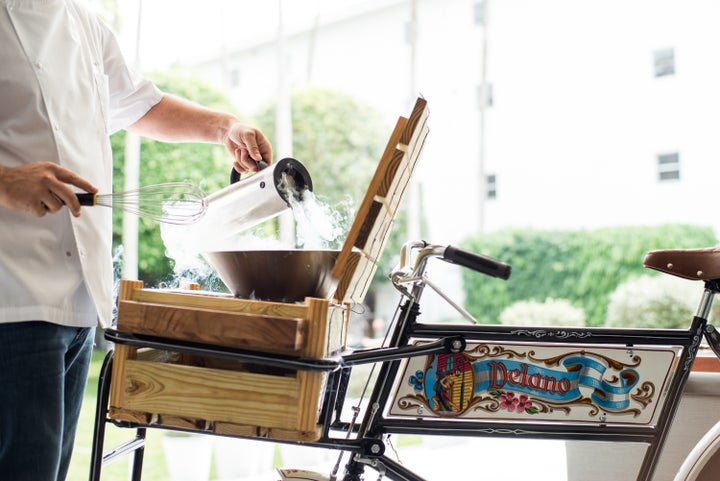 Miami Spice is the perfect time for culinary admirers to cure their curiosity. Restaurants all over the magic city offer a price-fixe lunch ($23) and dinner ($39) menu to help drive more business. Typically taking place during August and September, the annual program has been extended until October to help local businesses who were financially hurt by hurricane Irma. Not only is it an opportune time for Miami residents to try new restaurants but, it's also ideal for tourists enamored with dining out for a deal.
This year 236 restaurants are participating to date and 40 joining for the first time. Newcomers include Bazaar Mar by the legend Jose Andres, BRAVA by James Beard Award Semifinalist Brad Kilgore, Estefan Kitchen, Fi'lia by Michael Schwartz at SLS Brickell and another brilliant Stephen Starr expansion, Upland.
Since Spice is a great chance for a test drive, we recommend going somewhere irresistibly opulent that's easy to fall in love with. When in Miami, it's go big or go home. There are some seriously swanky spots to spice at and we've narrowed down the most stylish.
Buddakan, Katsuya and Makoto alumni Chef Jose Icardi is fusing his Argentinean background and Japanese experiences at the iconic Delano Hotel. Since this is an SBE Group prodigy, Leynia has gone above and beyond to produce an appropriately theatrical show. Expect roaming bicycles in place of dessert carts, scents from the rustic allure of an open flame grill and a personalized grill at your table (according to the dish). Glide through the same sleek white hallways Franklin Delano Rooverselt walked down to enter Leynia. Relive the glory days and gawk at the Art-Deco beauty around you and sit outside to spot action on the grill.
Miami Spice must: Matambre (stuffed flank steak)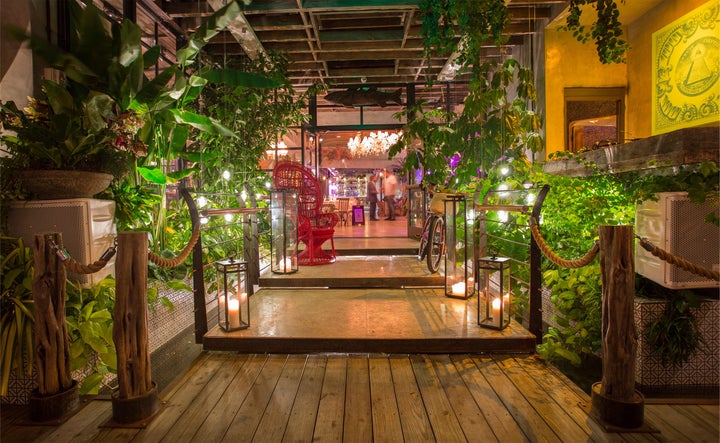 The Greek isles recently invaded Miami River by introducing a new Mediterranean concept helmed by Milos alumni, Chef Steve Rhee. Guests are encouraged to sit on the outdoor patio and delight in a sunset surrounded by white drapes and garden greens with steel and concrete original beams and columns. Inside, the walls hang portraits of operating partner Roman Jones' Greek family. Throughout the inspired seaside village, whitewashed walls of the rustic warehouse interior also pay homage to the original fish market that occupied the space for the last several decades. Not only does this enviable space serve some of the most refreshing and simple Mediterranean fare but, it captures one of the most desirable nightlife scenes in Miami.
Miami Spice must: Grilled octopus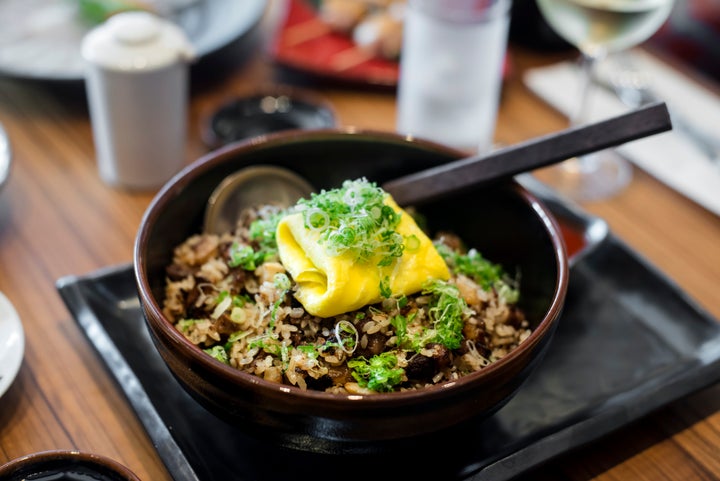 Brothers Bruce and Eric Bromberg, have expanded their Blue Ribbon empire to Miami and just in time for their 25th anniversary. The duo carried the concept to the magic city by agreeing, "There is such a strong connection between New York City and Miami, and we have been looking in this area for many years. We have looked at different opportunities over the years but the Plymouth Hotel just resonated with us." As a refreshing alternative without the Miami Beach flash, Blue Ribbon embodies a true Japanese sushi bar with a sexy and unpretentious New York feel - their omakase also happens to be one of the best in the city. Before you head into the restaurant, make a pit-stop at the hotel lobby bar to dream of your tiki bar days.
Miami Spice must: Oxtail fried rice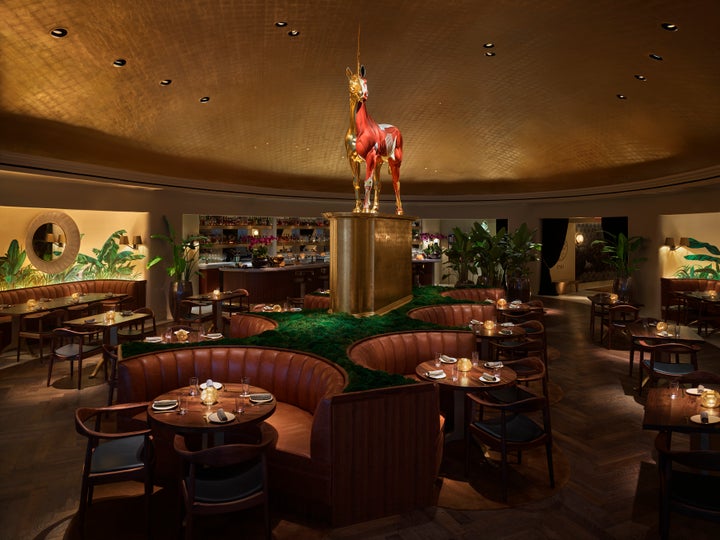 We will use any excuse we can to visit the cultural epicenter, Faena. The visual plan was executed by Baz Luhrmann where Miami's first luxury hotel, Saxony Hotel once sat in 1948. Located in the dome space of the architecturally stunning land the decor is a marriage between natural elements and modern sophistication. Helmed by Top Chef winner, and James Beard Award winner Chef Paul Qui, the decor fills a patterned gold leaf design on the ceiling and walls that compliment walnut wood tables, dark brown leather banquettes and mid-century style chairs with black leather seats. If this space wasn't luxurious enough, do a double take over Damien Hirst's gold-leaf unicorn sculpture.
Miami Spice must: Beef tartar laab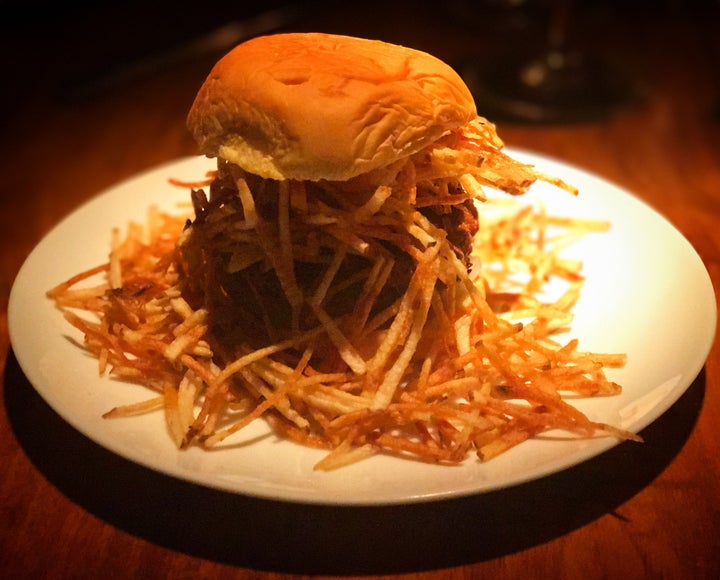 Burrowed in the historic and bohemian area of Miami, this Coconut Grove 80-seated staple sheds some serious swag. Feel at home while Chef Michael Beltran prepares your meal from sn open-kitchen and enjoy dinner over the classics like Outkast and Biggie - courtesy of chef's playlist. While the theme might be pretty homey here, the menu is a mashup between comfort and elevation that's mostly inspired from Beltran's mentors and Cuban heritage. Between the dimly lit dining room and seductive smells from the wood-burning oven, any date would easily be romanced.
Miami Spice must: The best frita you ever had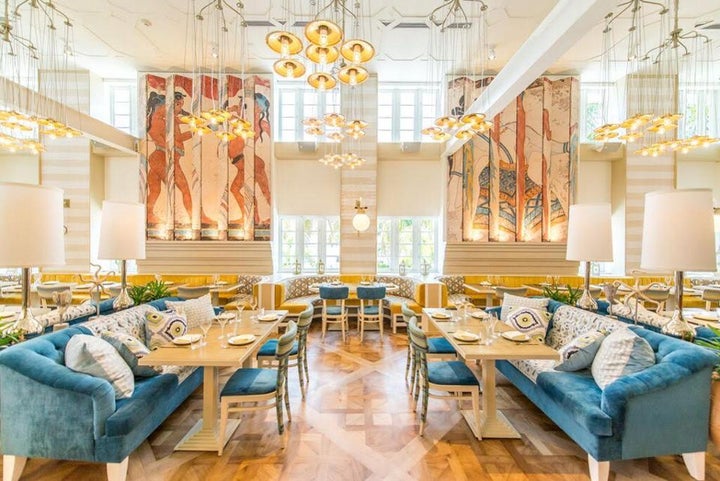 There's no argument why Forbes named this retreat "one of the top reasons why Miami's hotel dining scene is better than ever." This plush and cozy environment entertains a mix of Eastern Mediterranean cuisine using strong influences from both traditional and local ingredients. Complimentary to the history behind the dishes, the Egyptian-like theme is centrally located in Miami at the James Royal Palm Hotel (built in 1939). Dishes are meant to be shared where the Miami Spice menu kindly offers giving guests a choice of two appetizers, one entree and one side ended with dessert. For a little tea-time (and we mean this in the coolest way possible) end the night at their adjacent lounge featuring gold and silver mirrors in a zigzag pattern alongside velvet sofas, lounge chairs, and ottomans polished in Mediterranean inspired pillows.
Miami Spice must: Their black truffle pide is an extra $10 but, the buffalo mozzarella, halloumi and tartufata combination is well worth it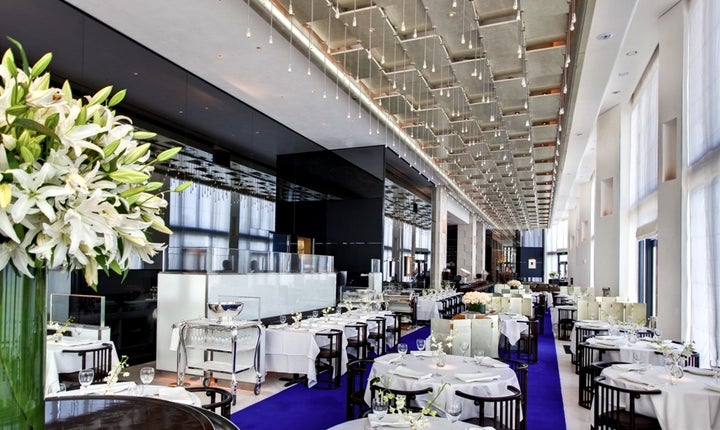 Since opening their flagship location in London during 1968, these Chinese traditions are very much alive at all eight locations and this W South Beach destination never looked so good. The elegant interior includes a selection of original works by famed artists Andy Warhol and Julian Schnabel in addition to a 127-foot Swarovski chandelier designed by Michael Chow himself. In addition to dinner, guests are treated to six shows each service, including the champagne trolley, decanting of the wine, sole filleting, signature noodle show, Beijing duck carving and the dessert trolley.
Miami Spice must: Mr. Chow Noodles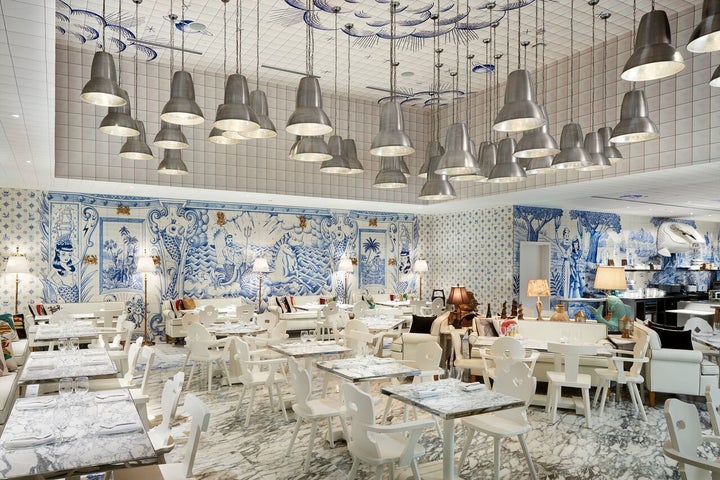 We have two magical words for you, Jose Andrés. SLS has been good to Miami and their newest property in Brickell has painted a daring culinary picture we didn't know existed. As its name implies, the design is influenced by the mar, meaning sea. Envisioned by none other than Philippe Starck, he created an underwater landscape featuring walls decorated with mermaids, hand-painted blue and white tiles and sleek white furniture. Glistening with just as much beauty is their contrasting dark and mysterious bar decked in black and gold where a giant fish head sculpture takes center stage. Life under the sea never looked better.
Miami Spice must: California funnel cake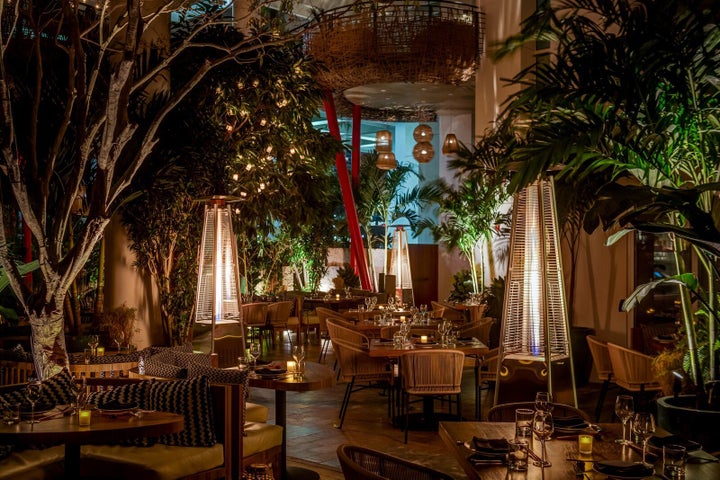 Don't let this facade fool you, what might seem like a bank on the outside conceals so much more on the inside. Nightclub hero, Dave Grutman has executed the incomparable balance between dining and nightlife creating an overall unforgettable experience. Guests are surrounded by a lush garden oasis complete with floating "bird nest" pods. Any given night inside the 300-seat dining room is a scene and if you look closely you might see your favorite DJ. Chef Ben Goldman, previously at Seaspice, recently added new dishes which you can also score on the Miami Spice menu. For the ultimate night out, head upstairs to their lounge where Lebron James may or may not have taken over the DJ booth a few weeks ago.
Miami Spice must: Cloud nine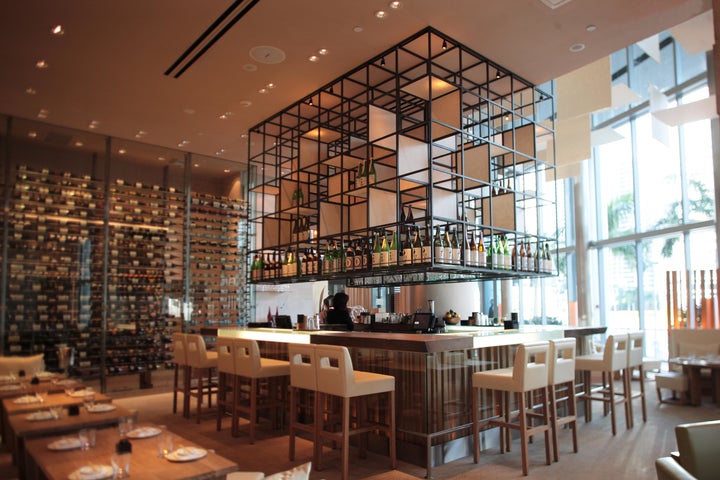 This is one venue that will never go out of style at this izakaya inspired rewarding empire. Just like its location, everything is epic here. Simply walking through the wood carved door gives regulars goosebumps. Every detail is top of the line from the stone, glass, steel, and wood design to a sake sommelier at your very demand to pair with your dinner. The billion dollar chain isn't cutting any corners for spice either by offering a bonus spicy yellow tail roll to share (dinner only). Before dinner, one of their renowned Asian fused cocktails is worth a try but, if you want a spot at the bar arrive early - it's where everyone wants to be seen.
Miami Spice must: Truffle rice donburi
Related
Popular in the Community