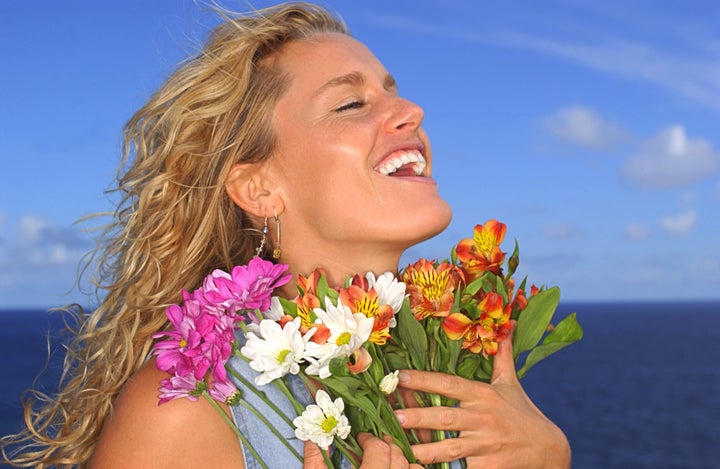 Do you enjoy all the peace of mind you would like? Are there situations in your life now where you would like to be more at peace -- at work, with loved ones or in the community? Could you ever imagine the world to be a peaceful place? What would that be like?
Next Tuesday, September 21st is the United Nations' International Day of Peace.
Peace starts at home, and home is where the heart is. Your spiritual heart is at peace. When you listen to your heart, your inherent value, values and love, you touch into the peace that is always present within you. It is possible to experience the "peace that surpasses understanding" and some of us do.
I remember a day that I was at my wit's end. I was teaching high school biology at the time. I was facing the loss of a personal relationship and the demands of the school day felt overwhelming. When I had a break in my schedule, I threw on my coat and drove to a local woods. There, I sat quietly in my car and began to study a huge white oak that dominated my field of view. Its lower branches were as large as ordinary tree trunks. As I contemplated that oak, it began to become an analogy for my life. This elegantly massive tree showed many signs of past battles with adversity. In spite of its damaged limbs and lightening scarred trunk, it was a perfect being. That big oak showed me that I would emerge on the other side of this crisis with perhaps a few scars but also with a stronger sense of my own purpose and being. It spoke to me personally about survival. Its branches represented all the paths my life could have taken; each leaf represented an individual life that was intimately connected to all the others. The fifteen minutes I spent with the old oak that day gave me new insights, confidence and peace.

It almost goes without saying that in everyday life we meet plenty to challenge our sense of peace and well-being. Peace is not a solid object you can buy over the counter, as a cure for all time. It is more of a process, like breathing in and breathing out. You can nurture a peaceful frame of mind through holding an intention for it.
Here are some suggestions for nourishing your peace on this coming Day of Peace.
1. Love yourself, and whatever life presents to you
Whatever life presents is a gift. Sometimes, it is so well wrapped that you do not see the treasure. Truly, the present is now. Now is the gift. Receive it with your love.
2. Belly Breathe
Breathing, and exhaling deeply, will help to relax your body and calm your emotions. If you are impatiently waiting in a line, stuck in traffic, unclear about a decision you need to make, deep breathing can help you to think more clearly and to cooperate with whatever reality is, in that moment.
3. Invest in Rest
If you are not sleeping as well as you would like, HuffPost has a wealth of articles on improving your sleeping patterns. In addition to a good night's sleep, take time out during your day to let go, with the intention to rest from activity, and restore your mind, body and spirit. Doing so will pay excellent dividends in renewed energy and creativity.
4. Image Happiness
Keep smiling photos of yourself and your loved ones around you. Think about what makes you happy, and do more of it. Spend time with happy people.
5. Extend Empathy
All the challenges you have ever met and survived will give you a rich resource of wisdom. Do not let your wisdom go to waste. Find ways to share the essence of who you are with a smile, or by simply listening. Wisdom works wonders in spreading peace.
6. Freely Forgive
Does anything, or anyone, come to mind that you have yet to forgive? You forgive, not for the other person, but for yourself. Holding on to hurt, guilt or shame from the past locks you there, and out of your peaceful heart. Let go. You will be so glad that you have.
7. Clean the Slate
Do you have any stuff around you that you no longer really like or enjoy? Are you hanging on to anything because you think you "should?" Keep around you only that which serves you and/or gives you pleasure. Complete a few ancient items on your To Do List! Having a good clean out can freshen your spirits and help you to relax.
8. Give Gratitude
To whom could you express gratitude? Are there people who in some perhaps small way make your life better? A bus driver, shop assistant, parking attendant, work colleague, boss, employee? You never know when a kind word of appreciation will bring peace to another person.
9. Work to Serve
It has been said that work is our love made manifest. No matter what work you do, having the intention to serve will bring greater peace to your coworkers and customers, and better results to the enterprise as a whole.
10. Pray for Peace
A simple prayer I use for myself and others is:
God bless you
I love you
Peace. Be still.
If I am feeling stressed, I place my hands over my tummy and repeat this prayer for myself. When I witness others arguing or in conflict, I inwardly say the prayer to them.
This Peace Day, I wish you many moments of deep peace.
Deep Peace
What does peace mean for you? How do you restore peace within yourself, especially in fraught situations? Who inspires you with their qualities of peacefulness? Where do you go to find peace?
Please feel free to leave a comment below, or contact me at anne@annenaylor.com
Re-tweet or pass to friends who may enjoy this post.
For information on my future blogs, click on Become A Fan at the top.