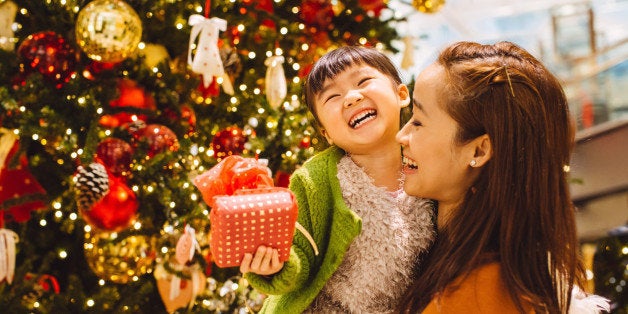 Nothing drains the wonder of Christmas like mall parking lots, a melting bank account, saying "yes" to too many obligations and "no" to our kids every 6.5 seconds.
Christmas as an adult often lacks the visceral joy abundant in childhood. Many of us lose that lightness in the chest, watering in the mouth, rosy-ing of the cheeks, pepping of the step, and enjoyable anticipation in the gut as the years tick away on our biological clock. Here's hoping "they" figure out how to bottle that cocktail of feelings and infuse it into the cider.
I'm talking to you Santa.
In the meantime, let's figure out how to steer our holiday actions down a lane paved with opportunities to evoke the childlike-holiday-wonder that fizzled out around the time our teenage hormones bubbled up.
These activities are not just for your kids -- step into the experience and reclaim your childlike wonder.
1. Write a List for Santa. But, only non-material wishes, dreams, and goals. Then, mail it out to the Universe, or God, or Buddha, or whomever you honor as your higher power. Believe that come Christmas morning all the cogs of your wishes are beginning to turn. So much better than a plastic dollhouse you'll only use for two weeks.
2. Try Something New. Shake it up. Volunteer at a shelter or soup kitchen, try a winter sport that has always scared you, make a wonderfully ugly sweater and go to that party, or take your own picture with Santa after the kids get a turn. If the thought of the action fills you with equal parts discomfort and excitement, you should definitely do it.
3. Have a Christmas Tree Lane Date Night. Find your local "Christmas Tree Lane," grab a thermos of hot cocoa, and take a slow walk down the street with your honey. The true purpose of the lights of Christmas is to evoke a feeling of magic, wonder, and appreciation (for the brave souls who hung the lights.) You're never too busy to be awe struck (and make out with your partner under some of the most flattering lighting imaginable.)
4. Become a Caroler. Join a local caroler group, or, start your own! Gather a group of gutsy friends, practice your favorite holiday (easy) tunes, put on those Christmas sweaters, loosen up the vocal chords with spiked eggnog and get out there!
5. Make Homemade Ornaments. Remember God's Eyes? Religious or not, that nifty concoction of Popsicle sticks and yarn is just divine. And get out the glitter and glue, because why not. And don't forget to make a few paper snowflakes.
6. Decorate Your Own Cookies for Santa. For many children, one of the greatest joys of Christmas is the jolly man that can magically fit down the chimney, with his bottomless bag of toys. Throw your inner child a bone and put out your own cookies for ole Saint Nick. And then...
7. Ask Santa to Put a Gift Out For You. Have your partner, best friend, or mom leave out your best gift so you see the present in all its glory as you round the corner Christmas morning. And make sure they take a few bites out of your Santa cookies.
8. Do Less, Play More. Go sledding! Build a snowman. Be silly and merry. Leave your self-consciousness at the door. Buy (and wear!) an adult Christmas onesie. Make reindeer gingerbread pancakes. Stay in bed until noon, doing the following...
9. Watch the Oldies But Goodies. Seek out your favorite childhood Christmas movies and treat yourself to a marathon.
Here are a few to get you started:
Rudolph the Red-Nosed Reindeer (a la 1964.)
The Grinch Who Stole Christmas (a la awesome.)
A Muppet Christmas Carol (Muppets are always a good idea.)
White Christmas (no Christmas is complete without Bing Crosby.)
Christmas Family Vacation (a good reminder to check your tree for squirrels.)
10. Just Believe. Make a conscious decision to once again believe in miracles, in elves, in magic, in reindeers, in human compassion, in a time traveling sleigh, in world peace, in yourself.
Believe in your ability to choose your emotional state. Believe in your ability to bring back the magic. Believe in your ability to live in joy this holiday season, and every day thereafter.