You wake up early in the morning to sit in traffic for an hour, work for about 8 hours, sit in traffic again for another hour or more to get home, cook dinner and then have just enough time to watch a TV show or two before you find yourself in bed and ready to do it all over again for another four days.
When we're so much on the go-go-go, the last thing on our minds can be our own self-care and how we can find joy in our day to day lives. But, trust me, it's much easier than you think. Here are 10 super simple self-care practices to help you live a joyful life:
#1 -- Breathe! So many of us get so stressed out over deadlines, places we have to be, and things that we have to do that we forget about how important it is to just breathe. When we're stressed out, often our natural tendency is to hold our breaths or to breathe in through our chest.
So whenever you're feeling strung out, turn your attention to the breath. Exhale. Breathe in through your diaphragm and breath out for a few counts. By consciously making deep breaths for a few minutes each day, you'll be able to think with a more clear mind, be more resilient to stress, and feel much lighter overall.
#2 -- Sing. Who doesn't like to jam out to one of their favorite songs? When you're driving home from work, turn on one of your favorite songs and just start singing. And so what if people in the other cars around you see you! Clearly, they haven't learned how to enjoy life nearly as much as you.
#3 -- Dance. You know the next best thing to singing your favorite tunes? Dancing to them! So when you get home, spend some time gettin' your groove on. It's not only good for a little exercise and to reduce stress, but it's just flat out fun.
#4 -- Meditate. Have you ever had one of those days where your mind just can't seem to "turn off"? It's like the thoughts of your day just keep going and you just can't get it to stop.
This is where the benefits of meditation comes in.
So every day spend a good 3-5 minutes just sitting and focusing only on your breath. If you want, you can also add in a mantra, like "so hum," that you can say to yourself over and over again.
If focusing on the breath or doing a mantra isn't your cup of tea, you could also do a guided meditation or visualization as well. There are plenty of free ones online to try out. In fact, in case you haven't already, you can get a free copy of my guided meditation for self and relationship healing. This is a great guided meditation to use to help send some love and healing for yourself and then send some love and healing to others in your life as well.
#5 -- Eat natural foods. When we're running around busy all the time, the last thing our mind and body really needs is a Big Mac. Try to eat more natural foods. Eat a good amount of fruits and vegetables every day. Drink more water and a little less coffee. In making these little changes, you'll feel much better.
#6 -- Be grateful. Start keeping a gratitude list and every day identify at least one thing that you are grateful for. Once you have identified what it is that you are grateful for, then close your eyes and breathe. Visualize that person, place, or thing that you are grateful for. Visualize yourself sending that person, place or thing your love and appreciation.
#7 -- Give someone a hug... or kiss. When we give someone a hug (or a kiss) we get an instant boost of oxytocin in our brains, which is the brain chemical that creates feelings of pleasure, bonding, and intimacy. So give out some more hugs and it'll make you and the other person feel better.
#8 - Play... literally. When we're so cooped up in our daily responsibilities of being an adult, we forget what it was like to be a kid and just play. Spend some time coloring or playing a game with a friend or with your partner. Dance in the rain. Play in the pool. And let go of the inner critical thoughts like, "I'm too old for this" and just do it. Just enjoy it and have fun!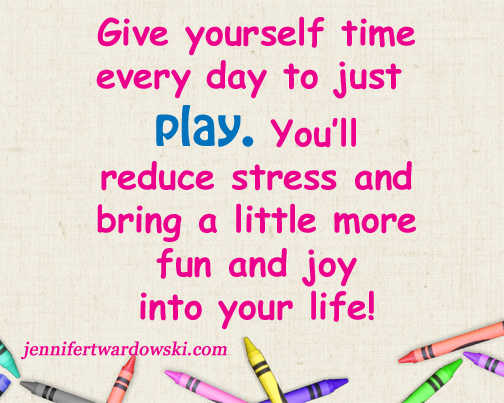 #9 -- Spend time outside. For the majority of us have desk jobs and sit in front of a computer every day, we don't end up getting nearly as much time in the sun as we should be. So take some walks outside, spend time time regularly taking care of a garden, or simply just sit outside and enjoy the fresh air and sun. You'll feel much better!
#10 -- Create something. In previous generations, more of us took up things like knitting, cooking, drawing, playing music, dancing, painting, and so on. Today it seems that most of us have exchanged this for working more hours and spending more time mindlessly checking our cell phones and watching cable.
And, frankly, there's not a lot of joy that can come out of that.
So find a little hobby and start doing it. And no, you don't have to be perfect and no, you don't have to work towards "going pro." Just do it. Not for money. Not for anyone else. Just for you.
Jennifer is a self and relationship coach and the founder of JenniferTwardowski.com. Her mission is to help women create loving relationships with others and themselves. Click here for her Free Self and Relationship Healing Meditation and weekly blog updates. To learn about how you can work with her, click here.