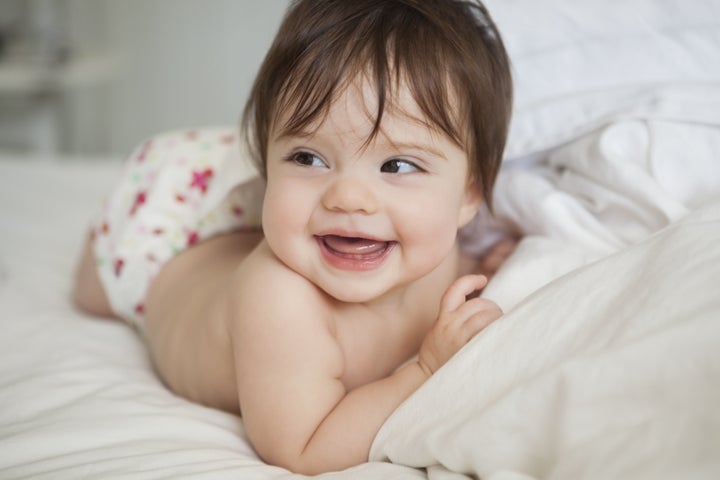 Nice girls don't always finish last — at least when it comes to baby names.
Sure, many newly fashionable girls' names are either tomboyish (Avery, Harper, Brooklyn) or opulently feminine (Sophia and Isabella). But a countervailing trend is starting to emerge. In the past few years, girls' names with a distinctly sweet image have started to gain favor with discerning parents.
These names feel vintage-y without being grandma names. They may be associated with great authors or books, but they never sound pretentious. There's nothing edgy about them, but they also aren't boring. They radiate a quiet dignity, intelligence and charm.
You can find names that fall into this category, to a greater or lesser extent, throughout the U.S. baby name popularity list, starting with Charlotte, Abigail and Emily in the Top 10. But they're even more popular among British parents, who tend to be a few years ahead of Americans in baby name trends. Here are 10 sweet girl names that have been leaping up the Top 100 in the U.K. and look poised for huge success in the U.S. as well.
Alice
Of all the nice girl names, Alice is the one with the greatest expectations. It's already number 17 in England and Wales. And four times as many baby Alices were born in the U.S. last year as in 2006; it's now the number 76 name in the country. It was in the Top 20 every year from 1880 until 1930 ― and, given the incredible range of artistic namesakes, from Munro to "In Wonderland," we'd be surprised if it didn't climb to those heights again soon.
Beatrice
Dante brought Beatrice to the world's attention nearly 700 years ago, as the name of the ideal woman in his Divine Comedy. Its last big heyday as a girls' name was a century ago, but in the past couple years, it's been climbing fast, hitting number 559, its highest rank since 1975, in 2016. And it's already a Top 100 name in the U.K.. The winning nickname Bea makes it easier to use.
Clara
The second-most popular name on this list in the U.S., where it cracked the Top 100 last year for the first time since the Great Depression, when it was closely associated with early "It Girl" movie star Clara Bow. (Which, to some film buffs, it still is.) Clara is number 88 in England and Wales, and even higher in European countries from Germany to Spain.
Darcy/Darcey/Darcie
Fans of Jane Austen's Pride and Prejudice ― and its countless film adaptations– have helped make the last name of romantic lead Mr. Darcy a hugely popular first name for little girls. All three of these spellings are now in the Top 100 in England and Wales, with Darcie ranking highest at number 71. It's been decades since any of them even cracked the Top 1000 in the U.S., though Darcy has been growing fast, and should enter before long.
Edith
A name with an unusual dual image: upright, intellectual Edith, a la novelist Wharton, and glamorous, wild Edie, a la Factory Girl Sedgwick. Finally rebounding after years of neglect in the U.S., Edith has already risen to the Top 100 in England and the Top 50 in Sweden.
Elsie
After decades for which this appealing name was associated almost exclusively with a cartoon cow, Elsie is finally coming into its own. The number of American newborn Elsies has tripled in the last 10 years; it's now number 340 on the U.S. list. In England and Wales, though, it's an astonishing number 31, which shows there's plenty of room for it to grow here.
Felicity
Not just a J.J. Abrams heroine anymore, Felicity is in the Top 400 in the U.S. and the Top 100 (if just barely) in the U.K. Its literal meaning ― a profound state of happiness, approaching bliss ― is just about as positive as it can be, yet it manages to avoid feeling like a virtue name.
Iris
A reserved flower name that's blossomed into something of a sensation on both sides of the Atlantic. Nearly 2000 baby girls were named Iris in the U.S. in 2016, enough to vault it to number 186. Iris Murdoch, a revered British novelist who was played by Judi Dench and Kate Winslet in a 2001 movie, gives it a heft and seriousness that some find lacking in names like Violet and Daisy.
Rosie
A warm, friendly nickname name that British parents seem to be riveted by; it's the number 36 name in England and Wales and number 41 in Scotland. In America, it climbed back into the Top 1000 in 2013 for the first time since the first Reagan Administration. Rosie O'Donnell's longtime enmity with the President will only make it more appealing in certain circles.
Thea
Just a few years ago, Thea was a totally obscure name, better known by scholars of Ancient Greek than parents looking for something to call their daughter. (It comes from the name of one of the first Titans in Greek mythology, the daughter of the Earth who gave birth to the sun and the moon.) Today, though, it's a Top 100 name in England, Scotland, Germany, Sweden and beyond. And given the way it's been soaring up the charts in the U.S., don't be surprised if it joins those heights here before long.
Related