Have you ever traveled somewhere that everyone told you was the absolute best, only to find yourself wondering: Is that all there is?
It happens. Sometimes, the destination in question is trading on a dated reputation it no longer deserves. Other times, you've fallen victim to hype, manufactured by the travel industry, gleefully perpetrated by those whose job it is to report objectively. The end result? You've now wasted precious vacation time and money.
Here are ten overrated places I've encountered, some all too frequently, during nearly fifteen years as a travel writer. If I never see any of them again, I won't mind at all.
Curious? Read on. (I'll show myself out.)
#10 Buenos Aires
There are places worth a thousand dollars in airfare. There are even places where eleven hours of flying is a small price to pay. Then there is Buenos Aires. The steak and wine are cheap, the ice cream is outstanding and -- children, cover your ears -- the sex is even better. Except that none of those things are worth the time, hassle and expense of a trip to the other end of the planet. And then there's the setting: A flat, humid wasteland as appealing as Nebraska. Oh, and about that architecture? Please. If you want Europe, don't go scratching around the end of the world for some place that bears a vague resemblance. Just go to Europe. Also, the restaurants in Europe generally don't give you food poisoning.
Instead, try No big city in South America comes close to Rio de Janeiro. Boundlessly dramatic, from the physical location to an insane energy in its streets, the simple act of being here, observing, whether from your beach towel at Ipanema, a packed tram car heading up to Santa Theresa or a pew at Sao Bento Monastery during evening mass, will likely have a profound impact. Sometimes that means falling hopelessly in love; for others it may mean a string of crushing panic attacks. Either way, nobody forgets.
#9 Asheville
This physically and emotionally fragmented mountain town full of people who seem really annoyed by everything -- including your presence here -- is no fun anymore. The traffic can be atrocious, the main attraction is the soulless estate of yet another Vanderbilt, those famous hotels are sadly average and overpriced, the food is just fine. The worst bit, though: Asheville today is the furthest thing from relaxing. A Hamptons with no beach, it has become a bottlenecked blot on a lovely landscape, seething with urban stressites searching fruitlessly for somewhere to park their Georgia-plated Hummers. Next.
Instead, try You probably came for the mountains. So go to them. Start with magnificent Mt. Mitchell, the highest peak east of the Mississippi, running an impressive 6,684 feet above sea level. Next, hop back on the Blue Ridge Parkway =- which runs straight past Asheville -- and head down to Great Smoky Mountains National Park, one of the very few places in this country where sitting in a ridiculous traffic jam is worth your time and trouble.
#8 Berlin
An awkward teenager of a city, brimming with potential, Germany's big town has a long way to go before it's nearly as ready for its close-up as many travel writers (who often visit places like Berlin on expenses-paid junkets) would have you believe. The best reason for Americans to bother with pricey Europe these days is to roll around in the continent's colorful past. Berlin is too modern, too sterile, too expensive and too unsure of itself to merit much of your time or money.
Instead, try Head to the Hauptbahnhof and buy a train ticket to Prague. It's only 4 ½ hours away. After stopping to admire one of the most attractive cities in the world, you will probably be hungry, in which case you should leave Prague as quickly as possible in order to get to Vienna, where you can eat and drink like a civilized person. From here, it's an easy ride to Budapest, where you will consume your weight in strudel, go for a schvitz at the baths in City Park and buy tickets to a classical music concert that will ideally include everything Dvorak ever wrote.
#7 Chicago
Spend a little time in the Windy City and you'll come to know a people obsessed with the answer to a question nobody else has ever asked: "Is Chicago a world class city?" As a former local, I can help. The answer is no. Chicago is a handsome, reasonably entertaining provincial capital. This used to be enough for Chicagoans, but then it wasn't, leading to a period of time, beginning around the turn of the new century, during which all manner of foolishness -- from baffling things built by celebrity architects to a slew of obnoxious restaurants -- was unleashed upon the city. Suddenly, everything was pretty much the same, except now it was way more expensive. Yes, the city has some iconic cultural institutions and that beautiful lakefront. But look too far past the glittering Potemkin village at Chicago's center and you'll find yourself near or at the bottom of a sad pile of poor to average.
Instead, try Go to Detroit. It's more honest. Also, there's a great art museum, a proper public market, some of the country's best architecture, the music scene is fun, the food scene is better than it has been in ages and the beer is better and much cheaper. Everything's cheaper. Also: Detroiters are friendly -- Chicagoans are just polite. There's a big difference.
#6 Costa Rica
Some people are burdened with the need to be unusual. These are the people who won't stop banging on about Costa Rica. People who can't accept that we have a place like this belonging to our own country. In this magical place, filled with exotic flora and fauna, the roads are better, things are a little tidier, most people speak English (not that there's anything wrong with Spanish), the food is actually interesting and they have really great umbrella cocktails. Maybe you've heard of it?
Instead, try This place is called Hawaii. You're welcome.

#5 Colorado
Denver is a weirdly bland, Midwestern snore, with an air quality problem. Vail, apart from its slopes, is suburbia in the middle of nowhere, a collection of strip malls by the side of a highway. Also? The Vail Valley is so high up in the mountains, some people are alarmed to find themselves nearly unable to breathe, let alone ski. The rest of the state is too often either uptight and boring (Colorado Springs) or drab and vaguely off-putting (Pueblo, Grand Junction, too many other places to mention). The nicer ski towns, like Aspen, or Telluride? Amazing sure, but they are also buried so far in the mountains, that getting there during ski season -- or any season -- costs time and money too many people don't have. Colorado did legalize marijuana last year, which is great, because next time you go to Denver, you'll have something to do.
Instead, try Nearly everything Colorado does, Utah does as well or better, without the kerfuffle, the crowds or the cost. Skiing? Ride a Salt Lake City bus to some of the hemisphere's best powder at Alta and Snowbird. National Parks? Arches, Canyonlands, Zion -- all among the best in show. For cool small towns with lots to do nearby, there's Moab. There's Springdale. The beer may be more advanced in Colorado, but these days, breweries like Uinta are playing for keeps.
#4 Vancouver
It's really super to see Canadians being assertive and exhibiting national pride. But in the case of Vancouver, all that rah, rah, rah is regrettably misplaced. Sure, the one they call Lotusland may photograph well, but maybe just stay home and look at pictures, because there really isn't much below the surface -- nothing unique anyway. You want a city core that alternates rather unpredictably between completely boring and absolutely terrifying, with close proximity to some of the continent's best Chinese food? And also tons and tons of traffic? Go to Los Angeles, where the weather's better and there are also tacos. That public market Vancouver's tourist board loves so much? No better than what you'll find in many an American city, starting right next door in Seattle. The city's only truly unique asset, really, is a giant park that reminds you that you're in one of the most beautiful parts of the world, and that you should get out of town immediately and go see some nature.
Instead, try In the Northwest, your top choice right now is definitely Portland. It is friendly, manageable, affordable; the food is really good, there's enough culture and nature and all that good stuff, without the traffic and grit and expense and hassle of Seattle. But mostly, it has a distinct character, a sense of place. Portland is downright agreeable. (It should also be mentioned that there are some very good strip clubs.)
#3 The Caribbean
You can go sit on a beach and soak up the sun in all kinds of places that are easier to navigate. Sad fact: Most of the Caribbean islands worth visiting are, these days, an expensive and time-sucking nightmare to reach. Also: Too many of the islands are depressingly violent, pathetically corrupt and / or hopelessly dysfunctional. For that, we have New Orleans here at home, where at least there's a ton of good food.
Instead, try Just go to Mexico. Tulum or anywhere in southern Baja, which ever is closer. Both of these destinations in Mexico are quite safe, attractive, reasonably easy to get to, fun and often very affordable.
#2 San Francisco
Maybe it'll be different, I tell myself, heading back into town for the eightieth time. Maybe I just need to relax. And then it happens again -- the negotiating of the antiquated public transit, the smell of body odor rising off unwashed pavement, the surly, do-as-little-as-possible hotel employee, yet another restaurant server who just doesn't give a damn, or perhaps a fortysomething hipster who takes her job as a latte jockey way too seriously, burdened with the fervent but misplaced belief that the thing I want most while waiting for my coffee is a lecture on how to order correctly. Sooner or later, I'll end up sitting down down with some other living, breathing bummer, who will at some point in the conversation will mansplain to me why San Francisco is the best and everywhere else is the worst. Suddenly, I'm all, ah, never mind, at which point I get in the car, head across the Golden Gate Bridge and move on with my life. Everybody wins.
Instead, try The Bay Area at large is simply too beautiful and interesting to justify hanging around the grotfest that is San Francisco for very long. So, get out there. Hike up Mt. Tamalpais, slurp sweet oysters straight out of Tomales Bay, sample the cheese at Cowgirl Creamery in Point Reyes, try really good beer at Russian River Brewing in Santa Rosa, do the wine thing in Napa or just cruise Highway 1 from the city on down to Santa Cruz, where you can ogle the surfers and then go drink good coffee at Verve on Pacific Avenue. There are no wrong answers.
#1 Austin
Drum roll, please, for this legend in its own mind, a mildly entertaining university town and state capital with fever dreams of greatness, a city whose entire purpose for breathing is to not be like everything else around it. When you're trying to set yourself apart from a place as large and as bold as Texas, you have to work really, really hard. Which could explain why everyone walks around here looking so stressed. Sprawling Austin is one of those unfortunate places that seems really smashing on paper. And then one ruins things by going. You have now been advised.
Instead, try If your precious snowflake mind can tolerate a little diversity of thought, Houston -- our nation's fourth largest city, if you didn't know -- is currently the place to experience Texas at its most interesting. Sure, this is a city so ugly that sometimes you may be tempted to put a bag over its head, but Houston is also an impressively creative and very fun town, with good museums (the Menil Collection, the Contemporary Arts Museum), plenty of good food -- Austin's own golden boy, Tyson Cole, opened Uchi here recently -- good drink (start with Anvil & Hay Merchant), plenty of music and -- best of all -- fun-loving locals who are generally anything but uptight.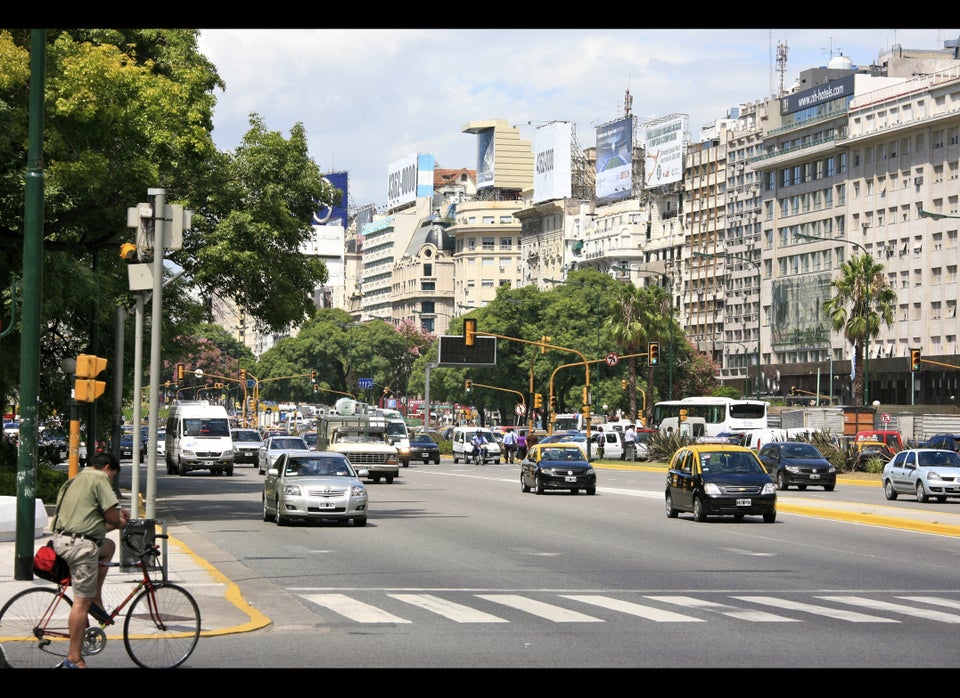 10 overrated destinations (and where to travel instead)
Related