My wife, Mel, is seven months pregnant with our third child. We've been married for almost ten years. Her last two pregnancies were eye-opening for me. Being pregnant is hard on a woman both physically and mentally. It's something I can't experience. I can only observe. As a husband, I often feel helpless. Like I'm just some cheerleader on the sidelines, hoping everything turns out OK. I often wish there were some way I could help her more than I do. Some way I can be more supportive. I mean, I can't carry the baby for her, but there are things I can do to make her experience a little easier.
Below is a list of a few things that I have been doing -- or plan to start doing -- to help Mel's pregnancy go easier. However, I'd love to see ideas from readers on how husbands have made pregnancy easier for their wives.
1. Tell her she's beautiful.
While pregnant, Mel often describes herself as: Fat, bloated, and spotted (near the end of her pregnancy she always develops little red splotches on her face and neck). Obviously she doesn't feel beautiful while pregnant, even though I still think that she is. She needs constant reassurance. So when she is pregnant, I often make it a point to tell her how beautiful she is (in person and text message).
2. Excitement.
I know that some men, myself included, see a pregnant woman like a ticking time bomb. I mean, I'm excited to have a baby, but the first year of a child's life can be hell, with all the sleepless nights, spit-up and dirty diapers. This is not to mention the cost of a new baby. But at the same time, it's very exciting for a woman, and being negative can really depress your wife. I think it's important to share in that excitement. I am good and bad at this one. I often exhale, loudly, when talking about things we need to buy for the baby. But I also crouch down, talk to the baby, and then kiss Mel's tummy. I also enjoy feeling the baby kick. I think this really helps her realize that I am excited too.
3. Judgment (lack thereof).
Let's face it, women act differently while pregnant. Sometimes I joke that the woman I married is not the woman who has been pregnant with my children. The woman I married would never eat an entire loaf of French bread. She also wouldn't wear bright red compression tights that make her look like Doctor Eggman from Sonic the Hedgehog. Although we joke around, being pregnant has made Mel do and wear some strange things. It's best just to let it happen without comment or judgment.
4. Flowers.
Mel loves flowers. They seem to make everything better (I don't understand it, but I know it's true). Last week I bought Mel some flowers. The cashier was a woman in her mid 30's. She asked me what the occasion was. I said, "She's pregnant. I just thought she could use them." The casher smiled and agreed. If I could afford it, I'd buy Mel flowers every day that she's pregnant.
5. Naps.
This is one that I'm not very good at. Being pregnant is exhausting. I can see it in Mel's eyes. She also tells me about it, too. I often suggest that Mel take a nap, but with the craziness of having two small children, me working two jobs, and Mel in school, it's difficult to get her to sit down. I think she feels selfish when taking a nap. And honestly, my knee-jerk reaction is to get a little jealous when she gets to take a nap. But I really need to think about the fact that she is growing another person and she needs her rest. I need to be more assertive about picking up her slack so she can feel comfortable dozing for an hour or two during the day.
6. Tell her to sit down.
Standing all day while having a baby wiggling around inside your body, throwing off your equilibrium, must be really difficult. I often see her rubbing her lower back, or her upper legs. I tell Mel to sit down, but just like with naps, I think she feels selfish sitting when there are things to be done. She holds a real sense of duty, which I love about her, but at the same time she needs a rest now and again.
7. A restful night.
Getting a good night's rest can really change Mel's disposition. We have a 4-year-old and a 6-year-old. Both are OK sleepers. But they still tend to get up in the night now and again. I will admit that I sometimes sleep through their cries, but for the most part I make it a point to get up in the night so Mel can sleep.
8. Time alone.
This is another one I need to work on. Being pregnant is emotionally draining. There is no doubt about it. The first time Mel was pregnant, she started crying because I asked her to water the Christmas tree. Sometimes I think she just needs a moment or two to simply be alone. I've been trying to make it a point to take both our kids out of the house for one reason or another so she can have some time to herself.
9. Company at the OB-GYN.
Often, Mel meets with her doctor while I am at work. We live in a small Oregon town, which means Mel has to drive almost an hour to meet with the doctor. Long story short, I have not been able to accompany Mel to the doctor as much as I'd like. But when I do go, I can tell she enjoys it. I think it makes her feel less alone in all this. Like I am really there to support her.
10. Ask about her needs.
I like to think that I know what's best for my wife, but that really is a ridiculous assumption. I need to ask her this simple question more: What do you need right now?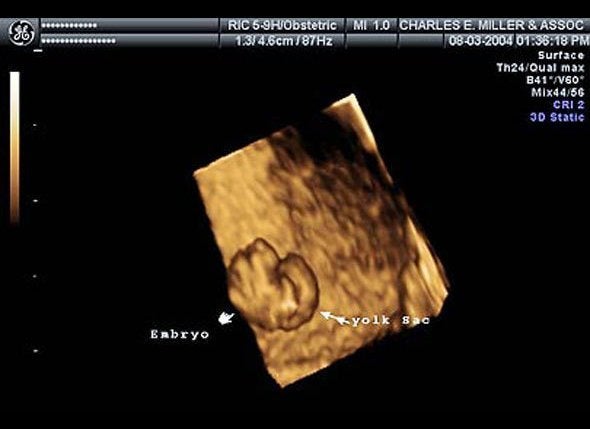 Pregnancy Week By Week
Related