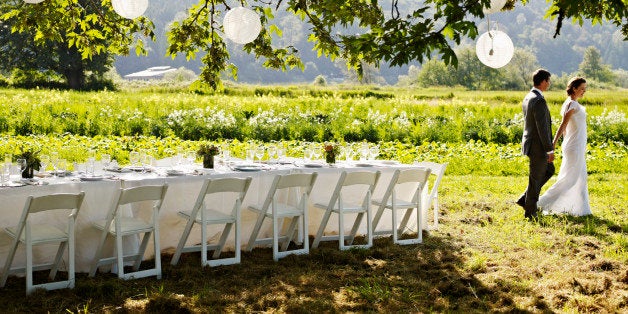 Wedding season is starting to slow down, and I have not gotten through one wedding this year without someone at the wedding (guest, party member, whatever) saying the following to me: Oh, so you're the J.Lo?
I'm then usually questioned where my headset is. I don't use those.
As engagement season is quickly approaching, there isn't a better time to put up a post about what a wedding planner is not responsible for. While I could've written this one all on my own, I reached out to other planners to get their two cents as well. So, if you're a bride or a groom and searching for a wedding planner, here are a list of things that a planner probably won't be able to help you out with. And, if you are in a wedding party, or going to a wedding where a planner will be there, you should read this list too. Trust me.

1. A Wedding Planner is Not a Servant for the Couple or the Wedding Party
This first one mainly goes out to difficult wedding party members, parents and guests that just don't really get it. I have been asked to bring a bridesmaid her purse, check a coat of a guest, and bring gifts over to the gift table. "We are not their errand girl (or guy)," is what planner, Jessica McDaniel shared on this subject. A planner on the day of the wedding is most likely putting out fires, checking and double checking everything, tending to the needs of the clients, and making sure that everything that has been planned actually happens. There is no time to check your coat, nor, is that the planner's job. We also do not want to touch your purse, wallet, gifts, or cards because the second they go into our hands, they become our responsibility. Planner, Shaun Cox even said to me, "My brides are lovely, but at times their bridesmaids need bridal boot camp 101." Therefore, please do not get offended when you pass along your coat to the planner, and the planner points you in the direction of the coat check. C'mon now.

2. A Wedding Planner is Not a Sounding Board... Most of the Time
I personally try to be a friend to my clients when they need one, because I am the only person during the planning time that doesn't have an ulterior motive. That said, sometimes the "friendship" gets abused by 11:00 p.m. text messages along with phone calls and emails that have nothing to do with the actual planning of a wedding. One planner I spoke with said "it is not our job to fire your bridesmaid," and she is right. While a planner can understand all of the drama that is going on during a wedding between friends and family, interceding in that drama is not what we're hired to do. We're also not the sounding board for your parents, guests or family members that aren't happy with anything from their flowers to where they are sitting (no, I'm not changing the seating chart). Of course, if there is a real issue that needs to be handled, then by all means let the planner know so that either they can take care of it, or they can find the person that needs to. Just keep in mind that a "real issue" is not complaining about your make up (that the stylist did) while the planner is graciously grabbing bobby pins from their emergency kit for you to use. You might be met with a "what would you like me to do?" and if your answer is going to be "Nothing, I'm just letting you know," then please just let someone else know instead.
3. A Wedding Planner is Not a Wrangler
A perfect wedding set up is not easy to accomplish, and the emergencies or problems that pop up on the day of the wedding can be very unpredictable. It is the planner's job to make sure that the couple never knows about these problems. In fact, my favorite question from couples post-wedding is "What went wrong that we didn't know about?" So, keep that in mind when you are expecting your planner to fetch your party and family members for anything from photos to just needing to speak with them. I was once called away from flipping a room by a parent that asked me to fetch her husband for photos. Her husband was standing 10 feet away and when I let her know that she could just take him with her right outside for photos, she told me she was too afraid to talk to him. Well, what makes you think I want to talk to him then? You're married and afraid to talk to him, so you send me in? Excuse me while I go place these votives. Industry secret: many people don't listen to the planner, so if you ask the planner to grab your cousin for photos, odds are they will not move from where they are nearly as quickly as if you did it yourself. Besides, you can say whatever you want to them, whereas the planner cannot.
4. A Wedding Planner is Not the Same as Maid of Honor or Best Man

The roles of Maid of Honor and Best Man have evolved over the years and they vary from wedding to wedding. However, no Maid of Honor is going to be counting chairs to make sure the tables are correct, so it doesn't make sense for the planner to step in and handle the MOH's responsibilities either. The bride wants a glass of champagne? That isn't your cue to run to find the planner to get it. I've been in a room physically fixing a centerpiece and had my shoulder tapped on by a Best Man to ask if I could get the groom his beer of choice... you know "when I got a chance." Sure, let me just drop this crystal chandelier and race off to the bar in search of some Sam Adams. No, no, just kidding. I won't be doing that. Too many MOH's and BM's forget their roles when a planner is involved and become very entitled. Think back to the Bachelor and Bachelorette Party and what your duties were then. They are the same on the wedding day, and then some. ITM Events made a good point and said, "A wedding planner is to help you keep all the moving parts of your wedding moving in the right direction...if we are leaving the site to go get ice, we are not focused on you and your day." Incidentally, some planners (myself included) offer a "runner" that you can book with your planning package to basically do all of the things you should be able to count on your MOH or BM for.

5. A Wedding Planner is Not the Emcee/Or Any Other Vendor
When I asked other planners to add to this list, this one came up multiple times, which made me feel great because it's happened to me as well. At one wedding, the DJ/Emcee was drunk and botched every single song, each name at the entrance, and pretty much anything else that required him using a microphone. The bride flipped out every single time (hey, you hired him against my warnings) and one time, while complaining to her mother, her mother responded "Ask your planner." Ask your planner what? I told you not to hire him, you knew not to hire him, and I did everything I could've done including reviewing the names and timing and songs multiple times with him. The mother of the bride told me that when I heard him screwing up, I should've run up there and grabbed the mic and did it myself because that's what I was "paid to do." Lady, have several seats and read the part in my contract where it says I am a planner and I am not responsible for vendors that I didn't recommend. Jillian Smith, a planner from Atlanta says, "We are not your scapegoats. Please do not feel inclined to 'blame the planner' for a decision that you moved forward with, against our guidance and it backfired. We don't care for the evil eye when we finally meet the family." Amen to all of that. PS, I have a tendency to say "not my vendor" to anyone at a wedding that complains about something going wrong with someone that I did not book. It's a bad habit that I'm sort of working on. Please don't blame shift. Our reputation is on the line.
6. A Wedding Planner is Not the Ring Leader of your Wedding Party and Family
I am officially going to list "wedding party" and "family members" under "Acts of God" in my contract after this year. I cannot control that your sister was late getting her make up done because she didn't want to get up that early, and thus, threw everything (and everyone) behind. I cannot control when your party wants to continue doing shots at the bar instead of coming together for the group photo you had planned. I cannot control your guests to not leave before the cake cutting or stay for that extra hour that you added to your reception and paid for. When selecting your wedding party and even when deciding whom to invite, make sure you pick the right people. I share horror stories with clients and am always met with the same "my guests/friends/family aren't like that"....yeah, until they are.
7. A Wedding Planner is Not a Rental Company
With more and more weddings taking place in blank spaces where the basics like tables and chairs are needed, planners are coordinating with rental companies to bring in everything that is needed. Included in that coordination is the hiring of staff members to set up, move, and break down everything. A planner does not set up ceremony chairs and move them to the reception, put together tables, move benches or anything like that. If you are having a wedding where two sets of chairs are needed, it's less expensive to bring in a second set than to hire a staff to move everything. Either way, the planner's job is to plan, not to execute. Ever heard of a little thing called "Workmans' Comp. Insurance"? Rental companies have it, but most planners don't. Planner Amy Nichols said to me, "I graciously told them (clients) that planners can't do those sorts of things and they need to arrange staffing through the rental company."

8. A Wedding Planner is Not a Relationship Therapist
"It is not my place to tell the groom that you hate your engagement ring, don't like his parents or his job," says planner Nichole Anderson. I know that many planners won't take on weddings where they don't vibe with the couple or think that the couple will last. It's not all about the paycheck, and most of us love what we do. However, there are couples that we plan for and whether it's small spats we see, or large ones that make us question if the wedding will even happen, we don't want to play the go between. In fact, as a planner, we are on the side of the couple as a whole. How awkward is it when a bride asks us to mention to her fiance about how his mother really needs to stop adding her two cents in about everything? Real awkward. Plus, what we see as planners is this: if you cannot handle talking to each other while planning your wedding, how are you going to talk to each other for the rest of your lives? Remember, when the wedding is over, even if you became friends with your planner, they are probably working on other weddings and with other couples because that is their job. You aren't going to be able to send that 2:00 am email asking them to tell your now husband or wife that you're tired of not being taken out for date nights. Handle it.
9. A Wedding Planner is Not a Bouncer or Security Guard
Yes, I totally thought I was alone on this one, but then planner Victoria Nee-Lartey told me, "I was asked by a potential client if I would stand at the door of the reception space with the guest list and prevent any uninvited family members from entering." Listen, I get that prospective clients ask these questions because they seriously do not know the answer, but really? Here's the deal, planners can hire anyone and anything that you want. Security is not hard to find, and if it's truly an issue at your wedding, ask your planner if they have a company they work with and recommend. I was asked once to stand at the gates of where a wedding was being held (that would be two miles from the main entrance) with a clipboard to make sure the guests entering were on the 300 person guest list. I hate saying "not my job" because I hate hearing that, but... not my job.

10. A Wedding Planner is Not a Magician
Ok, look, I like to think (as many planners do) that I am a magician, and many times, planners are exactly that. They make the impossible possible because they know and have experience. This does not mean they can take your limited budget and turn it into a Preston Bailey affair/anything you saw on Pinterest. Planner Charlotte Jarrett said, "I cannot make your budget of $10,000 work for a 300 person guest list with luxury elements." She went on to say, "...I can't even make it work for paper plates and picnic tables." Here's the thing, when you get married you don't know what anything actually costs past what you've heard. The Internet and your friends/family are full of misinformation, but your planner knows the real numbers. The area that I work in (NYC, tri-state) has an average wedding cost of $48,000. That's average, and trust me, no matter how laid back the couple is, I have yet to meet a couple that wants an "average" wedding. Planners aren't trying to destroy your wedding day by being honest about price tags, they are giving you information that you need. So if you could trust your planner on the numbers, um, yeah, that would be great.
A wedding planner wants the couple to be happy and wants everything to go smoothly. The feeling I personally get when I see my couples enjoying their wedding day is not even something I can put into words. But like any other job, it's important to understand what the actual responsibilities are. Whether you are a bride or groom looking for a planner, a member of a party, family member or just a guest, this will hopefully give you an insight as to what a planner really doesn't do. Trust me, many of us go over and above our regular contract duties anyway, but the stuff in this list is important to keep in mind. And remember, J.Lo really isn't a wedding planner.
Popular in the Community