In just three years, founder and CEO Alex Chung has turned Giphy into a platform that makes it easy to find and share GIFs into a $300 million tech juggernaut.

Chung recently shared 10 things he's learned along the way in a presentation he made at Work Awesome, a one-day conference focusing on the future of work that was held in New York City in June.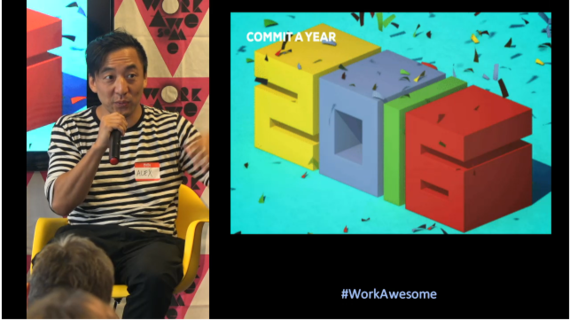 What has he learned along the way? Let's take a look:
1. Startups are bands. When bands are starting out, they need chemistry. Bandmates are on the road with one another for months at a time. If they want to have long successful careers, band members need to enjoy each other's company first and foremost. The same rule applies to startups.
2. Hire people you could go on road trips with. When you work at a startup, you spend a lot of time in really close quarters with your coworkers. If you don't get along with them, it's impossible to succeed; you'll be too busy fighting. Before hiring someone, Chung makes sure that his staff could go on a road trip with the new hire and still want to talk with that person afterward.
3. Commit to new hires for a year. Employees can produce at higher levels when they have job security. When Giphy hires a new worker, the company promises them at least one full year of salary--so long as the worker doesn't quit. At the end of the year, both parties decide whether to renew the commitment.
4. Pair new employees with a "cool" buddy. Fitting in with a staff full of strangers can be tricky. Giphy counters this by pairing each new hire with a buddy. That individual shares responsibility for the new hire's work. This arrangement helps new employees from a psychological perspective: They have someone to complain to and someone to look forward to talking with.
5. Rotate desks every quarter. Proximity creates empathy, emotions and relationships. Giphy changes who sits where every quarter. There was even an instance where two people who "hated" each other ended up becoming best friends after being forced to sit near one another.
6. Make your office better than a coffee shop. "I spent five years working at home. It was the worst thing in the world." Chung believes that the best offices are places people actually want to visit. Build a fun environment, and you won't have to worry about your team working from home every day.
7. Give your staff free lunch. The team at Giphy eats lunch together on two long picnic tables. Just by giving free food out, Chung has been able to build a strong community. "Lunch is a cheap way to get everyone to talk together."
8. Give your staff free adult beverages. It's no secret a lot of folks like having a couple drinks to unwind at the end of the workweek. Giphy opens up a tab every Friday at a revolving bar, inviting employees and their friends to take the edge off. People talk and vent their frustrations. Camaraderie strengthens.
9. Err on the side of transparency. "You can choose to keep everyone out of the loop or you can choose to be super transparent." Giphy chooses the latter route, although Chung admits there are problems associated with that approach. Still, every Monday, the team assembles and receives updates on strategies, company value, investors, problems, wins and more. "Everyone knows how much everyone gets paid and how many options they have."
10. Never beat a dead horse. When the going gets tough, you may have no choice but to burn the whole thing down. "If you build a company and you get to the point where it sucks to come to work every day, then you should quit. As soon as you hate your job everyone else is going to hate their job." Chung says it's better to have a good run than to let a fun company devolve into a terrible situation.
How have his strategies worked out?
"We've had zero turnover in three years," Chung said.
Chung was just one of many successful entrepreneurs, founders, and thinkers who spoke at Work Awesome. Interested in checking out what other speakers talked about? Head over here.
You also may want to follow these Twitter accounts: Amol (@amol), Knotel (@knotel), Work Awesome (@awehq) and Giphy (@giphy).
This post was written by Amol Sarva (@amol) and Justin Reynolds (@umxoxi).
REAL LIFE. REAL NEWS. REAL VOICES.
Help us tell more of the stories that matter from voices that too often remain unheard.