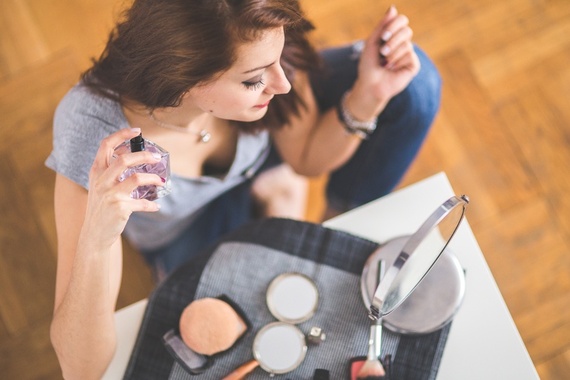 1. We are NOT trying to impress anyone: Everyone loves compliments. We take time and put in effort so yes, recognition is great. I promise that it's not the end goal. Many of us have far more accomplishments worth celebrating than our facial contouring skills.
2. Buying it cheaper is NOT always better: Bargain shopping is amazing. We are all for saving money and shopping smart. When it comes to beauty products, we don't always care about the best deal. Maybe we are saving up rewards points, using a coupon or just want to shop at our favorite store.
3. We aren't all insecure: Yes we may spend time to look nice. True that we use products that change our appearance. We may even put on eyelashes that aren't ours (Gasp!) and obsess over the best humidifier because of its supposed beauty benefits.
It's NOT because we hate ourselves.
Actually we like to enhance our natural beauty and celebrate it! If we DID hate our looks we wouldn't spend so much time in the mirror.
4. We are not worried about breaking a nail: I know our nails are long, some of them so long that you can't imagine how you'd do anything with them. I guarantee every lady with long nails has had them before. She doesn't need you to remind her how long they are and she does NOT want to know that you could never have them.
If I get my nails done long then I know the price to pay is that I may end up back for a fix in a few days. Which is fine by me.
5. We enjoy going to the salon: Those comments about all the time we spend in the salon are unnecessary. The salon is one of our favorite places. Its where our people are, they get us. Not to mention every time we leave the salon we look and feel awesome. So, definitely don't feel bad for us. I won't cry over a broken nail in fact I may turn it into a whole salon day.
6. Vlogging about beauty is NOT a waste of time -- it is serious business: Yes. People do REALLY make videos of themselves putting makeup on, doing their hair, choosing outfits, etc. Beauty addicts love to share techniques and trends with others and videos are a great way to do this. They also allow us to connect with each other and a wider audience. We're not just wasting time showing off our obsession, vlogging is a legit business for some beauty addicts. There are many ladies who are looking for inspiration and help but are not comfortable asking. Vlogging allows them to get help with basics to advanced tricks and network with others as well.
7. I don't care if you do or do not wear makeup, I DO! Honestly it's perfectly ok with us if you like to go all natural. I'm not interested in your choice just like I'm not interested in what type of panties you wear or laundry soap you use. Saying to us that you "don't like to wear makeup" is the equivalent of saying "I don't approve of your choice." Key point being = OUR choice.
8. There ARE more important things in life -- like earning more money for makeup: Some people take their no makeup statement a step further by insinuating that they think it's a complete waste of time, that it is superficial and we should be embarrassed for spending time on ourselves in that way. May be true, we could be doing other things... Like earning and shopping for more beauty products!
9. Learning makeup technique is a marketable skill: Beauty school is not just a place where people do the grown up version of "dress up." Though it is a competitive field, cosmetology is a thriving career. Beauty addicts can share their passion with others and make a good living while doing it. If you have a teen who spends hours perfecting her eyeliner they may have a bright future within the beauty industry ahead of them.
10. Getting ready is not a chore, its an experience: It's ok if you can't imagine spending more than 5 minutes getting ready in the morning. Some days I don't like to either. Most days I look forward to my beauty routine. I turn on music, play with my Pomeranian puppy, lay out my clothes, and get to work. The only thing better than spending time with myself, music, and a mirror is getting ready with friends!