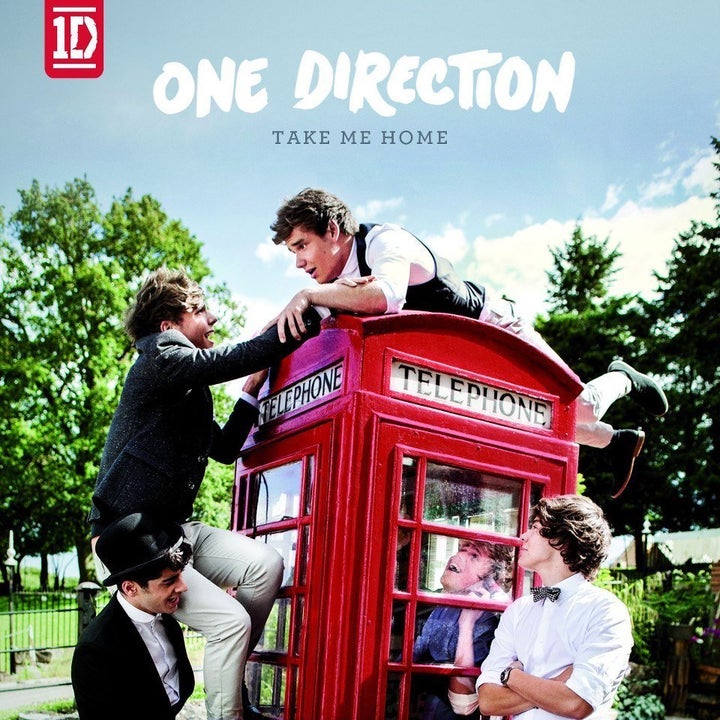 As an avid One Direction fan, I've been waiting for the release of their second studio album, "Take Me Home," for what seems like forever. In reality, it's only been a little over six months since their debut hit, "Up All Night," was released in the good 'ol USA. Since "Up All Night" was bestowed upon American Directioners the day after my 16th birthday, it's been an album that has shaped some of my greatest teenage memories, i.e. talking about One Direction, crying over One Direction, and stalking One Direction (which was a success -- I met Liam, Niall and Zayn in June!). So, naturally, I was worried about TMH. Since it was put together in such a short amount of time, I accepted the fact that corners would be cut and some songs would be only "eh" in comparison to incredible tracks, such as "I Wish" and "Moments." However, One Direction has created an exceptional album, easily surpassing the candy-coated pop they perfected on UAN. Here, I'll give a quick run-down of the top 10 things I learned from "Take Me Home."
10) Up All Night: Harry and Liam, featuring Zayn. Take Me Home: One Direction
As One Direction evolved from talent-show contestants to full-fledged superstars, it was important to make music that would catch people's attention. On "Up All Night," we didn't really hear much from Louis or Niall - they're both incredible singers, but Zayn, Liam and Harry all have such unique voices, and UAN capitalizes more on all five boys singing rather than special, individual moments. On TMH, this isn't the case -- we're treated to solos from each boy, and they've never sounded better.
9) The voices match the faces
It's undeniable that all of the boys have great voices. It is also undeniable that they're all so hot and sometimes you just look at them and you want to cry and it's so embarrassing but it's just like there they are and they're gorgeous and they're only like, two-ish years older than me and ugh.
8) LOVE IS AMAZING
One Direction love love, and they make me love love. Every song about falling in love makes me want to cry for a few years and then imagine my life jetting around the world, madly in love with a 1D boy. "Change my Mind" and "Over Again" are some of TMH's best love songs, but the CD itself is a homage to finding and falling in (or out) of love.
7) Celebrities -- they're just like us
The song "I Would" discusses pining over someone who's already taken, and what teenager can't relate to this unfortunate reality? Likewise, "Last First Kiss" covers the topic of falling for a friend, and being unsure about their feelings towards you. As One Direction often says, they're just like boys we go to school with -- despite the fact that they're angelically beautiful and sing like dreams, and probably have worn makeup.
6) Always invest in the Yearbook edition
I'm encouraging everyone to go the extra mile and pay a few extra dollars for the "deluxe" edition of TMH. Songs such as "She's Not Afraid" and "Nobody Compares" are so sickeningly great (the lyric "We're so Paris when we kiss" is enough to make me question my entire existence), it's practically a crime not to have them on full-blast at all times. Plus, the Yearbook edition comes with pictures and interview-y type things! Perfection in CD packaging!
5) One Direction love their fans
You don't even have to listen to TMH to get this one -- how often is it that an artist will come out with a CD within a year of their last? One Direction always exhibits professional behavior and outstanding work ethic, all for their fans. They understand my basic needs and provide me with quality music, with incredible punctuality. In return, I throw my adoration and money at them. It's a win-win!
4) I cry over One Direction way too much
I'm on the verge of tears as we speak.
3) You don't have to be a teenager to like One Direction
Whenever I get the chance, I like to play One Direction in the car when driving with my parents/grandma. This may be an attempt of brainwashing them into accepting my obsession, but, nevertheless, One Direction has received positive critiques from the older generations. My mom LOVES "What Makes You Beautiful," and my dad works out to "One Thing." I'm sure hits such as "C'mon, C'mon" and "Kiss You" will enter their list of favorites at some point.
2) One Direction brings people together
Since it's no secret that I'm ADDICTED TO ONE DIRECTION, people at school always ask me if rumors are true, if their new album is good, etc. I feel like I'm an unofficial representative for the band, and it is great! Likewise, One Direction brought some of my friends and I closer together than ever, and we already have tickets for their 2013 concert! We're all already going crazy over TMH, and it's sure to become the soundtrack of our lives -- that is, until the next One Direction CD comes out.
1) Love yourself
"What Makes You Beautiful" introduced us to boys who saw something in us that we didn't -- and that set them apart from the cookie-cutter boy bands of yesteryear. On "Little Things," the line, "If I let you know I'm here for you, maybe you'll love yourself like I love you" grips us gals by the heart. The song itself is a testament to insecurities, and reminds us that there are always going to be things we don't like about ourselves. But you shouldn't let them rule your life, because someone out there loves you, regardless of the way you look, and that person wants you to be happy. That person is One Direction.
REAL LIFE. REAL NEWS. REAL VOICES.
Help us tell more of the stories that matter from voices that too often remain unheard.