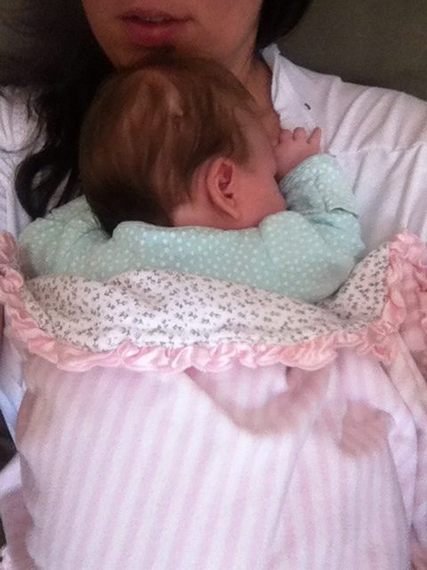 My third child just turned two years old. And even though I still call her "the baby" -- I am aware that I no longer fall within the ranks of New Mom.
At some point during my days of lugging around overstuffed diaper bags, balancing a baby car seat on my hip and sipping giant steel-drum-sized cups of coffee, my children all went and grew up on me. (Or, that's how it feels at the ripe old ages of six, four and two years old).
Since those early days, I've developed confidence. I've learned a couple tricks of the trade. I give fewer shits about the little things.
And when I think back to my fresh, newbie mom self, I wish I could tell her so many things. I wish I could ease a few of her fears. I wish I could let her know that it will all turn out okay. Because it really does.
Being a new mom for the first time is really hard. Here are just a few things I didn't know back then -- but I wish I had.
1. It will get easier. It really will. It won't always seem like you're in the weeds. The really hard stages pass. The confidence grows. And things will also just keep getting better and better. It's kind of incredible.
2. There will be time to be yourself again. It will take a while, but it will come. There will be time to read books again. You will eventually wear clothes that fit properly and make you feel just a little bit like the old you. You will get out for a run. Or to a yoga class again. You'll reconnect with friends, get back to working. You will somehow find a way to balance it all.
3. The babies will learn to grow up. I know it feels like they'll never take a bottle. Or learn to sleep on their own. Or give up the soother. Or be potty-trained. But they will. They will all do it in their own time. New Mom me didn't know it, but the moment I stopped trying to make kids do things on my time, they figured their little worlds out. And often all on their own.
4. You have yet to experience pure beauty. Yes, you've seen many stunning sights so far in your life - from pristine nature in the Galapagos Islands to gorgeous architecture across the globe. But you have yet to behold the beauty found in freckled noses, gangly 6-year-old legs and the perfection that is a toddler's belly. You will be breathless when you do.
5. They will forgive you for almost anything. The really bad diaper rash you didn't know how to fix right away. The time you bumped their heads on the car door getting them out of their seat. When you couldn't get breastfeeding to work. Every time you've felt you failed them -- they will forgive you. You're going to make mistakes. But in the eyes of your children, you can do no wrong.
6. You can get real, pure joy from almost anything -- if your children are involved. Like watching a 5-year-old fall asleep. Walking to the park. Seeing a baby feed herself. Pretty regular, uneventful things will bring you so much happiness. Simply because your kids are there.
7. The crying has just begun. Hormones may be to blame for all the crying when you were a new mom. But it will continue long after. Dropping them off at daycare for the first time? Tears. Seeing them dance on stage in their first recital? Sobbing. Every single time you receive a homemade Mother's Day card? Oh now that's just ugly crying. Even when they were constipated for the first time (yes... really). I still get tears in my eyes just because of the things my kids say. Because of who they are. The crying hasn't stopped yet.
8. You may feel frumpy and tired -- but your self-esteem will just keep growing. It's kind of incredible. The extra weight you carry won't bother you. The grey hairs. The bags under your eyes. The fact that you're getting (and looking) older with each passing day. None of it will make you flinch, really. You may feel a bit down in the dumps right now at the early stages of motherhood -- but you will just keep feeling better, stronger, fierce. You are a mother. You are everything to someone.
9. There is a light at the end of every tunnel. The tough stages will pass. They really will. But so will the amazing ones. As hard as it is, try to take it all in. You won't regret it when you get to the other side.
10. Your gut will never steer you wrong. Listen to it, new mama. It hasn't sent you down the wrong path yet. It won't.