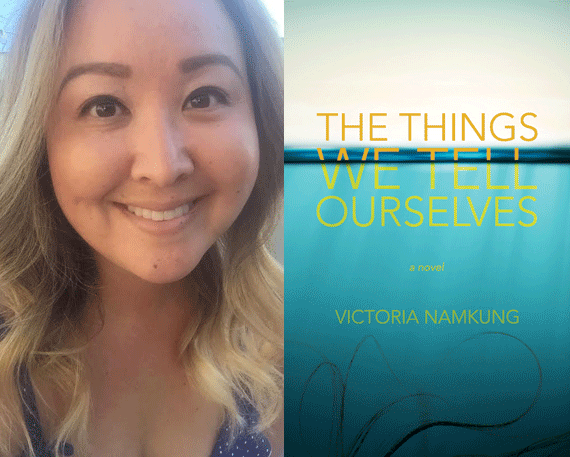 Seeing my new novel, The Things We Tell Ourselves, out in the world has been exciting, surreal, and educational. Here are 10 things I've learned in the last month:
1. I can actually write. This seems ridiculous since I have been a professional journalist and writer my entire adult life, but self-doubt is very real when you're stepping out of your comfort zone and writing 85,000 words of fiction versus an 800-word essay. Hearing that people were kept up at night finishing my book or seeing that reviewers are beging for a sequel gives me the confidence to know that I should continue writing books.
2. You can feel like a self-promotional nightmare. Since 95 percent of all authors do their own marketing, it can feel awkward to constantly be reminding your friends and family to buy your book, write a review, or attend a reading. I decided to focus my efforts on social media and even though I am sick of myself, a lot of readers mentioned that they loved my posts on Facebook or saw my Goodreads giveaway. More people are rooting for you than you think.
3. A lot of people don't read books. Just because I can't live without them doesn't mean that's the way everyone feels. More people than I can count have told me some variation of "I don't read" or "This is the first book I've bought in years." Sometimes it's because they are busy doing things like raising young children or working two jobs. Then there are the voracious readers (a.k.a. my people) who would be happy to discuss certain scenes and characters for hours.
4. There is power in representation. I was determined to make my protagonist Asian American because I was desperate to recognize myself in the countless books I read as a young woman (and never really did). I wanted to portray Georgina Park as someone wrestling with the complexities of life that we all deal with--sex, love, and loss--regardless of cultural background. Women of non-Asian descent have remarked to me that she is so relatable and I love that.
5. You can't please everyone so don't try to. Like Dita Von Teese said: "You can be the ripest, juiciest peach in the world, and there's still going to be somebody who hates peaches." I am okay with a negative review or someone realizing that my book is not for them. Because my novel deals with an extramarital affair, it is most definitely not getting a five-star review from someone who just found out their husband is cheating on them.
6. People will think your main character is you. I knew this going in since my protagonist works as a journalist and shares some of my life experiences. People want to know what's true and what isn't true and I'm happy to talk about it with readers. I recently had a woman come up to me and say, "I'm so sorry that happened to you," referring to a disturbing scene in the book. She seemed relieved when I told her it was just fiction.
7. Everyone wants to know how long it took to write. The answer is nine months, so it's kind of like my baby. I spent another three months doing two more drafts (the brutal part) and the publication process took at least another year-and-a-half. I wish I could share the secret to finishing a novel, but it's really just a lot of hard work and dedication.
8. Most people have never met an author. Because I work as a writer, go to local readings, and have several friends who are accomplished authors, I was naive to the fact that some people would be excited to meet me and have me sign their book. I wish readers and event attendees knew how exciting it is for us to meet them.
9. You will find unexpected readers thanks to social media and hometown gossip. My former Girl Scout troop leader, sixth grade crush, and dental hygienist all currently have copies of The Things We Tell Ourselves.
10. Books are an investment. Yes there is the financial cost of a book, but asking someone to actually read your novel requires a time and mental commitment that differs from listening to someone's CD or viewing their painting (even though those art forms may have taken hundreds of hours to create). I have nothing but love and appreciation for anyone who has or will read my novel. Now it's time to work on the next one.
The Things We Tell Ourselves is available on Amazon, Barnes & Noble, and iTunes.
Popular in the Community