The Dakota Access Pipeline began commercial service June 1. It is now transporting crude oil from the Bakken/Three Forks production areas in North Dakota to a storage and terminalling hub outside Pakota, Il.
Oil flow didn't happen without resistance, of course, as thousands of water protectors at Standing Rock clearly showed the world during much of 2016 and earlier this year. But nearly six months after the Standing Rock Camp eviction was issued, the dust has hardly settled. Many threads remain hanging. Take note of a few of them here: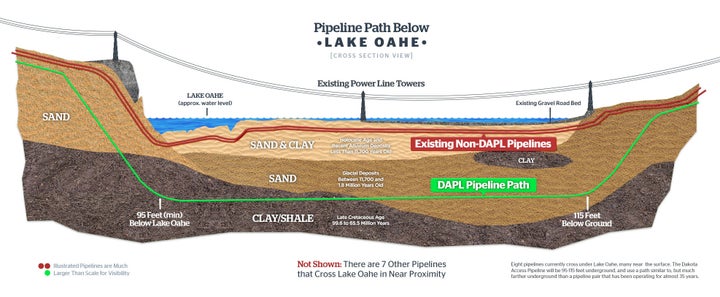 10. The Original Plan For The Pipeline. Why It Was Diverted?
The Standing Rock Sioux Tribe are just as important as residents of Bismarck, N.D., the population of which is approximately 92 percent white. The water supply for people at Standing Rock is just as important as it is for the population of Bismarck. These are key distinctions to make because the original pipeline was to be routed just north of Bismarck, according to sources. That route was rejected for similar reasons brought up by protectors of the water at Standing Rock—mainly, that pipeline leaks could pollute the mighty Missouri River, which supplies drinking water for 17 million people. In the video above, Belisha White Eagle, who lives on Standing Rock Reservation, shares her thoughts on the rerouting and its emotional and psychological impact.
The world witnessed great opposition to the pipeline near Standing Rock Reservation, but some interests in Native country have been for the pipeline, and pipeline development, in general. The Three Affiliated Tribes, historically, has been an oil-producing tribe. Note: Based in Northwestern North Dakota, officials and other tribe members did come down to Standing Rock to support the opposition to the pipeline. However more than 4,000 miles of pipe carrying oil, natural gas and wastewater crisscross the reservation in the heart of the Bakken oil patch, home to the Three Affiliated Tribes (the Mandan, Hidatsa and Arikara). What is the ripple effect when tribes say yes to oil production? Winona LaDuke, longtime Native American activist and executive director of the group Honor the Earth, told Amy Goodman of "Democracy Now" that "some tribes have been forced into production of fossil fuels." She goes on to say that 85 percent of the Navajo economy, for instance, is fossil fuel-based. "About the same percentage of the Fort Berthold economy is fossil fuel-based," LaDuke adds. "And then you end up with oil—you end up with haves and have-nots in the oil fields. And you end up with a tribe that now has oil revenues that are coming in. And they look out there, frankly, and they say, 'You know? Things haven't been going too well for us, so we're going to sign a few more of these leases, because, after all, you know, nothing has ever worked out well for us. And so, we're going to get a little bit of money.' And that's how … you force people into that, with a gun to their head, and then they end up destroying their land, which is what is happening up there on that reservation. And they've had huge investigations into corruption at the leadership. But, you know, you force poor people. You force people into that situation, and that's a perfect storm."
On May 10, 2017, South Dakota's "Aberdeen News" reported that a leak occurred in the not-yet completed Dakota Access Pipeline in that area on April 6. Standing Rock Sioux Tribe Chairman Dave Archambault II, noted: "Our lawsuit challenging this dangerous project is ongoing, and it's more important than ever for the court to step in and halt additional accidents before they happen—not just for the Standing Rock Sioux Tribe and our resources, but for the 17 million people whose drinking water is at risk." While there have been reports of other pipeline leaks north of Bismarck, N.D., nothing has yet to be confirmed. However, Energy Transfer Partners, the company fueling the Dakota Access Pipeline and the fracked gas Rover Pipeline, boasts an extensive spill history. Stats from The Pipeline and Hazardous Materials Safety Administration (PHMSA) reveal that the Dallas, Texas-based company has, indeed, "spilled hazardous liquids near water crossings more than twice the frequency of any other U.S. pipeline company this decade," according to "The Street." A report notes that the company has "spilled hazardous liquids five times near water crossings since 2010 when PHMSA started collecting detailed data. The company's spills account for almost 20 percent of all hazardous liquid spills near water crossings since 2010, primarily because of a 55,000-gallon gasoline spill in 2016 near the Susquehanna River in Lycoming County, Pennsylvania." In other news: Oil stocks, CNN reports, appear to be the biggest losers in the stock market game this year.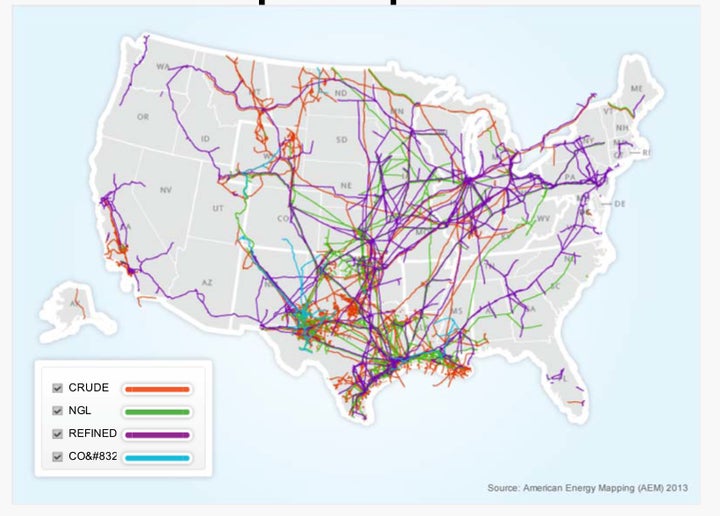 8. It's Time To Move On From Fossil Fuels
The facts: Wind and solar energy are not just a fad. Collectively, they can produce more energy for the world than the production of oil. North Dakota, for instance, is a massive thoroughfare for wind. Like Palm Springs, California, the massive wind tunnel can produce ample wind energy. Another fact: The oil transported through the Dakota Access Pipeline through four states, is carbon-heavy. Should other pipelines continue to be approved (note the graph above), the result will add hundreds of millions of tons of CO2 to the environment. Beyond that, every week, news of new leaks appear, there's some new catastrophe in the fossil fuel industry, as well as the ongoing and growing catastrophe of climate change. Note: The pipeline will carry 570,000 barrels of crude oil per day. Cost; $3.78 billion. Elsewhere (and this is just a glimpse of what is occurring around the nation), the expansion of the Trans Mountain Pipeline in Canada has faced major opposition. It would triple the amount of oil transported from the Alberta tar-sands fields to a Vancouver-area port. Multiple lawsuits have been filed. Some folks have dubbed this "Standing Rock North."
7. PTSD And Ancestral Trauma
Many things were illuminated at Standing Rock—the rights of indigenous people, environmental justice, the power of peaceful protest. However, collectively, the entire series of events uncovered something that has been there all along: the heavy weight of Post Traumatic Stress Disorder (PTSD) and ancestral trauma. According to a report by a Department of Justice advisory committee, 22 percent of American-Indian and Alaskan Native juveniles have PTSD—that's three times higher than the national rate. And now, reports of Standing Rock-related PTSD offer a more sobering look. Factored into the mix is intergenerational trauma, also known as historic trauma because ... the rights of indigenous people have been repeatedly overlooked or abused for centuries. When everything that is "out here" has been done at the expense of your own people, how does one cope? Can these revelations morph into a unique opportunity to address such vital issues—and heal?
Dog attacks. Water canons. Pepper spray. Rubber bullets. These were some of the measures used by "law" enforcement officials during a peaceful protest. That it all took place is still head-stratching for some people. After all, The Standing Rock Sioux Tribe supports the peaceful and prayerful message of the Oceti Sakowin leaders. Its on-reservation camp allows the tribe to explore long-term methods to meet the needs of the community and much of that is done 100 percent off-the-grid, using solar and wind power. Why was brutal force used in a peaceful enclave? And will officials be held accountable for the extreme actions they chose to take? And then ... brutal force of another kind continues to brew. Catch up here. (Not so fast. More "brutal force." Can you say cyber warfare? Learn more here.)
In June, a federal judge ruled in favor of the Standing Rock Sioux Tribe. It handed the tribe its first legal victory in the year-long battle against the Dakota Access Pipeline. But the court did not order the pipeline to be shut off until a new environmental study is completed The good news: This ruling could establish some notable precedents revolving around environmental justice and treaty rights, which have long been overlooked. The challenge ahead: There is no assurance that the order to conduct a new study will even alter the outcome of the case. Furthermore, it may not get the pipeline switched off, even in the interim.
Last week, Indigenous journalist Myron Dewey interviewed Kyle Thompson, project manager for Leighton Services. On Dewey's Digital Smoke Signals Facebook live feed, Thompson, opens up about what occurred on Oct. 27, 2016, when he was confronted by camp members who identified him as a disguised water protector who had entered the camp armed with an AR-15. Dewey, whose attempts to bring forth truth and "heal" both sides, delivers a unique opportunity here for Thompson. In coming forward, revealing his side of the story, and noting that now, he wanted to do "what was right," it could mark the beginning of a significant sea change. Will other "whistleblowers"—those involved or affiliated with DAPL security—come forward and share their side of the story, or perhaps, reveal things that could expose some of the more questionable activities by DAPL security? Could be. Watch the short video interview here. Ultimately, Thompson agreed to come forward, "because I feel I can help a lot of people. Me coming out with my truth could benefit people faced with charges." More than 700 people have been charged by law enforcement.
3. When Will Indigenous Journalist Myron Dewey Get His Drone Back?
Indigenous journalist Myron Dewey launched Digital Smoke Signals, in part, to create documentaries and other media that would shed light on indigenous matters. On Oct. 8, 2016, Dewey used his drone to document what he suspected was a violation of Dakota Access Pipeline security (DAPL) working within a 20-mile buffer zone that had been set in place by President Obama. Dewey says his drone reveals DAPL was actually working within that buffer. He was later approached on the road by law enforcement officials who confiscated his drone without a warrant or any explanation. In case you're wondering, that's not legal. Dewey has yet to retrieve his drone. Late last week, several days after Dewey' court case for "stalking" (via the drone) was surprisingly dropped by the prosecutor, the journalist made an attempt to pick up his drone. He was to meet with a Morton County, North Dakota, official. Curiously, that official was not present when Dewey arrived.
2. 10,000 People Converge. What Did They Learn?
What did protectors of the water, especially individuals who traveled near and far to take a stand in a peaceful protest against DAPL, actually learn, especially about themselves? I was asked this question in several discussions I had with several Indigenous People recently who live in North Dakota and South Dakota. The issue at hand: Did "protectors" come to Standing Rock for a greater cause? For themselves? For environmental justice? For Indigenous People? Many people arrived on the scene, showed their support and left. But for the individuals who stayed longer, their journey may have taken a different trajectory. Those souls, reports suggest, found themselves in a quandary, asking deeper questions about their own humanity, and humanity in general. "Who am I? What am I all about?" For the younger people who arrived, there seemed to deep ache to mend, what one Indigenous water protector, calls "their broken souls," and, perhaps desperately understand their own path in life. Clearly, the events at Standing Rock exposed what was already present: Racism. But it also sparked a profoundly unique and deeper spiritual, esoteric exploration of the soul.
Speaking on racism … if there is one thing 2016 truly illuminated it's this: that, sadly, racism is alive and well. (From urban to rural areas, and especially around, and directed at, Indigenous communities.) As a culture, we have believed these deep issues were transformed long ago, but, in actuality, they have been swept under the rug. I'm reminded of what several indigenous people recently shared with me—not to mention many yoga instuctors I had over the years. They said: "When you shine a lot of light onto things, it exposes what has been in hidden in the darkness ... so that it can transform." Here's to that. Like the strong winds that often cascade through the plains of North Dakota, perhaps Standing Rock can serve as a powerful marker of the real work that lies ahead: Healing.
Popular in the Community