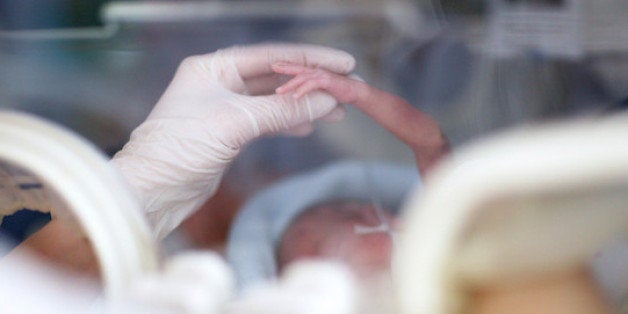 By Amanda MacMillan, contributor to the Seleni Institute, a nonprofit mental health and wellness center for women and mothers in New York City.
When a baby is born full-term and healthy, it's easy to know how to react and what to say. But when there are complications, and a newborn is sent to the neonatal intensive care unit (NICU), it can be more difficult to understand what a parent is going through and how you can be supportive.
But learning about these experiences can help you understand how to be a better friend and support system. For Prematurity Awareness Month, we spoke to moms who have been through it to learn some of the most important things to keep in mind when someone you know has a baby in the NICU.
1. This is harder than we're letting on.
Elisette Carlson's son Andrew was delivered three weeks early and spent 11 days in the hospital. To keep friends and family informed, she and her husband started a blog, written in Andrew's voice, about his adventures in the NICU.

They kept the posts -- and their other interaction with friends and relatives -- upbeat and lighthearted. It was easier than admitting how exhausting and nerve-wracking the experience really was. "Matt and I tried to be funny, but really, we were in tears most of the time," she says.
2. The NICU is a scary place.
Seeing your baby hooked up to wires and monitors is an experience parents don't easily forget. And that's not the only traumatizing part of having a child in the NICU. "There's chaos going on all around you, with sick babies and grieving families and doctors rushing everywhere," says Kelli Kelley, whose son Jackson was born at 24 weeks and spent four months in the hospital. "There were times we would go to visit and the NICU would be closed because of an emergency, and we'd be certain it was our baby who was in trouble."
3. We don't know when we're coming home.
One of the most common questions NICU parents get from well-wishing friends and family is about when they'll be able to bring their baby home. But often that's not definite. And even when doctors do give a timeline, it can change quickly -- and make a difficult situation even harder.
"The doctors originally told us five or six days, so every day we had a vision of walking out of the hospital with our boy," says Carlson. "But every day the doctors would say, 'Not yet. Maybe tomorrow.'" Carlson, a competitive runner, compared the situation to racing: "A mile out you tell yourself, 'OK, one more mile to go.' Then imagine when you cross the finish line, you find out you still have to run two more miles. It's absolutely crushing."
4. We may not ask for help, but we could use it.
"It was so helpful when friends just did things without being asked, like showing up with casseroles or groceries," Carlson says. "When you go through a period of high stress or trauma, you don't have the energy to ask for things yourself, even if you really need them."
5. We may not want to talk about it.
"Going through a trauma like this is very isolating," says Kelley. "Even if you have friends and family members who support you, it's a hard thing to talk about with someone who hasn't been through it themselves."
Many NICU parents don't feel comfortable sharing their emotions, but finding a NICU support group or a mental health professional, like a psychologist or social worker, can help.
6. Leaving our baby is heartbreaking.
Carlson remembers that the hardest part of her NICU experience was being discharged from the hospital without her baby. "Every day we had to walk through our front door and look at our empty nursery," she says. "People would say to us, 'Oh, at least you get to sleep,' but we would have given anything to have Andrew home with us."
Leaving a sick baby is also terrifying, says Kelley. "Every time I was at home and the phone would ring, I'd think it was a doctor calling with bad news," she says.
7. Our emotions are running wild.
Exhaustion, stress and anxiety are common feelings for NICU parents -- but so are other emotions that may not be as easy to explain or understand. Some new moms struggle to bond with their preemies, especially if they have a traumatic birth or they're unable to hold or nurse them right away. This can lead to feelings of depression, guilt and withdrawal, and may even impact their ability to care for their child once they leave the hospital.
Many parents also feel helpless. "It feels like the nurse is more of a mother than you are, and that you're not capable of taking care of your own child," says Kelley. You may think that a simple "He's in the best hands" or "She's in the best place possible" would be reassuring, but if a parent is struggling with these feelings, it could have the opposite effect.
8. It might not hit us right away.
"It's just now hitting me," says Amber Mayti, four months after bringing her son Luca home from a 24-day NICU stay. "When I was in the midst of it all, I was only thinking about his well-being, not how I was feeling myself. Now that we're home and things have started to calm down, just recently my emotions have gone a little out of control."
Kelley didn't seek treatment for her own emotional issues, which were eventually diagnosed as post-traumatic stress disorder, until nearly three years after Jackson was born. When she finally did, it was after giving birth to her second child. "The rehospitalization really triggered a lot of issues I had not dealt with [when I had] Jackson," she says. "I was having nightmares, flashbacks. I knew then that I needed help."
9. Things might never be the same.
Bringing home a NICU baby can be very different from bringing home a full-term newborn, especially if there are ongoing medical issues that require monitoring and special care. Mom and dad's work and social lives may take a while to return to normal -- or may be forever changed.
Instead of returning to work as planned, Kelley found herself becoming a stay-at-home mom to a baby with special needs (and later founding Hand to Hold, an organization to support parents of preemies). And because Jackson had a compromised immune system, she couldn't even take him to visit friends and family. "It feels very selfish to think about how all of this affects you, but it's something you have to process," she says. "Your life can change radically in the blink of an eye."
10. It changes our perspective on parenting.
Spending time in a NICU is a harrowing experience, but it can also provide perspective that other parents will never get. "My first child was born completely healthy, and I feel like we took a lot for granted with her," says Matyi. "With Luca, we celebrate every milestone and are thankful for every day he gets stronger."
Matyi says that even though the experience was a stressful one, it brought her family closer -- and has made her a better mom. "I don't sweat the small stuff anymore," she says. "If we don't get everything done on our to-do list, the world will not end. It's much more important that everyone's healthy and happy and having a good day."
For more conversation about life during and after the NICU, please join Seleni and Postpartum Progress in a March of Dimes Twitter chat on Wednesday, November 18 at #NICUPMAD.
This article was originally published on the Seleni Institute website and is reprinted here with permission. Seleni is a nonprofit mental health and wellness center providing clinical services, provider training, research funding and online information and support for women and mothers.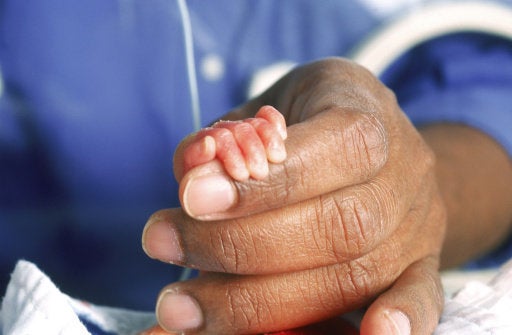 5 Reasons Why Preemies Are Completely Inspiring
Related