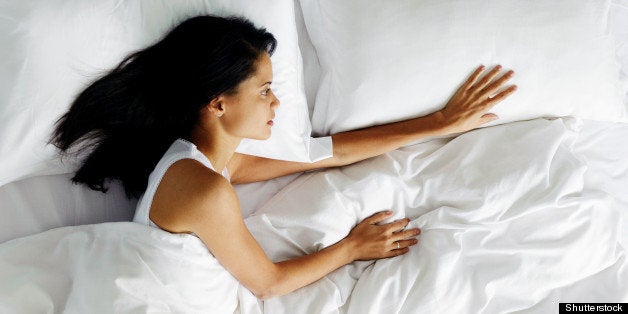 1.Sometimes you eat like a scavenging member of the Donner Party, dragging a carrot through a tub of expired hummus, eating bran cereal (or the kids' Lucky Charms) by the fistful straight from the box, spooning peanut butter, the main protein source, onto your tongue, and shaking chocolate chips from the bag for dessert. You do all of this standing by the sink in the dark because you don't believe it's worth the effort to cook sustaining, delicious food just for yourself. People begin tell you that since the divorce, you've gone feral.
2.You start walking around the house in shabby underwear (when you don't have the kids), and notice your white panties are gray. So you shuck them off, and your tired bra, too, and look down at the body that you agonized over for all those married years. You doubted that you were enough and his affair seemed to confirm this. But standing naked now, with just yourself to please, you suddenly realize: "I am effing beautiful."
3. If you change your married name back to your unmarried name, your younger name, your name before all of the collective joy and pain, you cry the first time that you sign a check or bill, having to invent a new signature on the spot. That signature might even resemble your childhood signature: a loopy, hesitant inscription of your name on the world. Resist dotting your "i" with a heart.
4.If you have children, they worry about you. They say, "You should try to find someone! Go online! We just want you to be happy like Dad is with X." You might want to say something disparaging about their father and the girlfriend. Don't. Your children love you and their father with their wide and forgiving hearts. Instead, pull them close, kiss each cheek, and say, "I have you. I don't need a man to make me happy." Which is true, but also a tiny lie.
5.If you venture into online dating, know that perfect strangers will ask you to describe your calves and teeth, as if you are up at the cattle auction; couples will ask you to couple with them; voyeurs will want to watch you with younger partners; and younger partners will woo you with their staying power, intuiting, too, your mid-life desperation (the ex is already engaged to the other woman). Delete these messages. Or not. Trudge around the house in your gray underwear or have an exhilarating fling.
6.You spend a lot of time inspecting the gray roots when you blow-dry your hair, wondering how you got to be this old and alone. When you towel off after showering, you'll notice the gray hair below that simultaneously sprouted with the divorce decree. Dye the top? Dye the top and bottom? Surely someone else will come along so grooming is essential. Your secret fear? No one is coming along again. Except for the crazy stalker guy from Match.com.
7.Because your ex was usually in the driver's seat, he generally set the radio station, the temperature, and the level of road rage. You are now Danica Patrick. Turn up Taylor Swift, blast the heat, and instead of shouting invectives at other drivers, encourage the kids to join you in a sing-a-long to "Bad Blood." They won't actually sing-a-long, and slump in their seats when you pump the brake, pretending to have bad-ass hydraulics. But they will see that you can be happy alone and with them.
8.You realize all the pee on the toilet was not, in fact, your ex's, but is due to your son's bad aim. You feel guilty over all the times you stepped on wet tiles and sat on the wet toilet seat, damning your ex to outhouse hell. You feel guilty for all the arguments, for going to bed angry, for holding your ground long after it mattered. However, guilt aside, in the next co-parenting email exchange, you need to tell your ex to work on your son's toilet etiquette.
9.You are not be prepared for the vast ocean of your king-sized bed. At night, even though you have an extra ten feet of space, space you coveted when you were married (you were pushed to the edge of the bed by your husband, the dog, and often, your son), you still sleep on a narrow sliver. In fact, you don't disturb his side but pile your dirty yoga pants in an approximation of his body, like filling in the empty space of a body's outline at a crime scene. When you wake up in the middle of the night, you pat the lumpy, reassuring pile as if he is there.
10.Sometimes, it feels like the end of your life. Your therapist nods ambiguously. "I hear you," he says. You're not sure he does. Later, when you are at your friends' house for dinner, the husband-friend tells you that he thinks you are amazing, and that you have come so far and with such grace, and that you are loved by so many. His eyes get wet as he says this. Divorce might feel like the wages of love's failure, but love still waits to catch you off guard.
Related