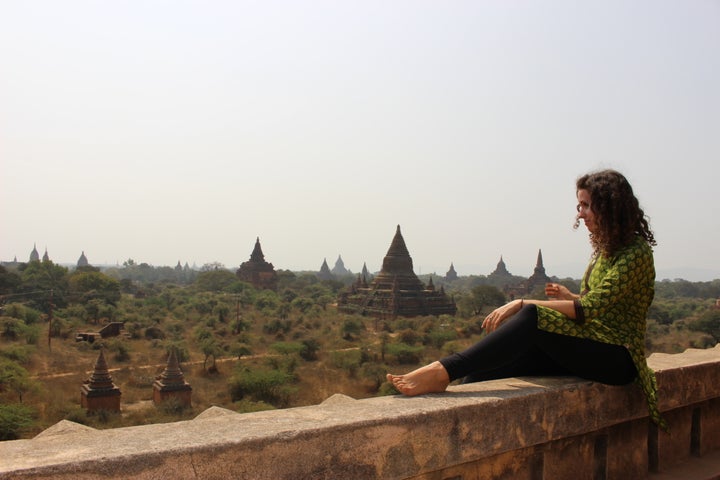 As a solo female traveller, I've heard it all! When I made the decision to go backpacking by myself for an extended period of time and shared my travel plans with family, friends, and social media, I was met with some really amazing supportive words of encouragement, and, some not so great comments that were quite presumptuous and judgemental. Don't get me wrong, I get that it may come as a surprise that I am voluntarily visiting foreign countries all around the world completely alone without any companion or company, I get it, it's not the norm. But just because something isn't the norm doesn't mean it should be judged or ridiculed. And, let's be real, the influx of comments didn't stop since being on the road, in fact, they've only just increased. So, here are the top things NOT to say or ask a solo female traveler if you meet one or have one in your life.
1. You're travelling alone? Without a boyfriend or any friends?
Yes, you heard me correctly. I am venturing off into the world all by my big self with my socks pulled up high and ready for action. I can't count the amount of times I have heard this question with the stunned facial expression that accompanies it. Sure, it's always nice to have a companion or travel mate by your side while on the road, but for me it's certainly not necessary or a requirement for me to set sail. If I waited for someone to commit to joining me, I would have never left home.
Travelling solo has gifted me with so many experiences, memories, and moments that I would not have otherwise been blessed with had I had the security and comfort of a friend with me. Solo travel has forced me to strike up conversations with perfect strangers which has lead to such incredible lifelong friendships. I don't need a boyfriend or a friend by my side to live out my dreams because I am more than capable of doing it all by myself, and safely.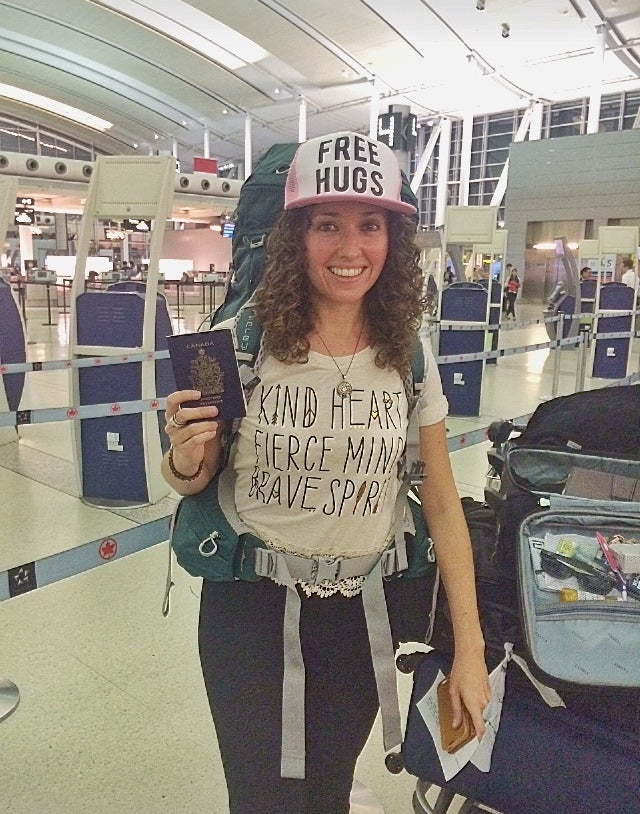 2. Aren't you scared?
I find this question so interesting. Of course there are things that happen on the road that are less than favourable, or even terrifying for that matter (yes, I have had my fair share of incidents), but it doesn't for a second stop me from doing what I love. I am not scared. I am aware of the inherent risks that come with travelling, and I am certainly not naïve that being solo lends itself to a bit of a heightened risk at times. But travelling solo doesn't automatically mean danger, and in fact, sometimes travelling with others can actually put me at greater risk given the circumstances (a fellow traveller spiking my drink while at a bar, staying at a sketchy accommodation with travel mates even if I don't feel safe there but in an effort to stick together, or a fellow traveller taking advantage of me).
When people ask me if I am scared, I realize it is their own feelings of fear that they are simply projecting onto me and I don't have to own or adopt it for myself. I am not scared. I am excited and passionate, with a healthy level of caution.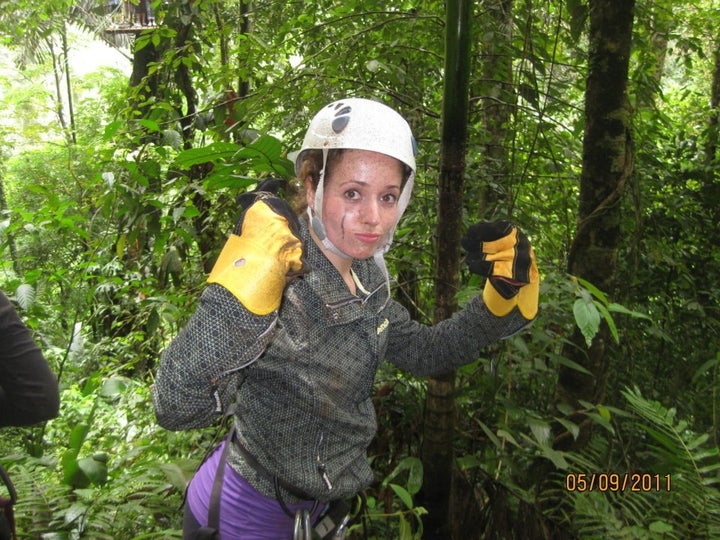 3. What are you missing or running away from back home?
Okay, this one really grinds my gears. This question is loaded with assumptions about my life and the decisions I have made for myself about how I want and choose to live. Let me set the record straight, there is nothing "missing" back home in Canada, and in fact, I have been blessed with the most amazing family and incredible friends whom I love dearly and quite frankly, I feel rich having them in my life. I also had a great secure full time job, as well as a successful private practice doing what I love, both of which I walked away from. So am I missing something in my life? Hell no! Am I running away from something/someone/ or a difficult circumstance back home? Again, no, just no.
"What I am doing is running towards freedom, desires, goals and dreams and away from a mundane, routine, boring and conventional life."
I don't understand why traveling long term always provokes such a large assumption about the personal details of my life. What I AM doing is running towards freedom, desires, goals and dreams and away from a mundane, routine, boring and conventional life. Put simply, I am travelling because I love it. Period. Much the same if you love to cycle, workout, swim, play hockey, or strum a guitar. I don't ask you if you're missing or escaping something in your life when you participate in those things you're passionate about, so quit asking me if I am!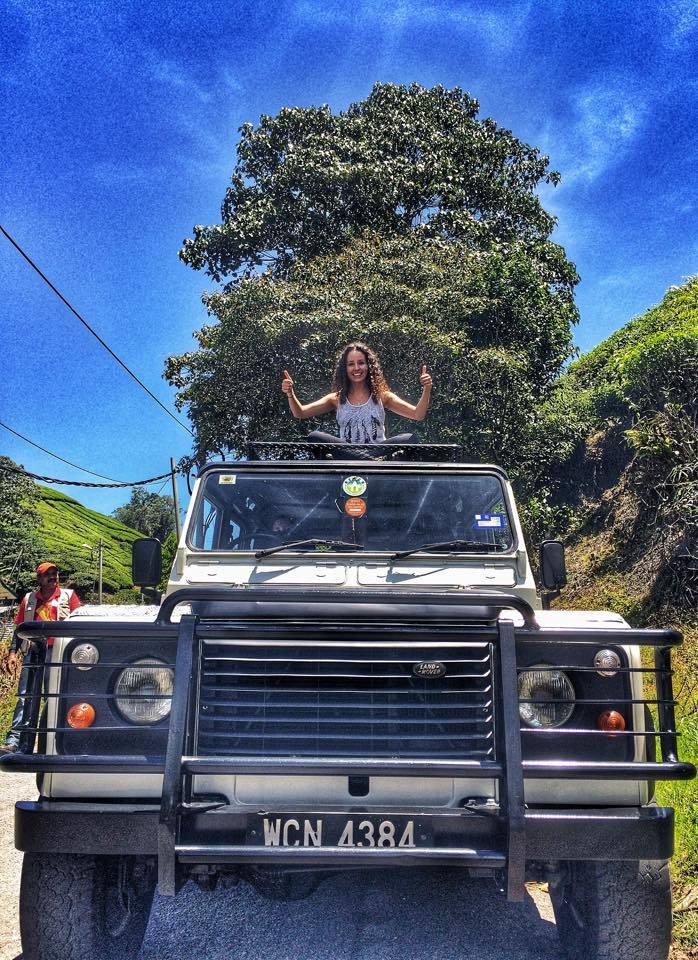 4. Don't go to India (or any other country that is subject to many misconceptions), it's too dangerous.
People are naturally curious about my travel plans and often ask where I am headed next. But when I share the name of the next country I'm headed, I am often flooded with an overreaction and some fear mongering dialogue and then pleaded with to cancel my plans; India being one that often yielded such a conversation. Every country has its problems, and no place is immune to crime, abuse, or tragedy. Yes, bad things have happened to travellers, men and women alike, while on the road (myself included), but to completely rule out an entire country and population based on a few awful stories and media posts that sensationalize EVERYTHING is just silly.
Let's not forget that travellers have also had some of the most amazing experiences filled with love and kindness while interacting with locals on foreign ground. Some of my most fondest memories and beautiful experiences happened while in India, so much so that I now have a ten year visa and plan to return to this incredible country and rich culture. Bad things can happen anywhere, and I have had more terrible and scary experiences back home in Canada than I have on the road. Generally, people are kind and have good hearts and want to help travellers anyway they can.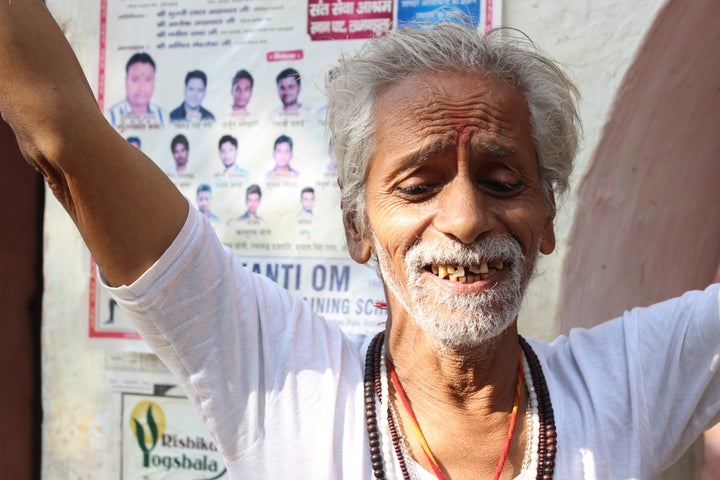 5. Be safe.
Okay, let me start off by saying that obviously I know people are going to tell me to be safe and I know it comes from a good place of love and concern for my well-being and I love them for it. But let's be honest, obviously I know I need to keep my wits about me, have a good head on my shoulders, and not take stupid risks. I'm not an idiot and I know not to go out partying with strangers and leave my drinks unattended, I know not to wander alone down dark alleys late at night, and I know not to accept a ride or a couch to sleep from sketchy people.
Also, the world isn't as scary a place as the media portrays it to be. Bad things happen everywhere, and often right in our very own neighbourhoods much of the time. We live in a society that fosters this idea that if we do anything outside the norm or regular daily routine that it automatically renders itself more dangerous. We are conditioned to believe that visiting other countries and experiencing other cultures and religions is dangerous, which only continues to perpetuate the many stereotypes and misconceptions that exist that fuel our fears.
So please remember that I am smart, cautious, and have one heck of a connection with my intuition. I cannot control everything that happens around me, but I can do my best to navigate myself appropriately. And IF something bad does happen, please do not ask me what I did wrong because regardless of how many precautions I can take, sometimes I'm just in the wrong place at the wrong time at no fault of my own.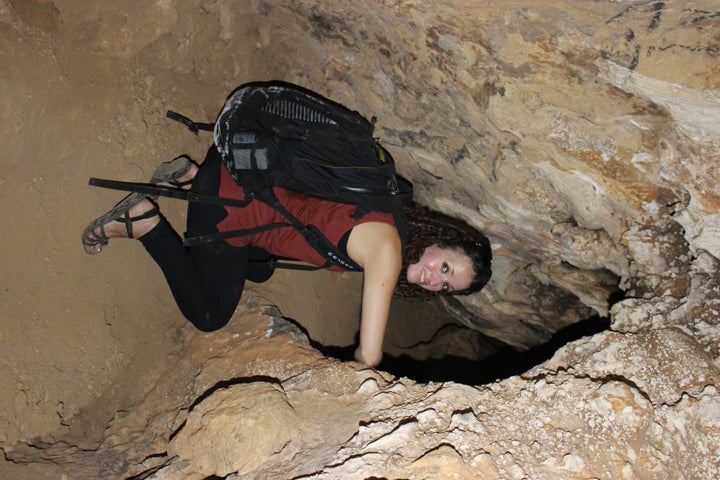 6. Are you married? Why not?
This question I have been asked more times than not and it's incredibly annoying and invasive. First of all, my relationship status/history is NON of your business whatsoever. Secondly, what does my relationship status have to do with my love and passion for travel? I don't understand this. Let's stay on topic please about travel. Thirdly, not that I owe you ANY details, but I will share this. I am not currently married because I simply am not ready.
"I am not interested in settling for mediocrity or for a relationship that doesn't meet my needs or match my values."
My focus right now is on myself and following my heart by exploring the world and connecting with people, projects, and organizations that I care deeply about so I can continue on my path doing the meaningful work I was born to do. I am not interested in settling for mediocrity or for a relationship that doesn't meet my needs or match my values. I have witnessed far too many people staying in relationships that make them unhappy, unhealthy, uninspired, stagnant, and stuck, because they are scared, and I refuse to fall into that trap.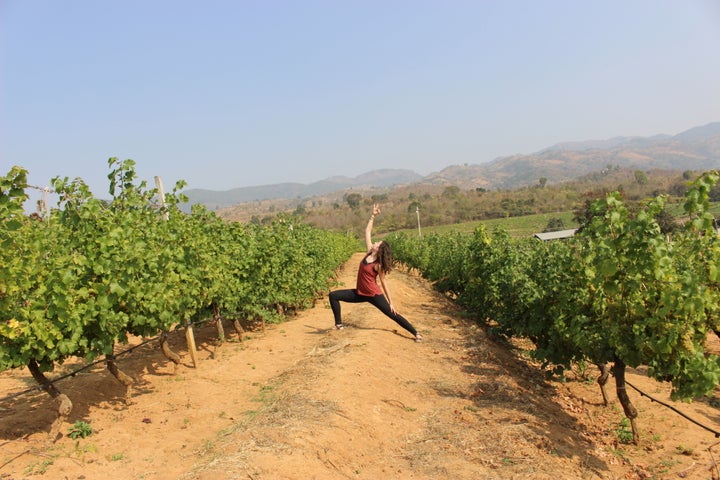 7. Don't you get lonely?
The quick answer? Yes, sometimes, but not often to be honest. As a major introvert, often in disguise as an extrovert, I actually really enjoy time on my own. I don't need the company of others to bring me happiness, make me feel good about myself, or to validate my existence in this world. I quite enjoy my own company now, while historically I used to be desperate for companionship, but as my confidence grew on the road so did my love for myself.
I love eating alone in cafes, strolling down new streets, or climbing a mountain top and enjoying a beautiful sunset all to myself. My alone time is sacred to me and much gets accomplished during these periods. Once in awhile, it is nice to have a familiar face around to explore with, but I'll always quickly revert back to my independent journey.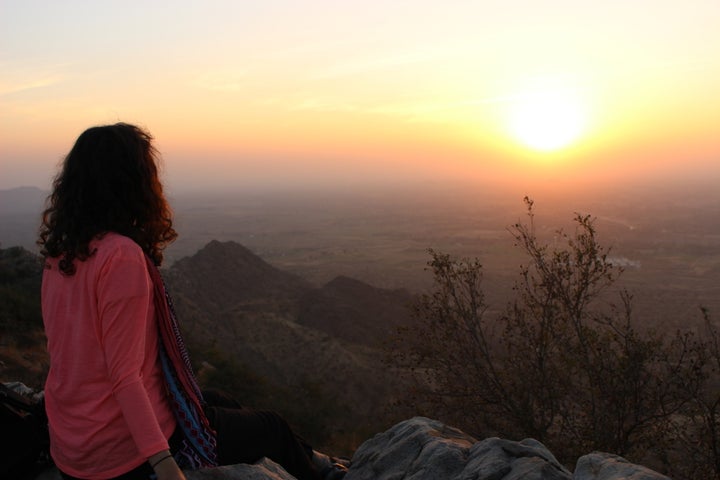 8. You're so brave.
Thank you, as I know you genuinely mean this to be a compliment. When people say this comment to me it's often accompanied by wide eyes and a stern tone and it's obvious that some of them actually don't think I am brave at all, but rather, stupid for doing what I am doing, because in their words, they never would. They use the word brave as a replacement for stupid, you know, to avoid being rude. I may be brave, but please also see me as a driven, independent, resourceful, smart, strong, and bold woman. PS. Being brave doesn't mean solo travel isn't hard, and it also doesn't mean it's required to hit the road. You gain confidence as you go.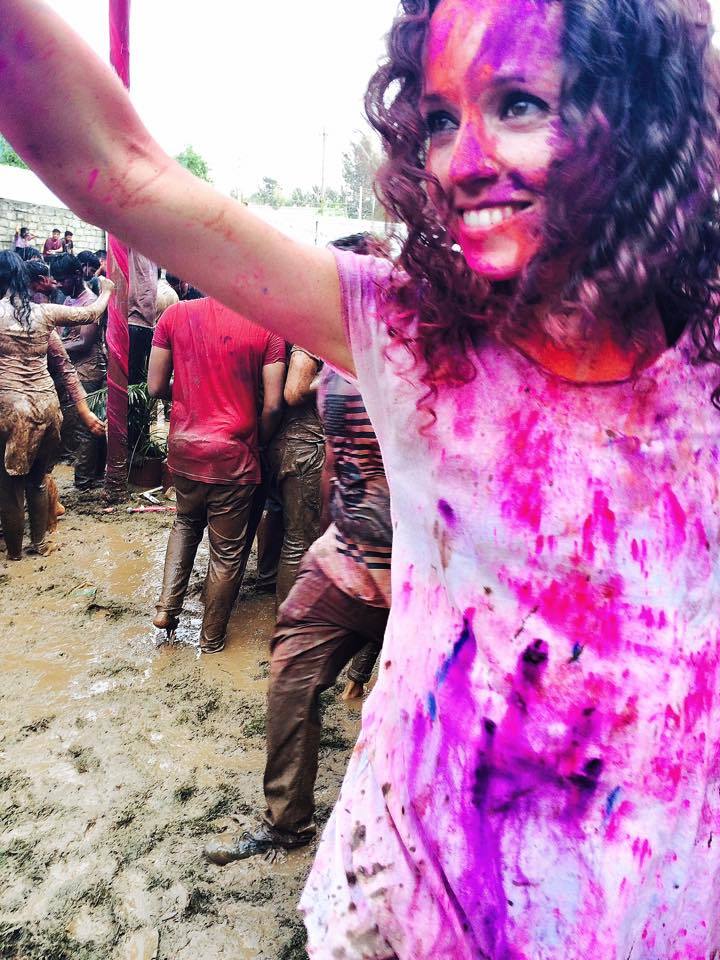 9. Lucky you!
"Wow, you're so lucky to be able to travel." You see, the truth is, I'm not lucky per say. Luck is an interesting concept in which we believe that good things simply and magically happen to us in our lives, but, I disagree. I believe that we are the creators of our experiences and as such, what we give out to the world we get back in return in some shape or form. I believe that staying in alignment with our values leads to living the life we want to live. I believe that where there is passion there is progress. I believe that commitment and consistency are fundamental for success. I believe that our comfort zone is a facade and lethal to our growth and potential. For me to be where I am today, it took some serious committed and consistent action steps, and a heart full of passion, that's it. I will say this though, I am definitely privileged given the country I was born and raised in that provides me with the opportunity to visit many countries, along with having the resources and education that are made available to me. I can certainly recognize my privileged status, however, that does not negate my hard work and the sacrifices I have made in order to travel long-term.
So am I lucky? I've worked incredibly hard to make my dreams comes true and it did not come easy. I worked three jobs, changed my spending priorities, had barely any downtime, and sacrificed a lot. Some still might say that I am lucky and that's okay, but I'm just a regular woman with big dreams, deep desires, a determined mind, and a soul that longs to truly live on purpose and feel ALIVE and INSPIRED every single day so that I can do the work I was born here to do. And truth be told, I believe we ALL feel the same way and want the same things in life. It's human nature. I believe we all want to wake up feeling excited and lit up about our day ahead. I believe we all want to connect deeply with those around us. I believe we all want to be inspired and motivated. I believe we all want to make meaningful impact in the world.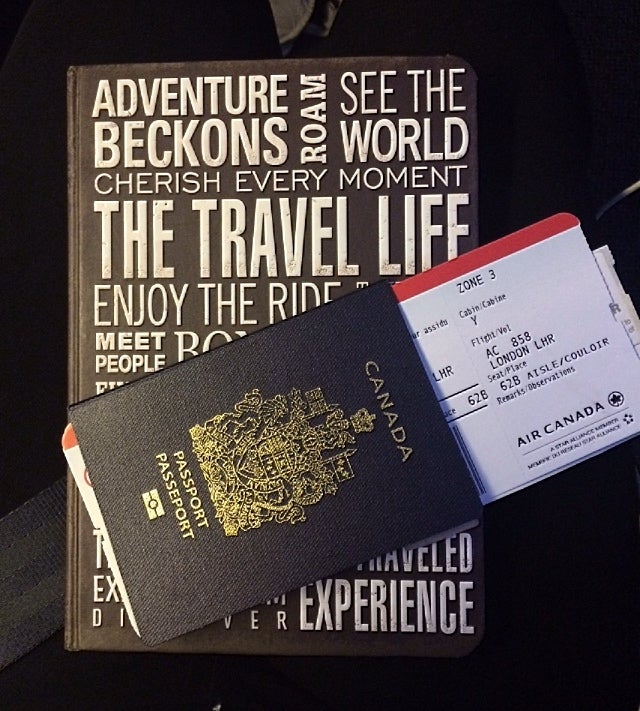 10. Just come back home and settle down already with a proper job and start a family, like the rest of us.
I am not the type of woman who follows the crowd, nor do I want to. I am not the type of woman who will go along with the societal norms of what it means to be a female. I am not the type of woman who will put my needs and desires aside in order to simply please others. I am not the type of woman who will live my life based on other people's or society's expectations of me. I am not the type of woman to live the conventional, typical life, although sometimes I wish I was because certain things would be a lot easier. I truly admire the women in my life who are incredible wives and outstanding mothers; but I am just not there, yet. I am not the type of woman who will drive an hour in traffic into work every single day to a job that I don't enjoy that sucks the living life out of me, makes me unhappy, doesn't allow me to use my skills and gifts, and deteriorates my health, big time. Can you just let me be myself? I know it's not conventional or typical, and sometimes crazy and wild, or hard to understand, but please, accept me for who and how I am, as I do you!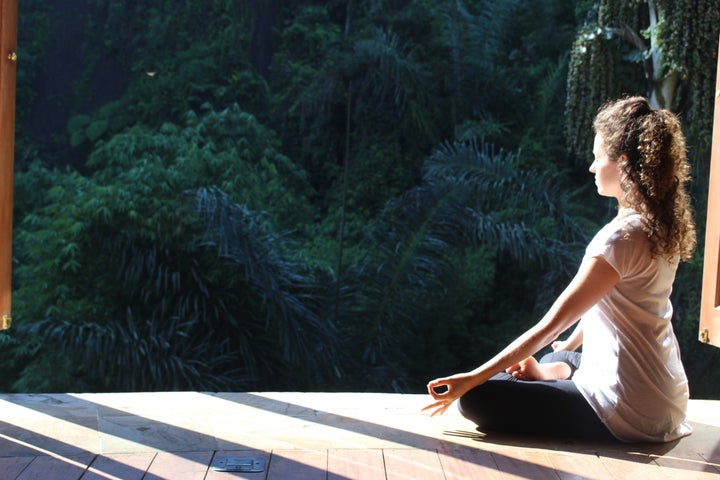 I understand and can recognize that to some of you I may come across as overly sensitive or that this is an overreaction to people's seemingly harmless sense of curiosity and inquisitiveness. However, throughout my journey these comments and questions I have listed have been thrown my way non-stop hundreds of times and it eventually becomes very tiresome. Furthermore, and more importantly than my own personal threshold for constantly having to justify my lifestyle, is that there is a vast distinction between being curious and being invasive. I am certainly open to having meaningful conversations with those who are interested and I am more than happy to share my experiences and knowledge being a solo female traveller, however, only when these discussions are navigated in a respectful and non-judgemental manner. The comments and questions I have received have come from a place of judgement, with the exception of "Be safe" and sometimes the "You're so brave" line. I have been judged relentlessly about my lifestyle and the choices I have made for myself, and much of the time as a result of being a woman.
So, there you have it. The 10 things to please stop saying or asking solo female travellers, and let us keep roaming peacefully.
"The woman who follows the crowd will usually go no further than the crowd. The woman who walks alone in likely to find herself in places no one has seen before." ― Albert Einstein
Laurita Gorman is a holistic therapist, yoga teacher, writer, storyteller, speaker, mental health advocate, world traveler, and global retreat leader. She helps people around the globe transform their lives from places of pain and suffering to journeys of healing and growth, so they can live their best life and make meaningful impact in the world. Through a unique blend of psychology and holistic/spiritual practices, she supports people in discovering what matters most to them and assists them in taking action towards those values so they can create the life they love, now! Laurita's goal is to encourage others to share their story, live authentically, follow their dreams, and commit to helping others around the world in hopes of creating a culture focused on serving humanity. She is also the founder of a global mental health movement dedicated to helping end the stigma surrounding mental illness through the art of storytelling.
You can follow her current travels around the world on Instagram, Facebook, and her blog. Subscribe to read more stories and adventures on the road less traveled.