Please excuse the stereotype, especially since I hate them and never want to be the one to reinforce them, but up until a few weeks ago, this black girl had never gone skiing.
It wasn't about fear. It wasn't about costs. There were no inhibitions. It was simply the same reason that this SoCal chica has never been to San Francisco. I guess I've always thought I'd get there eventually, so there was no reason to make it a priority on my list. And believe me, I get around. By age 16, I had taken five road trips across the continental United States with my siblings in the RV that my dad rented.
But for skiing, I just never got around to it. So I decided to change that with a road trip to the North Carolina Appalachian Mountains -- Beech Mountain -- just about five hours from Atlanta, GA. The road trip was pretty seamless, until we reached the base of the hills. Which let me know that I didn't think this whole thing through very well. So here's 10 things I learned from my first ski trip adventure.
1. Drive when the sun is out.

If you're going to the mountains, especially a place that you've never been before, it would behoove you to arrive during daylight hours -- even if the sun sets at 4:30 p.m. The switchbacks at nighttime are no joke. Trying find your cabin in the forest night is haunting. Knocking on strangers' doors for assistance is dangerous (for black people in the south). And that really happened. Overall, it's just not a great plan to discover a new place at nighttime -- I mean, you should've seen our faces on the way down the mountain as we saw all of the beautiful valleys that we missed on the way up!
2. Check the damn weather.

Which I did in advance. The conditions were unseasonably mild, so I was warned that they would have to pump in the snow. But when we arrived at night and accidently drove by the slopes, where there wasn't any cell phone service, all of that previous knowledge of knowing that it wasn't a storm, but actual manmade snow, went out of the window. Literally. I banged my head against the my car window for not being prepared with chains for my tires as I felt my little BMW slide a few times up and down the hills. It was only after we cleared that adventure did I reconfirm the knowledge that we were indeed lost, and not in the middle of a pop-up blizzard.
3. Dress like a snow bunny.

Because even if you don't make it to the slopes, at least you'll be as cute as Victoria Beckham in your snow clothes. Cute rather than rugged, with cherry red lipstick was the costume of choice as we explored the town's shops like Fred's General Mercantile, and ate at places like Famous Fast Eddies.
Wearing snow pants, cute sweaters, waterproof jackets and gloves are just the beginning. It takes an entire process to then get fitted for your skis, shoes and helmet -- about a half hour. Then as the Michelin Man or Woman, you must waddle up stairs to the bunny slopes for your lesson. Just getting ready to ski will use all of the protein you thought you stored from your hearty breakfast. And you haven't even skied yet! So sneak a snack in your pocket because once you're out in the snow, you'll be there for hours.
This sport isn't for the faint of heart. Skiing is literally a workout. The next day my arms, core, quads and calves were sore. My friend also observed that all of the fancy-pants skiers and snowboarders were slim and trim. (They were also mostly kids and teenagers, so there's that.)
Believe it or not, many rookies rent their gear and hit the slopes without ever taking a lesson. January is National Learn to ski month, and many places, like Beech Mountain Resort, they actually offer free lessons during the weekdays. So I really don't see why you wouldn't stop to learn a little trick or two. At ski school the first thing they taught us was how to stop, how to climb a hill, how to turn left or right and how to get up. Don't you think that something you should probably take the time to learn?
7. Just because you're moving doesn't mean that you're actually skiing.

So after our lesson we were left on our own. I told my friend "Watch me! I'll show you how it's done," because she looked like a grandma teetering down the hill. (Yes. Black people talk smack for every occasion. Every event, from playing cards, to golfing and even skiing is a competition.) So I went down the hill, made a left turn to avoid hitting other learners. I even stopped when I wanted to. But when I played back the video... I, too, looked like grandma.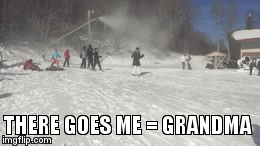 8. Falling is fun.

And funny, too. As a rule, people falling is always funny. My first fall was particularly hilarious because I wasn't in motion, but rather standing still, pointing and laughing at my friend. (Yes. Talking smack.) I was bending over, holding my belly, and then timbered over to my side. It's a good thing I learned how to get up from my lesson!
9. What do you mean the lifts don't have safety bars?

Well, some of them do and some don't. So there's your adventure, and there goes my plan for taking awesome selfies on the lift. Instead, I was focussed on holding on for my dear life as I rose hundreds of feet in the air.
10. We were the prettiest girls at the lodge.

On the slopes it was hard to verify, but I was pretty sure that my friends and I were the only chocolate drops on the snow. But once we went for dinner at Beech Tree Bar and Grill, I was sure of it. I'm sure the folks have seen black people before, up close and in real life - most of the guests were tourists after all. But I'm not sure they are used to see us that high up in elevations or maybe it's because me and my girls were so fly- I'm thinking it's the latter. Whatever the case, my friends and I were overwhelmed with warm greetings and compliments all evening long. We even had a mystery man pay for our meal.
Do you remember your first ski trip? How old were you? What was it like? I'd love to know!
For more travel & lifestyle tips, we post every Monday, Tuesday and Wednesday, and join the live talk show #travelscope #traveltuesday every Tuesday at noon EST on www.daily-affair.com