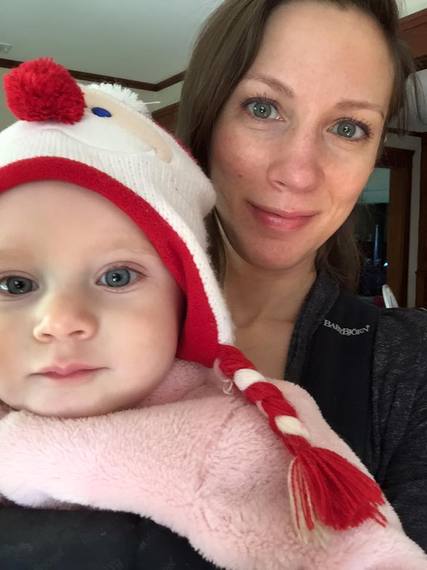 Finding gratitude within the daily stress of stay-at-home mothering:
The last month was a challenging one. Without going into unnecessary detail, the past few weeks have felt weighty and stressful, and not holiday cheerful and bright. Today, however, I feel different.
I woke up a little nervous about attending my 5-year-old's school party with her busy 1-year-old sister -- and then I read a horrible story about a mother's loss of her 10-year-old son and her subsequent healing process through cooking (an activity she loved to do for her foodie boy).
My 5-year-old is a foodie. (She and her baby sister were a couple of the only kids at the winter class party who breezily ate a tree-adorned paper muffin cup filled with "stinky" cheeses like brie.) This article that I read made me feel gut-level sad initially, but as I closed the magazine and set my coffee cup to the side to begin getting myself ready to leave, I felt pure gratitude in a way I haven't felt for too many days.
In this spirit of thankfulness, and also within the reality that daily life as a stay-at-home mom is not always easy or perfect, I'd like to share a few of the things I'm grateful for today.
1. My first-world problems. Yep, I'm lucky that a "difficult" choice was what to purchase my hard-to-buy-for husband for Christmas, and that I have bills to pay (because this means I have access to medical care, housing, etc).
2. Being a mom. This might be obvious, but I feel grateful this morning for the simple aspects of life with them: to be the one home with my girls to wipe the baby's drippy, teething nose; to be the hand they reach for as we run errands. I feel overwhelmed with thankfulness to be home with my daughter on her winter break (and I'll tell myself exactly this when my little school-lover and I have a rough, cabin-fever type day in a week or so).
3. My marriage. It's not what it once was, in that our time together is limited in many ways with two young kids -- but I would not want to be raising children with any other man. I would not want to cozy up, after we put our children to bed, with anyone else.
4. My coffee. I'm drinking it as I type. (Long sigh.) My other true love.
5. That I don't embarrass easily. Because I was in underwear when the UPS guy came to the house yesterday. (Note to self: I might want to change my horrible habit of hanging out in panties if I'm going to online holiday shop.)
6. My loud girls. I like women who are bold and loud and who laugh from their bellies.
7. My stomach. (Speaking of bellies.) I still have my Linea nigra, even though the baby just turned 14 months old. It's fading, and I'm sure it will be gone completely, eventually, but I'm glad that I don't care anymore about skin rolls or that my belly button will never look exactly like it did before having two kids. That said, I feel better than ever. I've always enjoyed taking care of myself, but having children has really encouraged me to love and appreciate my body.
8. That I stopped waiting for weekends. Honestly, I do not want to live my life for Saturdays and Sundays. Gone are the days of having "cheat" days to eat the food I like. Adios to the times I only buy a bottle of champagne because it's a new year. Hello to a randomly awesome Thursday, just for the hell of it.
9. Family visits. While I am genuinely looking forward to my daughter's time home, I'm also looking forward to my husband being home a couple of extra days, and for my family that will be visiting. These are the only times as a stay-at-home mom that it truly feels like I have a day off. Plus, you know, I love their company.
10. To be alive. I know this is both kind of melodramatic and depressing, but it's true. I'm grateful -- especially after reading about another mother's loss--simply to be sitting here breathing and typing and watching my kids make a huge mess over by the bookshelf behind me. Sometimes all we can do is breathe and remember to find the spaces that make our hearts joyful, amid the clutter and chaos of parenting.
What are you grateful for? Inspire other readers -- or give us a giggle -- by sharing in comments.